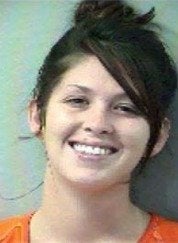 Her defense doesn't have a leg to stand on.
A Hooters waitress from Pensacola, Florida, faces multiple charges after allegedly beating her ex-boyfriend with his own prosthetic limb.
Jadian Faye-Marie Hatfield, 23, and Brandon Fleming, 25, ended their relationship in February, according to a recent news release from the Okaloosa County Sheriff's Office. The couple now has joint custody of their two-year-old son, and had previously agreed to exchange the boy every two weeks.
On August 27, the release states, Hatfield and Fleming got into an argument -- unrelated to their child -- that ended with Hatfield threatening her ex.
Later that night, Hatfield came to Fleming's home to pick up their son, but Fleming refused to let her and called police.
While he was on the phone, Hatfield allegedly snatched the toddler out of a bedroom window. Fleming jumped out the window and ran to Hatfield's car to take back the boy. When he opened the car door, two unidentified men, armed with a PVC pipe and a wooden shaft, grabbed him and held him down in the backseat.
Hatfield also joined in the melee, pulling off Fleming's prosthetic limb and using it as a weapon, according to the news release.
Fleming told Fox 10 he lost his foot in an accident when he was seven years old, and has worn a prosthetic since then. Even with the prosthetic pulled off, Fleming was able to escape from the grips of his attackers, but then, he says, Hatfield whipped out a shotgun.
The woman was charged with aggravated assault with a deadly weapon, battery, interfering with the custody of a minor, and possession of a weapon by a convicted felon.
Calling all HuffPost superfans!
Sign up for membership to become a founding member and help shape HuffPost's next chapter
BEFORE YOU GO
PHOTO GALLERY
Weapon Of Choice