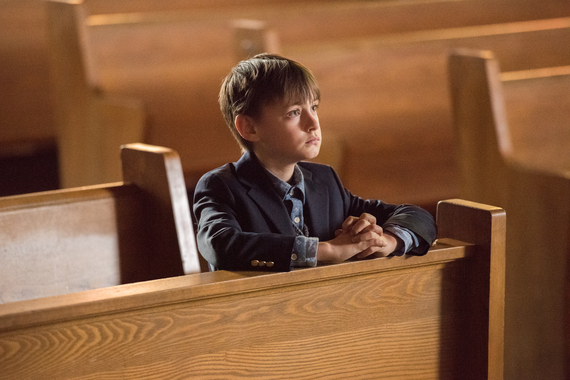 It's not every day that you meet a young actor that can hold their own against the likes of Clive Owen, but Jaeden Lieberher certainly can.
With the charm of a young Macaulay Culkin and the natural acting chops of a young Leonardo diCaprio, Lieberher will go as far in his career as his young heart desires.
In his latest role as Anthony in the film, The Confirmation, (which just hit theaters and is available on VOD) Lieberher portrays the child of a divorced couple struggling with the imposing religious views of his mother (Maria Bello) and an alcoholic father (Clive Owen).
I had an opportunity to connect with Lieberher about the role, what he learned from Clive Owen and his advice to young actors who want to follow in his footsteps.

What was it like working with Clive? What did you learn from him?
I saw Clive had such a great work ethic and that he was always trying to become better and working on some different things, like his accent and just his craft. It was very important to me, and I was inspired by the way he would handle his acting and the way he never stopped trying to become better.
Do you remember what your audition was like?
The audition was a little, I don't know how to put it. It seemed like a small, little place. I met Todd Hoffman, the producer, and Bob Nelson. They were just so nice, and I felt like I was at home right away as soon as I met them. They were just so nice. It was just a fun, quick audition, and I didn't feel too much pressure.

When you get a script handed to you, what do you do to prepare to get into character?
When reading a script, I, of course, read the lines and usually get the memorization part down. I try to memorize the lines. After that, I don't like to work on that or think about it as much. I like to think about what the characters would be thinking about, because I think if you're thinking about something totally different when you're doing a scene, or if you're thinking about the way you're acting, then it looks like you're thinking about that. I think it's important to portray the character with as much attention to detail and attention to what those characters would be thinking and what they would say at that moment.

What advice would you give other kid actors who want to follow in your footsteps?
I think it's important that, if you really want to act, to keep doing it; but if it's something that you're not sure of, then maybe not. It's something that you have to be in love with, and it's something that if you want to do it, then you're going to miss out on other things, like school. So, it's important to just really make sure that you love what you're doing and love acting. That's a very important part. If you truly love it, then just keep doing it.
Calling all HuffPost superfans!
Sign up for membership to become a founding member and help shape HuffPost's next chapter