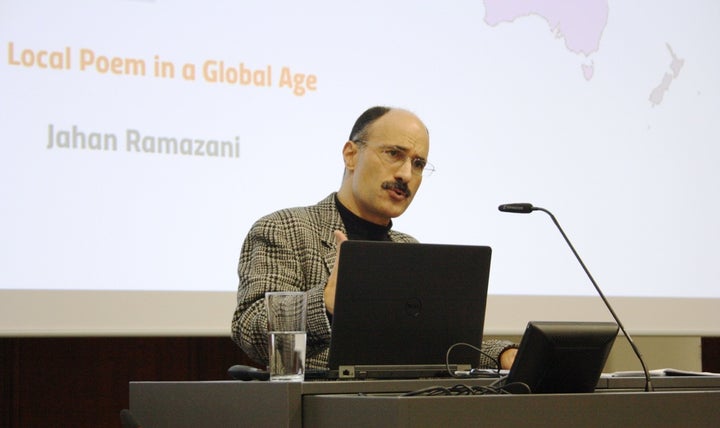 With the goal of harnessing the untapped potential of Iranian-Americans, and to build the capacity of the Iranian diaspora in effecting positive change in the U.S. and around the world, the Iranian Americans' Contributions Project (IACP) has launched a series of interviews that explore the personal and professional backgrounds of prominent Iranian-Americans who have made seminal contributions to their fields of endeavour. We examine lives and journeys that have led to significant achievements in the worlds of science, technology, finance, medicine, law, the arts and numerous other endeavors. Our latest interviewee is Jahan Ramazani.
Jahan Ramazani (PhD Yale, MPhil Oxford, BA Virginia) is University Professor and Edgar F. Shannon Professor of English at the University of Virginia, where he has taught since 1988. A poetry scholar and literary historian of broad international scope, he is credited with being one of the most knowledgeable, imaginative, and influential minds in his field. His scholarly achievements and numerous awards demonstrate the power and originality of his work. One of his books, Poetry of Mourning, was a finalist for the National Book Critics Circle Award, and another, A Transnational Poetics, won the American Comparative Literature Association's Harry Levin Prize for the best book in comparative literary history.
As an editor of Norton anthologies, a poetry encyclopedia, and other works, Ramazani has reshaped the literary landscape of the field for millions of students worldwide. As a prize-winning teacher, he has instilled in thousands of students an appreciation for poetry, an art that may have previously seemed esoteric or inaccessible. Ramazani's work has been recognized by major prizes and fellowships, including a Guggenheim Fellowship, a National Endowment for the Humanities Fellowship, the Modern Language Association's William Riley Parker Prize, and the Thomas Jefferson Award. He was recently elected to one of the oldest and most prestigious societies in the U.S., the American Academy of Arts and Sciences.
Tell our readers where you grew up and walk us through your background. How did your family and surroundings influence you in your formative years?
I was born and raised in Charlottesville, Virginia, the hometown of Thomas Jefferson nestled in the Blue Ridge Mountains. My mother and father had come to Charlottesville in 1952 to be at Jefferson's University of Virginia. They had left Iran at a turbulent time. My father, Ruhi Ramazani, had almost been killed by pro-Russian thugs at the University of Tehran and saved himself by joining the crowd shouting "Get Ramazani!" He pursued a doctorate in law at the University of Virginia before joining the faculty and teaching Iranian and Middle Eastern politics for the next forty-five years. His academic career was devoted to enhancing relations and understanding between Iran and the United States. Although he could at times be tough and even hot tempered as a parent, he was an amazingly gentle and loving grandfather to my kids and his other grandchildren. He and I grew increasingly close over the years. We discussed world politics as he continued to write books and articles, and I helped him with his editorials in the last years of his life as old age made writing increasingly difficult. I admired his combination of volcanic drive with Persian courtesy, hospitality, and personal diplomacy.
Although my father had been raised a Shia Muslim, my mother's Iranian family was Zoroastrian. Her grandfather, Arbab Keykhosrow Shahrokh, the Zoroastrian representative in parliament, had long worked to alleviate discrimination against Zoroastrians and had overseen the creation of a mausoleum for the poet Ferdowsi, author of the epic Shahnameh. His son, my own grandfather, had traveled from Iran to Manchester to study textile technology, and there he fell in love with my English grandmother. My bicultural mother, Nesta Ramazani (née Shahrokh), was born in England and spent some early years there, but she grew up mostly in Tehran, where she became a ballerina in Iran's first national ballet company, as recounted in her memoir, The Dance of the Rose and the Nightingale. My dad, a law student, was her tutor during her travels. After they married, they sailed on the Île de France to the U.S., arriving at Ellis Island in search of political and intellectual freedom. They had little money in their early years as immigrants to the U.S., but their relentless striving paid off. Eventually they built their own house in the countryside with a view of the Blue Ridge Mountains. It had an American lawn that gradually morphed into an enclosed Persian garden with a fishpond and fountain.
Although I grew up in that house, we lived in Iran for a year in 1968-69 and returned for two months in 1975. We traveled widely, and the encounters with different cultural perspectives and with the fine arts and architecture in countries like Iran, Lebanon, Israel, Italy, England, and France thrilled me. For some years, I wanted to be a diplomat because I loved travel and intercultural engagement. But as I learned about the constraints on diplomats, I was increasingly attracted to literature as an intellectually freeing way of traveling across time and space and of holding multiple perspectives simultaneously. Strange to say, over time I seem to have become a kind of ambassador for poetry, giving lectures at home and in various parts of the world. No doubt the importance of poetry in Persian culture also affected me, even though the literature I came to study has been primarily literature written in English.
What has been your personal key to success? Who and what were the biggest inspirations for your career?
My parents were strong influences on me, especially the intensity of my father's work ethic as a teacher-scholar and my mother's love of the arts and her openness to different cultural perspectives. My mother wrote the first Persian cookbook in English when I was a teenager, and I came to enjoy cooking Persian food for family and friends (khoresht-e fesenjan, bademjan, etc.). Her example helped me aspire to balance life and work, though life, alas, sometimes gets the short end of the stick. Thanks to several generous teachers in high school and college, I came to appreciate the quiet excitement of imaginative literature. My wife and colleague, Caroline Rody, and my two sons, Gabriel and Cyrus, have been constant sources of love, companionship, and emotional nourishment.
In the busy life of the academic, with all the immediate demands of teaching, administration, and committee work, it's sometimes hard to keep your eye on the importance of scholarship. But I've always tried to carve out time for writing. I love delving into the intricacies of poems and illuminating their formal and imaginative achievement. In recent years, I've felt especially motivated to expand the awareness of poetry in English from various parts of the world, such as Africa, India, and the Caribbean—the subject of my book The Hybrid Muse (2001) and my just published Cambridge Companion to Postcolonial Poetry (2017), among other works.
What is poetry? How does poetry differentiate itself from other forms of writing?
That's exactly the question I pose at the beginning of a recent book, Poetry and Its Others: News, Prayer, Song, and the Dialogue of Genres (2013). Of course there are no hard and fast ways of demarcating poetry from other genres, such as song, the news, prayer, the novel, philosophy, and the law. But some modern and contemporary poems implicitly define themselves with and against their discursive cousins. Poetry and song, for example, have a long history of intertwining in various language traditions, but as I've looked at recent examples, I've come to appreciate how even poems that incorporate song techniques nevertheless champion the special freedom and complexity of a written text that can be read repeatedly, not at a pace dictated by the vocal performer or the music, and that has its own internal music in the rhythms and sounds of its language. Poems may concern current events, like the news, but as Ezra Pound puts it, poetry is "news that STAYS news." It often places an event in vast time horizons, crafting around the current moment an intricate verbal artifact that will outlast the rapid obsolescence of the news media. Poetry shares with prayer features such as the use of the vocative, ritualistic repetitions, and an engagement with realities beyond the material world. But it foregrounds its own aesthetic texture and reach in works of such multidimensional complexity that they often exceed the boundaries of any one religious system.
That was an immense undertaking. I was excited to build on the previous editions I had used in my teaching, edited by the late Robert O'Clair and Richard Ellmann, the latter of whom tutored and mentored me when I was a Rhodes Scholar studying at Oxford. His eloquence in writing about literature was incomparable. But times change, and two-thirds of the material in the version I edited is new. I sought to offer deep and extensive coverage of the towering figures, from Yeats, Frost, Stevens, Williams, Eliot, Hughes, and Auden to Bishop, Larkin, Ginsberg, Plath, Rich, Ashbery, and Heaney. At the same time, I wanted to represent poets, sometimes less well known, who were associated with influential movements such as the Harlem Renaissance, Objectivism, the Black Arts Movement, and Language Poetry, as well as poets from various parts of the former British Empire, such as India, Africa, and the Caribbean, and recent American poets of ethnic and racial minorities, whether African American, Native American, Asian American, or Latino/a. I wanted to make it possible for readers to explore the tremendous variety of voices, styles, and preoccupations of the best poets writing in English. It was exciting for me to put side by side poets whose styles were radically different with one another—say, an experimentalist next to a formalist, a collagist next to a lyric poet. Modern and contemporary poetry can be notoriously difficult, so in my introductions to poets and to each volume, I tried to give readers equipment for entering these cathedrals built out of brilliant lines, images, sounds, and metaphors. I have continued with such editorial work with the last volume of The Norton Anthology of English Literature (2006, 2012, and 2018), and it has been a privilege to help expand and diversify the canon of modern and contemporary literature, including the voices of black and Asian British writers, in addition to writers from other corners of the former British Empire. My developing scholarly views about the scope of literature in English have shaped my work as editor and anthologist, but that editorial work, by widening the scope of my own reading, has in turn shaped my scholarship.
In A Transnational Poetics, you discover poetic connection and dialogue across nations and even hemispheres. Could you elaborate on this?
In my view, we have too often read poetry exclusively within national traditions—say, American poetry, Irish poetry, English poetry, Jamaican poetry. While these are important, there is a tremendous amount of intercultural traffic and exchange across national borders that gets left out of nation-based literary histories. Many of the most prominent modern and contemporary poets are migrants, exiles, and émigrés whose work and life confound national categories. The global flows of images, texts, and culture bring even stay-at-home writers into close contact with far-off places. Postcolonial writers from Africa, India, the Caribbean, the Pacific Islands, and elsewhere have built on and engaged the work of the high modernist writers, such as Yeats, Eliot, and Pound. Those modernist writers were, in turn, deeply shaped by Indian, Japanese, Chinese, and other non-European cultural traditions. Although poetry is often thought of as the most local or national of literary genres, I wanted to show how, in its deep memory of traditions from disparate sites and in its play on the intercultural riches embedded in language, poetry often embodies transnationalism and even globalism in the reach of its metaphors, imagination, and form.
What does your book Poetry of Mourning tell us about the psychology of mourning in the history of modern poetry?
Whereas Iranian mourning customs are elaborate, ritualized, and prolonged, it struck me that in much of the modern West, mourning is much less visible. Yet if we look at modern Western poetry written in English, elegies, or poems of mourning for the dead, are among the most prominent works. Poetry became a space for the mourning that was forgotten or suppressed in the culture at large. A number of the major modern poets in English, from Hardy, Yeats, Hughes, and Auden to Lowell, Plath, and Heaney write some of their best poems as elegies. Yet unlike what we might expect of the elegy—say, consolation, redemption, idealization—these modern elegies are often unresolved, unredemptive, and raw. They reveal that, despite commonplace ideas of mourning as a step-by-step process toward resolution, mourning for the dead is often ambivalent, unpredictable, and vexed. The shocking execution of a beloved first cousin of mine in Iran in 1981, Farshad Miraftab, to whom the book is dedicated, spurred my thinking about the nature and poetry of mourning.
Where do you see your work going in the next 5-10 years?
I hope to continue to advance the understanding of poetry in our global age. By virtue of its imagistic immediacy and sonic vibrancy, poetry can often help us apprehend and explore cultures other than our own. And because poetry intricately intertwines different cultures, it can help us understand our profound human enmeshment across divisions of ethnicity, race, and nationality. Although my work has been focused primarily on anglophone literature, I've also begun to glance at Iran's part in these intercultural exchanges, looking, for example, at the ways in which Persian art and architecture surprisingly mark the Irish writer W. B. Yeats's poetry about Byzantium and about the Abbasid caliphate (when Persian culture was particularly influential on Arab culture). As I think about efforts to translate poetry—arguably the hardest literary genre to translate—I'm trying to use my rusty Persian to explore what is lost and what is gained in translations of Rumi and other poets into English.
Is there any advice you'd give to someone who is interested in pursuing literature and poetry through academia?
The job market is tough in the humanities, as universities cut back on tenure-track hiring. If you decide to pursue literary studies, you should do it for the love of doing so, because there are no guarantees for the career prospects of PhDs in the humanities. Still, as an increasing number of tasks involving quantitative work come to be performed by artificial intelligence, the qualitative work that can't be supplanted and that's central to the humanities—interpretation, judgment, self-reflection, creative expression, critical analysis—remains vital to understanding ourselves and our place in the world. Grief, love, wonder, ecstasy—these are experiences that are unlikely to go away any time soon, and as long as we look to the work of writers and artists for the especially rich expression they give to such experiences, we will need literary study and other forms of the humanities to help us understand them. In this increasingly interdependent world, it is also important that the study of poetry and literature be transnational to help us imagine our way into the experience of people in cultures that may or may not resemble our own.
What does it mean to you to be an Iranian-American?
Although I have sometimes felt doubly estranged—an outsider looking in at both Iranian culture and American culture—I have a stronger sense of dual attachment. I feel enriched by my affiliations with Iranian and American cultures, both of which have made enormous contributions to humanity. I am grateful for my inheritances from a culture that can count among its gifts to the world Cyrus the Great's declaration that the peoples of the Persian Empire could practice their varied religious customs; the still impressive precision and patterning in the friezes of Persepolis, the dazzlingly intricate and multicolored tilework of Isfahan's mosques; the unforgettable vowel music of Rumi's and Hafez's lyrics, the boldness of Forough Farrokhzad's and Simin Behbahani's poetry; and the sumptuous combinations of fruits, meats, sauces, spices, and rice in Persian cuisine. At the same time, I am also grateful to live in a country where a modern heir to Cyrus, Thomas Jefferson, for all his personal shortcomings, enshrined religious liberty and other political freedoms; where the variety of human cultures and natural landscapes is astounding; where many of the most advanced universities in the world have flourished; and where some of the best poets in any language have written, from Walt Whitman and Emily Dickinson to T. S. Eliot, Wallace Stevens, Langston Hughes, and Sylvia Plath. The recent political records of the U.S. and Iran are mixed. But hundreds of years from now, long after many of the seemingly powerful people of our time have been consigned to oblivion, it's the institutions for justice and freedom, the enduring art, music, cuisine, and knowledge, the poetry of imaginative daring and sonic richness that will live on.
Jahan Ramazani receives the Thomas Jefferson Award:
Support HuffPost
The Stakes Have Never Been Higher
Related
Popular in the Community