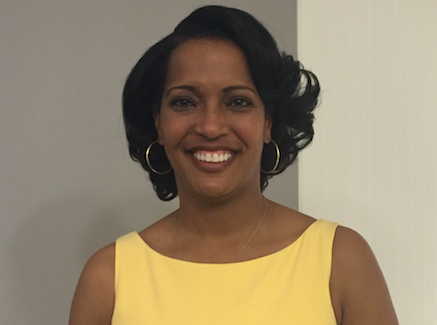 When Jahana Hayes got the phone call that she had been selected as the 2016 National Teacher of the Year, she was silent for a few moments. Then she asked: "Why?"
For Hayes, going above and beyond is just part of the job.
"I didn't pray for this. I didn't ask for this. I couldn't have even imagined that I would be recognized or celebrated for things that just come natural to me," said Hayes, a history teacher at John F. Kennedy High School in Waterbury, Connecticut.
Hayes will spend the next year traveling around the country as an advocate for educators, according to the Council of Chief State School Officers, which issued the award.
Teaching kids facts and analytical thinking skills isn't enough, she said, adding that she hopes to use her new platform to promote service-learning -- which involves community service activities, teaching kids to use their education for good and showing the importance of being empathetic.
"We spend a lot of time teaching kids to be self-sufficient and high achievers, and I think we really need to spend some time also teaching them: OK, now what do you do with that? What does it mean? You have this knowledge and information, how can you use it to improve the human condition?" Hayes said. "I think we need to nurture empathy from a very early age."
Hayes teaches in the community where she grew up. After she got pregnant as a teen, the teachers she'd had growing up gave her the motivation she needed to go back to school.
"My experiences at school were always good experiences. I felt challenged. I felt successful. Even when I didn't go to college immediately after high school, even when I went away, there was always something inside of me where I knew that was a good place. I could always go back," she said.
Now, she tries to build that foundation for her own students who may be going through struggles.
"We really need to let kids be kids, and let people be people, and teach the person that's in front of us. Meet them where they are, deal with things as they are -- not where they should be. We have to learn that we have some of the brightest kids in front of us that don't look like the brightest kids -- but it's in there," Hayes said.
That's why Hayes tries to celebrate all of her students for all of their accomplishments -- no matter how small. If a student who normally comes to class 15 minutes late shows up only 13 minutes late, she sees that as noteworthy.
"We need to find that gift in every single student," she explained. "Whatever they're good at, and keep reminding them every single day that they are so awesome."
Hayes' title puts her in a unique position to meet teachers and policymakers around the country. This has already reminded her of the inequities that exist between schools. As the presidential election approaches, she wants to remind people how important it is to give all students the same resources and opportunities to succeed.
"As a country, we really need to have some real talk about equity issues and making sure every student, in every state, and every community, has high-quality education," said Hayes, who carries a copy of the Constitution in her purse at all times. "It's 2016 in the United States of America. If a student graduates, we should be confident that they're ready."
Marcos Saldivar contributed reporting.