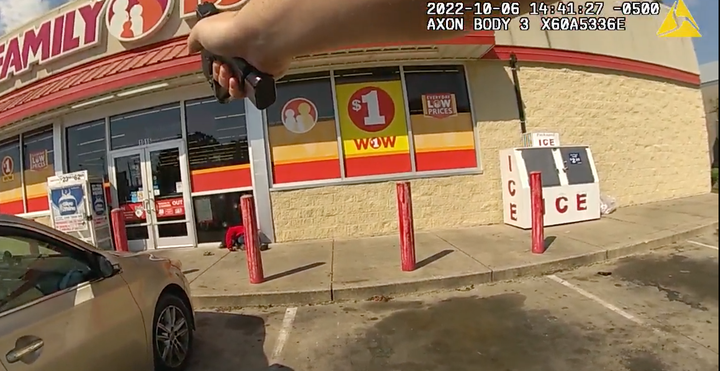 A grand jury in Mississippi has declined to charge a Gulfport Police officer who fatally shot a Black teenager in a parking lot in October, the Mississippi Department of Public Safety confirmed to HuffPost on Thursday.
Body-camera and dashcam footage of the incident, which HuffPost obtained through a public records request, shows Officer Kenneth Nassar firing at least eight shots at 15-year-old Jaheim McMillan outside of a Family Dollar store in broad daylight.
Nassar and another officer, Benjamin Ford, responded to a 911 call on Oct. 6 that reported reckless driving. An investigative report stated the caller said that "occupants inside a silver Kia Soul were brandishing firearms and wearing camouflage masks."
Dashcam footage shows that McMillan and four other teens were sitting inside a Kia Soul as officers arrived at the scene and parked. McMillan ran out of the car while trying to cover something with his sweatshirt in his hand; another teen jumped out of the car behind him.
The dashcam footage appears to show a gun in McMillan's hand as he decides which direction to run, but at no point does McMillan point a weapon toward Nassar.
Nassar's body-camera footage shows the officer firing his gun while also shouting at McMillan to drop his weapon. The encounter, during which Nassar fires eight shots, lasts about five seconds.
Video shows McMillan falling to the ground, after which point he is no longer visible on camera.
Nassar fires his last shots as McMillan is lying on the ground, according to the bodycam footage. An autopsy revealed that a gunshot to the head killed McMillan.
In the footage, the three other teens exit the car with their hands up after Nassar fires his gun.
"Get out the fucking car and stay on the ground," Nassar is heard shouting on the footage, and the teens comply.
While Nassar points his gun at the other teens lying on the ground, a white male walks toward him and questions why Nassar shot McMillan.
"You better have had a good intent. You shot the child? Your ass is going to fucking jail," the man is heard saying.
"Sir, step the fuck away," Nassar shouts.
At one point, one of the teens who was inside of the car asks Nassar to check on McMillan because he thinks he died.
"Sir, can you please check on him? I think he's dead," the teen says.
More officers arrive at the scene, and Nassar tells one he had seen a gun in McMillan's hand, but that McMillan didn't appear to have a gun on him when Nassar handcuffed him and rolled over his body. Officers later discovered a gun in the parking lot.
Bodycam footage also shows Katrina Mateen, McMillan's mother, arriving at the scene and questioning why police killed her son.
The Mississippi Bureau of Investigations completed an investigation into the shooting this week, and its findings were presented to a grand jury, which declined to indict Nassar.
Nassar said during an interview as part of the investigation that he saw a gun in McMillan's hand and ordered him to drop it, and that he remembered firing at least eight shots. He said he handcuffed McMillan while he was injured on the ground, which he said was "common practice."
One of the teens in the car told investigators that he felt Nassar had a bias against McMillan.
"I really feel like the officer had something against Jahiem too though," the witness said.
Popular in the Community