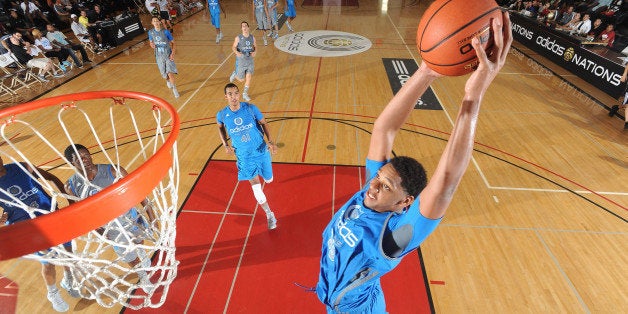 Now that the 2014 NCAA Tournament is in our rearview mirror and Storrs, Conn., has been established (for now) as the center of the college basketball universe, we can turn our attention to Jahlil Okafor. The 6-foot-10 Chicago native, McDonald's All-American and soon-to-be Duke Blue Devil is the winner of the Morgan Wootten Player of the Year award. The award recognizes the nation's top male and female high school senior student-athletes for their outstanding accomplishments. Past winners include Dwight Howard, LeBron James and Kevin Love. And, since it's never too early to look ahead, The Huffington Post spoke with Okafor about Duke's Coach K, why he doesn't hate North Carolina (yet) and his potential to be "one-and-done."
Dealing with recruiters and coaches calling every day can be tough. What has been the biggest challenge for you throughout the recruiting process?
The biggest challenge was those relationships that I had built with all the coaches, from Baylor, Ohio State and all these other universities. It was so hard just to choose one school, but when it came down to it, I felt most comfortable with Duke and Coach K.
Who were you closest with?
It was so tough. Coach [Bill] Self and all the assistants at Kansas were great. My family was really close with his family. All of the Baylor staff I kept in contact with pretty much every day. Ohio State, even the hometown schools, Illinois. That made the decision process that much harder.
Aside from basketball, what are you looking forward to the most in college?
I'm excited to meet some of the Duke students. They're all special in their own ways. My talent is basketball, but they have future CEOs and great people.
Jabari Parker -- Duke's star freshman -- was also a top-ranked recruit from Chicago. Did he set the table for you?
I wouldn't say he set the table for me, but I used him as a tool for me to get the inside scoop on what's going on at Duke. Jabari, being my close friend since the 8th grade, he was able to give me an insight. Everything they told him: Was it true? He didn't try to sway me, he was 100 percent honest.
What was it about Coach K [Mike Krzyzewski] that you gravitated toward the most? The winning?
Like you said: winning speaks for itself. I want to win on the next level. That's my biggest thing, and he's the winningest coach in college basketball. Some of the conversations Coach K had with me prior to me going there [were] just phenomenal. He spoke with me using basketball as more than making money for my family. Using it as a tool to change people's lives, and putting me in different environment to better other people around me. He's coached LeBron James, Kevin Durant and Michael Jordan.
Nowadays, elite freshmen always face the "one-and-done" question [of whether they'll stay one year and leave for the NBA]. How are you going to go about your business as a normal college student?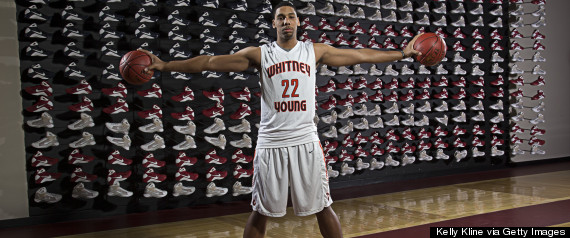 Like you said, I'm just going to college next fall expecting to be a college student, trying not to think too much about the NBA. Sometimes I do get caught into it because it's been my dream for as long as I can remember.
Speaking of the NBA, what is the next step for you to take on the court?
The next step for me is a lot of steps, but I think the one thing that I talked to the Duke staff about is getting down there, changing my diet. I have changed my diet greatly from three years ago, but to be able to have that structure with nutritionists and trainers is going to be really helpful for me.
Is there an NBA center that you try and model your game after?
It's tough to think about centers now. I love Tim Duncan; that's the one guy that's playing right now that I really enjoy to watch. Often times I find myself watching Shaquille O'Neal and Hakeem Olajuwon. I'm striving one day to hopefully be as dominant as those guys were.
You haven't even gotten to campus yet, but can you discuss what you want your legacy at Duke to become?
The most important thing is for me to be winning. I just want to get Duke back to where it was, and change the look of Duke -- how people think big men really can't play there even though [Mason] Plumlee had an amazing year there. I want to also change the landscape of Duke; the myth that big men at Duke can't happen.
Everyone knows the vitriol between Duke and Carolina. But do you hate the Tar Heels just yet?
No, I don't hate North Carolina yet. They have an amazing class coming in. I'm really close with all those guys. I was teammates with them playing for Team USA, so I don't hate North Carolina. I don't know if that's going to change when I step on Duke's campus, but it's not there yet, no.
This interview has been edited for length and clarity.
Email me at jordan.schultz@huffingtonpost.com or ask me questions about anything sports-related at @Schultz_Report and follow me on Instagram @Schultz_Report. Also, be sure and catch my NBC Sports Radio show, Kup and Schultz, which airs Sunday mornings from 9-12 ET, right here.
Popular in the Community