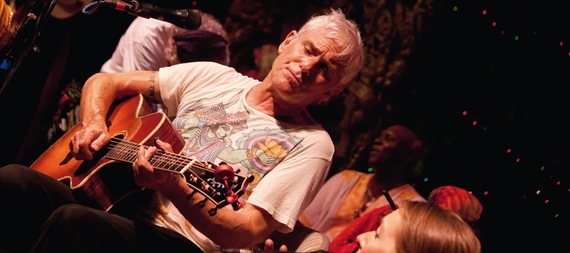 Photo by Lisa Chorny
Oh, those Greeks! They knew how to live. What is required for that is to stop courageously at the surface, the fold and the skin; to adore appearance, to believe in forms, tones, and words, in the whole Olympus of appearance! Those Greeks were superficial - out of profundity! And is this not precisely what we are coming back to, we daredevils of the spirit, who have climbed the highest and most dangerous peak of contemporary thought and looked around from up there - we who have looked down from there? Are we not precisely in this respect, Greeks? Adorers of forms, of tones, and of words? And precisely on that account - artists?
~ Nietzsche
How does one maintain congruency and personal integrity in a world where art, music, and video are so ubiquitous that they have become mere distractions for most people?
Nature abhors a vacuum. Which is why meditation is so challenging - right?
Four years ago, after touring continuously for almost 40 years, Grammy-nominated devotional musician Jai Uttal caught pneumonia. After canceling shows to convalesce he turned to his wife Nubia and said, "Well, I can continue touring and die in a few years... or I can figure out another way to earn a living."
Supply and demand. Basic capitalism. Difficult to discern quality when we are inundated with quantity. And thus Pandora, Spotify, and Apple Music can pay musicians even less than the record companies did.
So how do we decide as consumers how much music or art is worth? I think that Vincent Van Gogh would be quite surprised to learn that one inch of any of his 900 paintings is worth more money today than he earned in his entire lifetime. Similarly, I am fairly certain that none of Gerhard Richter's magnificent paintings would provide me with $50,000,000 worth of pleasure - although some of Francis Bacon's twisted works could easily provide me with $142,400,000 worth of nightmares.
Ten years ago Jai received a check for $250 in the mail accompanied only by an email address. He sent a query to the email address and the person told him that he had loved Jai's CD so much that he burned 20 copies for his friends and then realized that this was not fair to Jai. Hence the $250.
What is the price of the uplifting someone's spirit?
What is the price of transcendence?
What is the price of creating a community of like-minded people and leading them to ecstatically chant in unison for a few hours?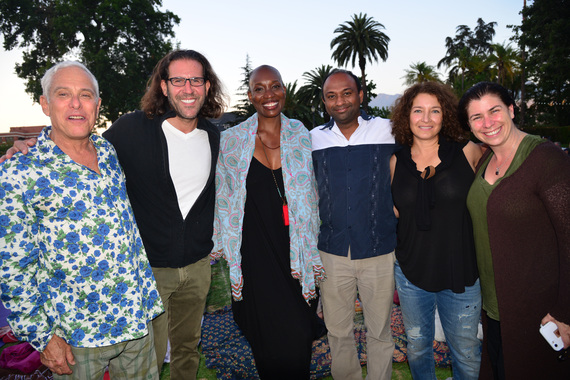 Now that the traditional business models for artists and musicians are in flux, Jai thinks that Patreon is the model of the future because it allows people to directly support those who give them so much joy.
In our "crazybusy" lives when multitasking is the new norm, Jai rhetorically asked me, "How can we keep our hearts open in our ridiculously self-centered lives?"
And so if you are inspired to try to keep your heart open while there is a constant tornado of bad news - climate change, terrorism, economic collapse - swirling around you, join Jai for his Summer Kirtan Camp August 9th-14th in Northern California, his Winter Kirtan Camp in Mexico December 23rd-30th, at one of his upcoming concerts, for Awakening Bhakti on WhereIsMyGuru.com, or on Patreon.com, and check back at JaiUttal.com for the release of his new CD in May.
Here's a video of Jai recording his new CD in the studio with Steve Postel, Mark Gorman, Dave Allen, and Peter Adams a few months ago: