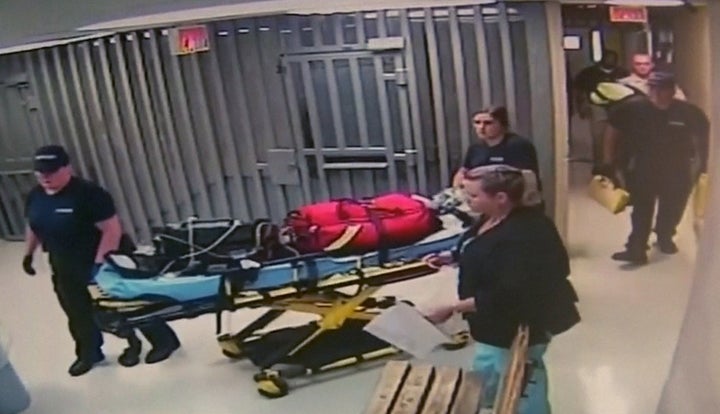 WASHINGTON ― More people committed suicide in jail in 2014 than in any other year since at least the turn of the century, according to newly published federal statistics.
One thousand fifty-three people died in local jails in 2014, according to a report released by the Justice Department's Bureau of Justice Statistics this week. That's an 8 percent jump in the number of jail deaths from 2013 to 2014, and the largest number of jail deaths counted since 2007. The jail death rate, 140 deaths for every 100,000 inmates, was also the highest it has been since 2007.
Even more alarming is the rise in the number of suicides ― which, as The Huffington Post reported in July, are largely preventable. There were 372 jail suicides in 2014, an average of more than one per day. That's a 13 percent jump from 2013.
"This was the largest number of jail suicides reported to the [Deaths in Custody Reporting Program] since its inception in 2000," BJS stated. "The suicide rate in local jails in 2014 was 50 per 100,000 local jail inmates. This is the highest suicide rate observed in local jails since 2000."
"For too long we have been indifferent to the human beings that we condemn to our jails," Alec Karakatsanis of the organization Civil Rights Corps said following the release of the statistics. "We have put them there in unprecedented numbers without requiring good reasons, and we have allowed our jails to become places of disease, neglect, and everyday brutality."
But restrictions on the 2014 BJS data released this week make that kind of analysis impossible, so the report does not identify the facilities where the deaths took place or describe the circumstances of the deaths. That sort of information would help the public as well as federal and local officials identify jails that have a particularly high death rate, and that might need additional scrutiny.
"It's a national scandal that we have so little information about people who die in state custody," David Fathi, director of the American Civil Liberties Union's National Prison Project, told HuffPost. "I don't know of any other developed country where it's really impossible to say how many people died in jails and prisons in a given year."
The BJS jail death count may actually be lower than the real number, since the report does not include so-called "temporary lockups" that hold inmates for less than 72 hours ― even though that early time frame is one of the most dangerous periods for new inmates. The facilities where these lockups take place, such as police stations, are often less equipped than regular jail facilities to handle the needs of inmates.
Even though most of the deaths in the BJS data set are over two years old, there are some aspects that may deserve further investigation. Michigan, for example, saw 34 jail deaths in 2014, more than double the number of jail deaths logged there in 2013 and more than any other year since at least 2000. There was also a huge jump in Virginia, from 27 deaths in 2013 to 48 in 2014. The jail death rate in New Jersey likewise saw a massive jump, from 140 deaths per 100,000 inmates in 2013 to 227 deaths per 100,000 inmates in 2014.
Sandra Bland's July 2015 death is not yet reflected in federal statistics.
Popular in the Community