Photos courtesy of IMDB, Netflix and photographers Ali Goldstein, Jessica Miglio, Paul Schiraldi and Jill Greenberg
Orbitz is organizing a Litchfield jailbreak in honor of season three of Orange is the New Black, released on Netflix June 12. Lord knows these girls can use a vacation. Here's where we'd send our favorite criminals once we spring 'em from the joint.
Where we'd send her: Bermuda
Even though Chapman is a self-proclaimed WASP, Martha's Vineyard just seemed too Pre-Prison Piper. Bermuda is where affluent East Coasters go to get just outside their comfort zones enough to brag to their friends. Bermuda has all the comforts of a Martha's Vineyard, but chances are she won't run into any of her mother's Bridge Club friends.
Where we'd send her: Kauai, Hawaii
In season one there was "the chickening." Red had one simple request and it was to find the chicken that Piper spotted in the yard and eat it. It was an intelligently superior chicken, and Red wanted to absorb its power. Fair enough. Kauai is home to a whole lot of feral chickens -- enough that they've become a tourist attraction. Once she's finally caught a superior chicken and absorbed its power, she can rest her ever-aching back on the beach.
Where we'd send her: A yoga retreat in Bali
Yoga Jones can finally do her Chaturanga without the drone of an AA meeting across the mess hall. In fact, we'll call ahead to make sure there's nothing resembling a mess hall at this particular yoga retreat. Jones, leave your over-sized nightshirt at Litchfeild, because it's nothing but Lululemon from now on, sister. Namaste.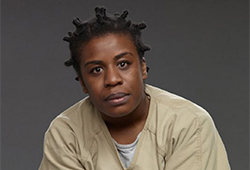 Where we'd send her: Netherlands
Blonde people everywhere, calming fields of tulips and windmills, and the friendly nature of the Dutch. We'd have Crazy Eyes stick to the soothing Holland countryside as opposed to the over-stimulating city of Amsterdam. Well, okay maybe just a quick stopover in Amsterdam.
Where we'd send her: Orlando, Florida
Little orphan Taystee needs to be a kid again, and surround herself with fellow Harry Potter fans. First stop for Taystee: The Wizarding World of Harry Potter at Universal Orlando Resort. Next stop: wherever the closest candy store is -- probably Main Street Confectionery inside Disney World.
Where we'd send her: Venice, Italy
Morello will get her honeymoon, damnit! She'll have to use her crazed imagination to pretend that Christopher is physically there with her, but at least she'll be in Italy with -- errmm -- like-minded people.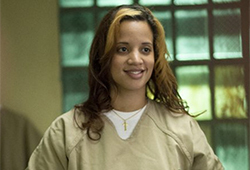 Where we'd send her: Naples, Florida
Daya needs a babymoon, and Naples is where new mothers and convicted felons alike can go to spend some peaceful time on the beach. Daya will be sketching her doodles with her feet in the pool while new Bennett babe snoozes in the sun.
Where we'd send her: spring break in Cancun, Mexico
Pennsatucky never got a college spring break and as a result she lives her whole life like a highly destructive college spring break. There's only one cure for crazy: Cancun. Now that she's pulled back her righteous act from season one, she can finally let her hair down, have a margarita, show off her new teeth, and maybe go through an experimental college phase.