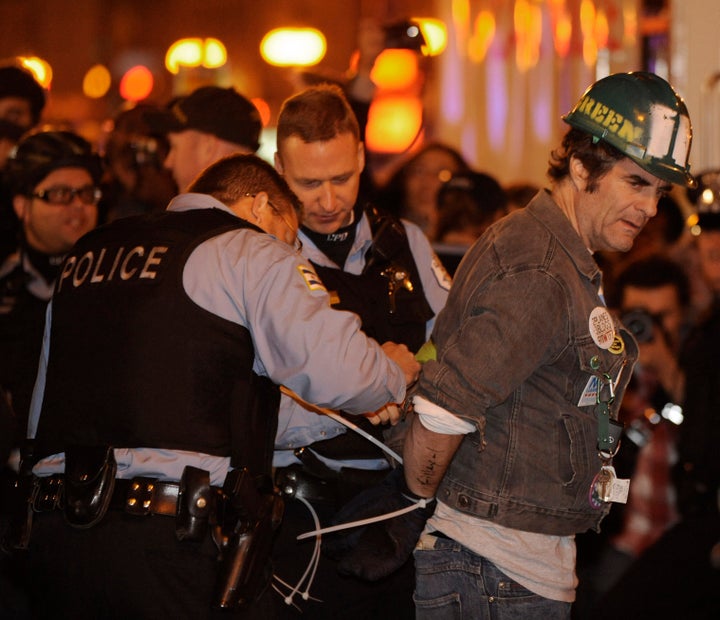 Occupy Chicago protesters are angry and plan to make their feelings known to Mayor Rahm Emanuel after many of their supporters spent 24 hours or more in jail over the weekend for refusing to leave Grant Park when it closed Saturday night.
Protesters were hoping to spend the night in the park, and petitioned Emanuel earlier in the week asking for a place to demonstrate without risking arrest. Apparently, they were not granted that request.
Several of the protesters who stayed inside the barricades in the park sat on the ground. Others locked arms as police circled and then began arresting people.
"One: We are the people! Two: We are united! Three: The occupation is not leaving!" demonstrators shouted. Others joined in from just outside the park.
When 175 protesters were arrested last weekend, most were released by early the following morning. That was not the case this time around.
The nursing group said two volunteer nurses were arrested along with the protestors. The women were finally released at about 1:30 a.m. Monday after spending about 23 hours in police custody.

"It was a terrible experience," said longtime Stroger Hospital nurse Martese Chism, who said she didn't expect to spend an entire day in jail. Despite spending a night in a cold cell and having her mattress taken from her, Chism said she'd return for protests next weekend, if asked.
Other Occupiers took to Facebook and Twitter to complain about conditions in the jail. Occupiers accused 1st District officers of hanging up on callers checking to see if their friends or family members were still in custody, and claimed that 30 men were held in one room with no toilet paper for 30 hours.
The arrestees also claimed they were unable to make their one phone call for more than 16 hours. One protester told the Tribune that she believes the treatment of protesters was harsher this time around to discourage others. The Occupy Chicago Twitter page also accused Mayor Emanuel of being the person to approve such tactics. The mayor's office has yet to release a statement on the arrests.
Last weekend, protesters who were arrested, were given a court date and quickly released. Some of those who were arrested again will be held until they see a judge, police told the Tribune.
"The Chicago Police Department works diligently to safeguard the constitutional rights of all persons. In any instance where individuals must be placed into custody for violation of the law, the Chicago Police Department processes arrestees without unreasonable or unnecessary delay and follows policies regarding booking, charging, and bonding out."
On Monday, Occupy Chicago protesters will join members of the National Nurses Union in a protest at Mayor Emanuel's office. The NNU joined the movement after their members were arrested for setting up a first aid tent near the Grant Park protest.
"Even in wartime, combatants respect the work of nurses and other first responders. Yet Mayor Emanuel and Chicago seem to care as little about that tradition as they do in protecting the constitutional rights of free speech and assembly." NNU Executive Director RoseAnn DeMoro said in a statement. "These arrests are disgraceful and unconscionable, and will not deter our nurses from continuing this mission, setting up the station again, and continuing to support the protests."
The protest is slated to begin at 10 a.m. at Chicago City Hall at the LaSalle Street entrance -- and more protest plans are likely in the works.
"It's gonna be a busy week at the mayor's office," Occupy Chicago tweeted early Monday.
Check out photos from the Saturday night protest here:
Related
Before You Go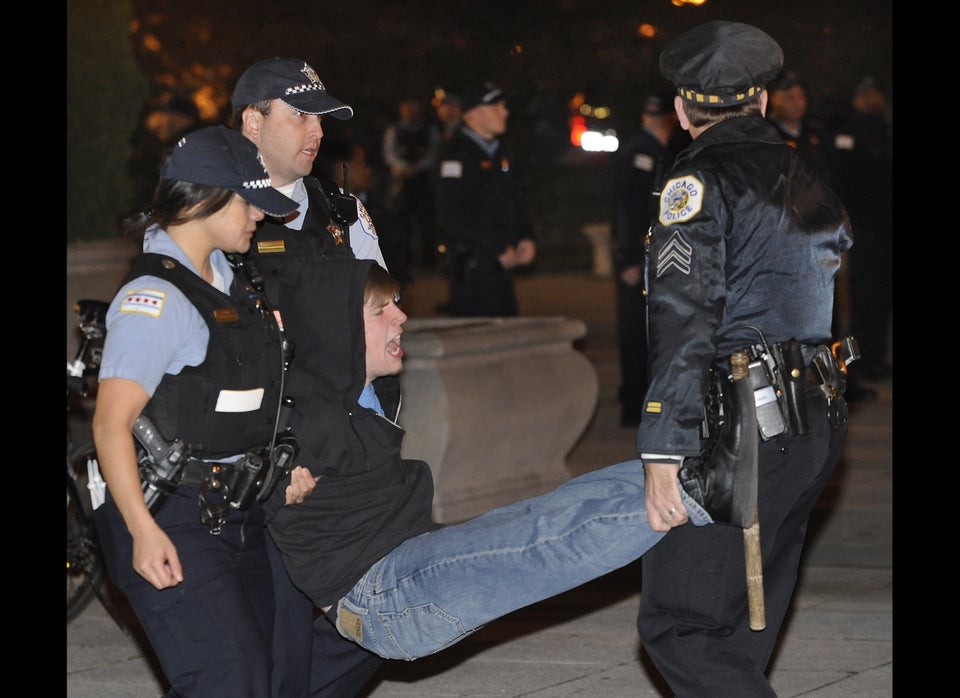 Occupy Chicago(CLONED)
Popular in the Community