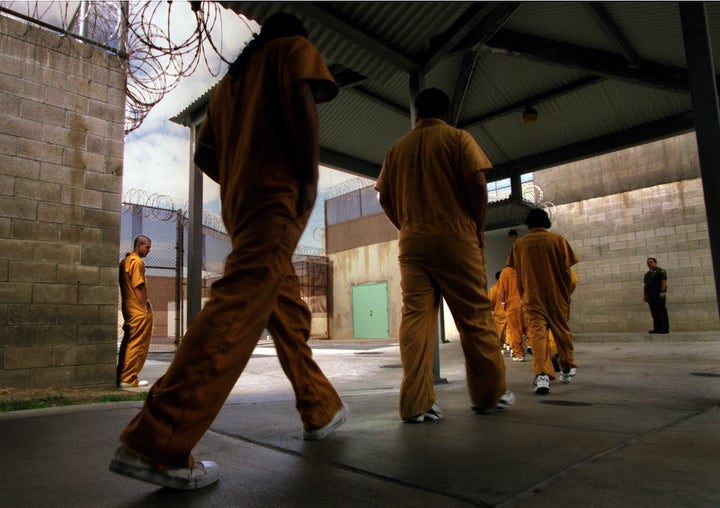 LOS ANGELES ― Orange County's jailhouse informant scandal continues to grow, apparently jeopardizing another murder conviction involving a prosecution informant. 
A defense lawyer alleged Wednesday that the death-penalty conviction of Skyler Deleon, who forced a couple to sign over their yacht, then tied them to the anchor and lowered them into the water, was won with egregious prosecutorial misconduct involving a jail informant.
If the conviction is upended, the case would add to more than a dozen murder convictions to unravel in the last three years, as defense lawyers accuse the Orange County District Attorney's office and the Orange County Sheriff's Department of using jailhouse informants in ways that violate defendants' civil rights. The Justice Department said in December it is /www.huffingtonpost.com/entry/doj-investigation-oc-da-scandal_us_5852ff39e4b039044707b888?v6d93e4rbo11yvi"}}" data-beacon-parsed="true">investigating whether the informant program violated defendants' rights. 
A blistering motion filed in Orange County Superior Court by Assistant Public Defender Scott Sanders alleges Deputy District Attorney Matt Murphy obtained key testimony from a jail informant to win Deleon's conviction. But Murphy failed to acknowledge this during litigation proceedings in another case handled by Sanders. Moreover, the prosecutor repeatedly expressed contempt for informant evidence in that separate case, the motion said.
Murphy misled Deleon's jury into believing the informant testified in a "fit of conscience" without hope of receiving a reduced sentence, which was untrue, according to the defense motion.
Matt Murphy told HuffPost that he denies every allegation made against him in the motion.
"His allegations are categorically false in every respect and we can prove it," Murphy said. "This is the latest in a long line of demonstrably false accusations made by Scott Sanders and we expect to address this much greater detail on May 19th."
Here's how the Deleon case unfolded, and why his conviction may be in peril. 
The Murder Of Thomas And Jackie Hawks
In October 2004, Thomas and Jackie Hawks listed their 55-foot yacht, called the "Well Deserved," in a boating magazine for $465,000. The couple hoped to sell the boat and move to Arizona near their grandson. That same month, Deleon, then in jail, got in touch with a friend, Alonso Machain, to see if he wanted "to make a few million dollars," killing the couple and stealing their money, according to court documents.
Deleon responded to the Hawks' ad and convinced the couple he wanted to buy their boat. In early November, during the first tour of the yacht, Deleon introduced the Hawks to his then-pregnant wife, Jennifer Henderson, and their 1-year-old daughter, to make them "feel more at ease," court documents say.
About a week later, Deleon recruited a third friend, John Kennedy, who joined him and Machain for a test drive of the yacht with the Hawks in Newport Beach. After the group sailed miles off the coast, Deleon asked the Hawks to stop so he could swim out and inspect the hull.
While the yacht was idling, the three men handcuffed the couple, and Deleon forced them to sign and thumbprint forms giving him power of attorney. Then he tied both to the yacht's 65-pound anchor and lowered them into the ocean, according to court documents. Their bodies were never recovered.
An 'Extraordinary' Informant 
Months later, Deleon was charged with two counts of murder. A jury convicted him three years later. 
After first claiming innocence, Deleon's attorney admitted his client murdered the Hawks, handing the prosecutor an easy conviction.
But in Orange County, prosecutors for years have enlisted the help of informants even in cases like Deleon's, where guilt is already clear.
The prosecutor presented evidence during the penalty phase of Deleon's trial that Deleon had interacted with a jail informant named Daniel Elias in 2005. The pair were both housed in a now infamous section of the jail called "L-20," a medical unit now known as an "informant tank" where some inmates work secretly for the government as informants gleaning damning information that can be used in court. 
Elias said Deleon offered him "millions of dollars" if he would help murder Deleon's cousin and two key witnesses ― a scuba instructor and a notary ― in the Hawk murder case.
Here's how Murphy explained the story in court: Deleon approached Elias by chance and befriended him. Deleon asked Elias to help murder people involved in his case. Elias contacted the DA's office, at first seeking a reward. But even after he was rebuffed, Elias continued to work as an informant against Deleon with no expectation of favors for himself.
Murphy said Elias was motivated by a sense of morality. Elias testified that he was so committed to doing the right thing that he stayed an extra two years in Orange County jail, rather than complete his lengthy sentence in state prison, which he preferred. 
"And that man, ladies and gentlemen, came in here with his waist chains on, on his way to prison, and he testified anyway," Murphy told jurors in Deleon's trial. "And, that is extraordinary. He got nothing from it."
But Sanders, citing testimony and evidence, argued in his motion that Elias was fully expecting to be rewarded for his snitch work, which was overseen by a jail deputy in the "special handling" unit ― now understood to be one of the primary groups managing, utilizing and cultivating informants in county jails. Sanders also argued that both Murphy and his informant recognized that Elias would get his reward after testifying against Deleon. 
Sanders' motion was filed in an appeal involving another client, Daniel Wozniak, who was sentenced to death last year for killing two friends in 2010. Murphy also prosecuted Wozniak.
"I've never used an informant," Murphy said in court in October 2015 during Wozniak proceedings.
Jailhouse Letters To The Prosecutor
Sanders cites a letter that Elias wrote to Murphy in 2006 saying that he had information about Deleon that he wanted to share, Elias adds that he "work[s] with Deputy Gunsolley here at the Jail." 
Sanders cites a letter that Elias wrote to Murphy in 2006, in which he reveals himself as an active jail informant, by saying he had information about Deleon that he wanted to share, and that he "work[s] with Deputy Gunsolley here at the Jail." 
Elias also wrote a second letter to Murphy in 2006. After allegedly being told that he would not receive any reward for his informant work in the Deleon case, Elias wrote to Murphy about a different inmate who he was willing to provide information on ― raising more questions about the claimed moral change.
"I'm willing to testify in exchange for time off my sentence," Elias wrote. "I deserve a chance and will help you if you will help me."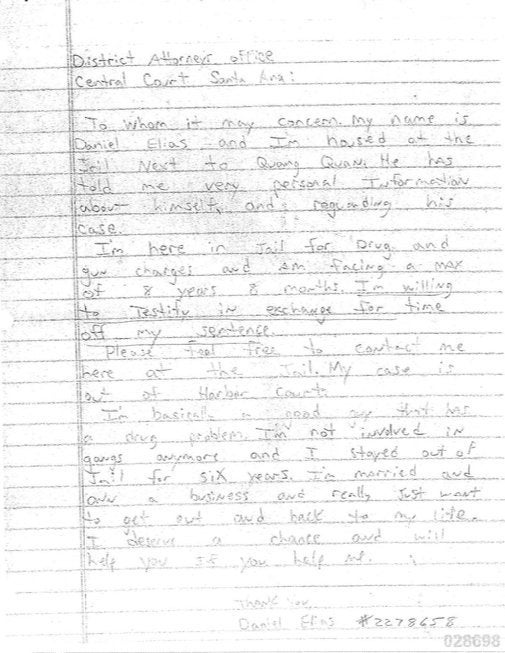 Delayed Sentencing For The Snitch
Sanders' motion then tracks more than 20 court dates from 2006 through 2008 for Elias' sentencing. Each time, sentencing for the informant was postponed. Also during this period, according to court records, Murphy took over as prosecutor in Elias' case.
Sanders said Murphy's involvement in the Elias case raises serious questions about claims that Elias is not receiving a deal for his informant work.
At one point in June 2008, Elias' lawyer requested yet another delay, this time revealing a reason: Elias' case was "awaiting final sentencing upon the conclusion" of Deleon's case.
And that's exactly what happened. In December 2008, just a few months after Elias testified against Deleon and jury voted for the death penalty, Murphy appeared at Elias' sentencing and argued he deserved "consideration" for his informant work. Elias was not "on his way to prison" as Murphy assured jurors. He was on his way home. The court granted credit for time already served in county jail, making Elias eligible for release that day.
I Want My Drug Money Back
For seven years, Elias has petitioned Orange County courts to return $2,628 seized by by police in 2005, when Elias was arrested for selling drugs. Since 2010, Elias has filed numerous motions claiming "a deal was made" with Murphy in December 2008 ― when Elias was finally sentenced. Elias said the agreement was to return his "property and money" "after my testimony in the DeLeon case."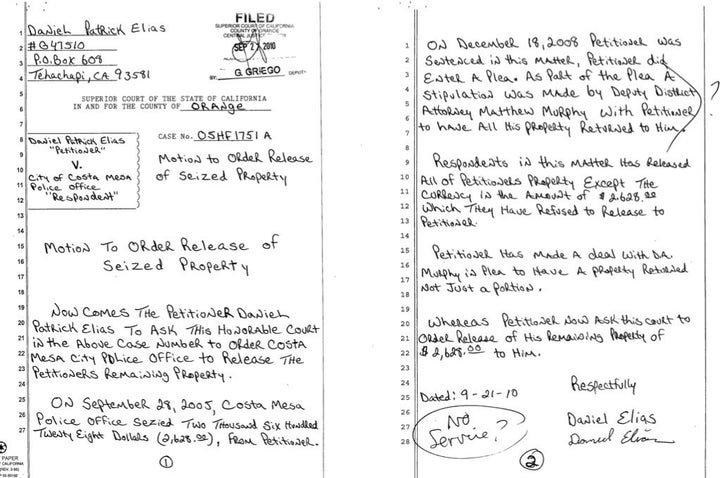 Sanders' motion said there's no reference to any such deal in the transcript from Elias' sentencing, or in court documents. 
Still, Elias continues seeking his money. 
In a 2012 hearing in Elias' quest, a prosecutor appeared in court on behalf of Murphy and said the "prosecution was not opposed to the return of property," Sanders wrote in the motion. Superior Court Judge Craig Robison ordered the money returned.
Apparently, Elias never got it. In February, he filed another petition, with hundreds of dollars in interest and an additional $5,000 for "unprofessional behavior." His latest petition for the return of his money arrived in April. A judge has yet to rule on the request. 
It's unclear if Elias will prevail. Astonishingly, Murphy appears to have agreed to the return of the cash even though his office secured a forfeiture ruling, according to court records.
The Jailhouse Informant Scandal Continues
Deleon's case appears to add to the scandal involving jail informants. 
Law enforcement authorities use informants to help bolster a case — a tactic that's perfectly legal, even when the snitch receives a reduced sentence or something else of value in exchange.
But Sanders alleged that in some Orange County cases, informants recorded conversations with inmates who were already represented by lawyers, violating an inmate's right to counsel. Prosecutors then presented damning evidence gathered by the informants in court, withholding other evidence that could have been beneficial to the defense. That tactic violates a defendant's right to due process. 
It's unclear how many cases may be affected by tainted informant evidence. Sanders argued that every case involving a jailhouse informant in Orange County over the last three decades deserves to be re-examined.
Orange County District Attorney Tony Rackauckas has maintained that no one in his office intentionally misused the jailhouse informant program. The sheriff's department adds that it has taken steps to create more robust ways of documenting and managing inmates.
Story has been updated with comments from Assistant District Attorney Matt Murphy.
Calling all HuffPost superfans!
Sign up for membership to become a founding member and help shape HuffPost's next chapter