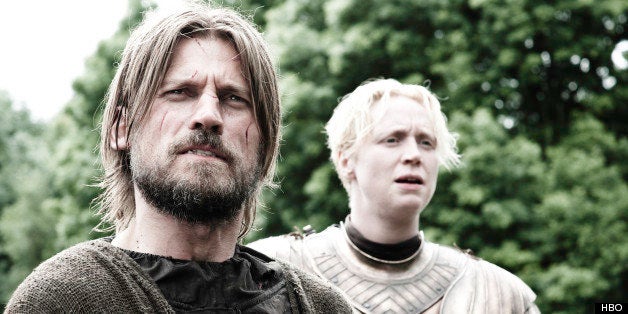 Though things have long been tense between the two as Brienne attempts to keep her promise to Catelyn Stark (Michelle Fairley) of bringing Jaime back to King's Landing, when the Lannister son lost his sword hand, things took a turn for the better. There was, of course, their communal bath moment and later, Jaime saved Brienne from a gladiatorial pit with a massive bear. If that's not love, we don't know what is.
Christie knows that many "Game Of Thrones" fans are hoping for something romantic between Jaime and Brienne, but she's not sure if it will happen or if she wants it to. "The world of 'Game of Thrones,' the world that George R.R. Martin has created and that Dan [Weiss] and David [Benioff]'s translation adapts brilliantly, is a world that's never straightforward," Christie told Rolling Stone. "I genuinely have moments of absolutely no idea. I don't even know if I want them to, because what they're experiencing is a bond that is quite unusual and quite pure bond. He did come back and save her life, which is enormous. I think it makes us examine a lot of possibilities and angles of what love is, and what love makes us capable of."
The actress added that Jaime and Brienne's sexual history -- incestuous and non-existant, respectively -- makes them "two highly unusual individuals." She told Rolling Stone, "I don't think that anyone genuinely can predict the way in which their relationship will go in any regard. Genuine and true love is so rare that when you encounter it in any form, it's a wonderful thing, to be utterly cherished in whatever form it takes ... We all want to see the impossible actually happen, to see these two extraordinary characters reach that amazing stage. Everyone's a sucker for some love and romance and whatever that may bring. But with those two? Lord knows," she said with a laugh.
"Game Of Thrones" airs Sundays at 9 p.m. ET on HBO. There will not be a new episode on May 26, but tune in for a big one on June 2.
PHOTO GALLERY
"Game Of Thrones"
Calling all HuffPost superfans!
Sign up for membership to become a founding member and help shape HuffPost's next chapter
BEFORE YOU GO