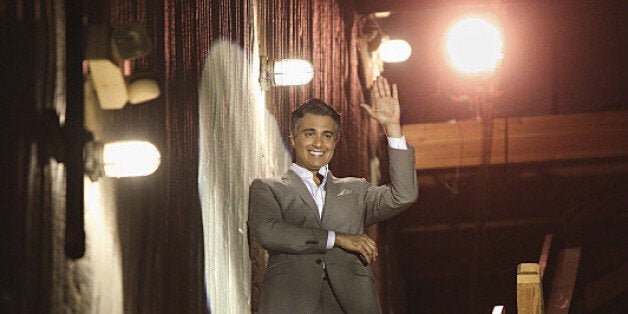 We still have a week to wait until "Jane the Virgin" returns on April 6, so how about filling up a bit of that time with an interview with Jaime Camil, who plays Rogelio de la Vega on the delightful CW program?
Rogelio, a telenovela star with a huge Twitter following, is one of the most consistently entertaining characters on TV. He innocently combines deep narcissism with profound sincerity and positive energy in such a charming way that it's impossible to escape the tractor beam of his infectious personality.
I use that sci-fi term advisedly, for I must inform you that things do not go well for Rogelio when "Jane the Virgin" returns with the six episodes that will conclude the critically acclaimed show's first season (and don't worry about its future: It has been renewed for a second season).
"Jane" viewers will recall that Rogelio was recently fired from his job on a popular telenovela, and as it happens, it wasn't his inflated ego that led to his dismissal. His scheming assistant made it look like Rogelio was behaving like a monster on set, even though he was never anything but professional.
No matter; Rogelio was let go from "The Passions of Santos," and though he got a job offer far away from Miami, he elected to stay in that city in order to be close to his daughter, Jane (Gina Rodriguez), and her mother, Xiomara (Andrea Navado). Rogelio only recently found out that Jane is his daughter, and family loyalty was more important to him than his career. Hence his decision to take a job on the Miami-filmed "Pasion Intergalactica," a TV show starring Rogelio's rival, Esteban.
"Esteban hates Rogelio so much," Camil said with a laugh in a recent interview on the show's set. Fans have already seen Rogelio as a space detective on "Intergalactica," but when "Jane" returns, Esteban will begin to write Rogelio out of the show -- quite literally.
"He writes him out to the point where Rogelio is just a head," Camil reported. "I lost my body in a meteoroid crash or something." That leads to an upcoming scenario in which Rogelio shoots a scene in a green-screen bodysuit, because his "Intergalactica" character will soon be depicted as a disembodied head floating through space.
"I love it. I love Rogelio to death -- not to death, but to life," Camil said. "He's so fun. And of course, you could lose it, you could go over the top with him so easily. But we have great directors. and I know Rogelio very well right now."
At the moment, Rogelio may be regretting his career choices, but it's clear that Camil does not. The actor is a huge star in Mexico, where he was born, and he is very well known all over Latin America. But in part because he wants to continually challenge himself, he has been coming to the United States for seven years for pilot season. "Jane" was one of three offers he was considering from American shows a year ago, but he said the choice was clear -- even though Rogelio barely made an appearance in the show's pilot.
"I said, 'I love the script but I want to know where he's going,'" Camil recalled. "So [executive producer] Jennie [Snyder Urman] was super cool and super sweet about it. She said, 'He's going to be a principle role and be in Jane's life a lot.'"
"What I love about Rogelio is all the stupidity," Camil added. "He really means everything he says. 'I want my daughter to have the privilege of knowing me.' It's like, 'Did he really just say that?' To him, it's a normal way of life. Everybody should feel like this about themselves. That's why he gets away with it -- he's very sincere."
It's the deft combination of both comedy and drama that Camil enjoys (and that is reflected in the hilarious Twitter feed for the character, which is penned by "Jane the Virgin" writer David Rosenthal). As Camil notes, the serious moments might not land as well as they do if "Jane" wasn't so light on its feet the much of the time.
"When you do a good comedy show, you have to understand that if you don't have drama or sad moments, then the comedy turns into a clowning kind of situation," he noted. "That's the brilliant minds of Jennie and the writers -- to give Rogelio this duality, of being serious, of being this guy who really loves his daughter and his family and Xiomara, but at the same time, he's completely crazy and out of this world."
However out of this world Rogelio gets -- on the set of "Pasion Intergalactica" or out and about in Miami -- he also gets to display some admirable traits and occasionally navigate difficult emotional moments. But Camil is so good at playing the lighter side of the character that when he prepared for Rogelio's death scene on "The Passions of Santos" -- one of his favorite "Jane the Virgin" moments -- he had a little trouble being taken seriously.
"I am very lucky because I'm one of the comic reliefs of the show -- the comic reliefs always get extra points," Camil said. "I have fun in every single one of my scenes, to the point that when I was doing the stabbing scene, I said [to the crew], 'This is going to be a very serious scene, I need you guys to help me out and be super quiet on the set.' The sound guy [began laughing]. I went, 'No, dude, I'm really serious right now, this is for real.'"
Speaking of Rogelio's more serious side, one of the main threads of the season has been Rogelio and Xiomara's tentative reconciliation. Though they care about each other a lot, they both want their daughter Jane to be happy, and given the way her unexpected pregnancy has upended her plans and various family dynamics, the couple's renewed relationship hasn't exactly traveled a smooth path.
That said, "they really love each other," Camil said. "I love the fact that Rogelio is not this womanizer, as you might expect. When he's in a relationship, he really commits." And yet…
In the April 13 episode, Rita Moreno guest stars as Rogelio's protective mother, who takes a dim view of her son's relationship.
"Of course, she would never approve of anyone who dates her baby, so she doesn't like Xiomara," Camil said.
It sounds like a perfectly soap-appropriate twist for Rogelio and "Jane the Virgin."
Popular in the Community