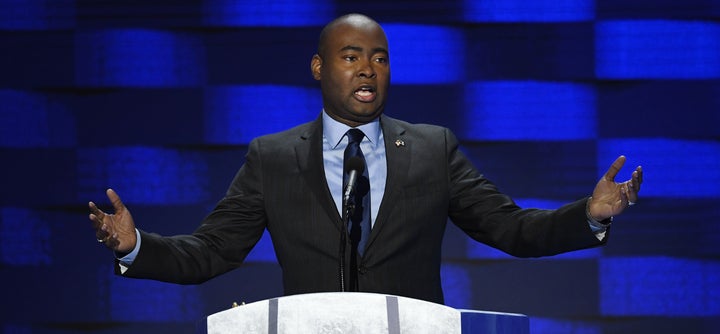 For nearly all of the Obama era, Jaime Harrison has been a lobbyist at the Washington powerhouse Podesta Group. His clients have included some of the industries most reviled by today's Democrats ― tobacco companies, coal producers and big banks, which he helped defend against new regulations proposed by the Obama administration.
Lobbyists are everywhere in the nation's capital. Harrison's career path wouldn't be unusual ― except he's currently running to be the next official head of the Democratic Party, which has generally sworn off many of Harrison's top clients. Harrison's professional background cuts a sharp contrast with Rep. Keith Ellison (D-Minn.), a progressive congressman who told The Huffington Post last week that he would reinstate President Barack Obama's ban on lobbyist contributions to the Democratic National Committee, if elected as its next chairman. Harrison opposes such a ban, and generally believes lobbyists are getting a bad rap. In an interview with HuffPost, he was unapologetic about his career choices.
"I don't think there's anything I'm embarrassed about," Harrison said. "You don't have very many options when you graduate from law school with $160,000 of student loan debt and want to take care of your grandma. That is how I take care of my family ... I don't come from a lot of money."
Harrison worked for the Podesta Group from late 2008 until he began his run for the DNC chair late last year. He's been chair of the South Carolina Democratic Party since 2013, and his bid for the national leadership post was initially viewed as something of a long shot. But he has steadily racked up a handful of endorsements over the course of the race. Rep. James Clyburn (D-S.C.) ― the third-ranking House Democrat ― was an early advocate of Harrison, who worked as an aide to the congressman before jumping into the more lucrative lobbying world. On Monday, he touted support from Reps. Marcia Fudge (D-Ohio) and John Larson (D-Conn.), along with four members of the DNC ― the 447-member body that will actually vote in February to certify the next DNC Chair.
According to federal lobbying disclosure forms, from the spring of 2009 until the second quarter of 2012 (with a one-quarter break in 2010 and again in 2011), Harrison lobbied on behalf of the American Coalition for Clean Coal Electricity ― a front group for big coal companies that worked to undermine Obama's climate change legislation and subsequent regulations.
After denying the existence of climate change for years, coal companies abruptly changed course in 2008, tasking ACCCE with responsibility for a new $40 million marketing plan designed to give the industry a friendlier reputation. Greenhouse gasses, the industry now acknowledged, were harmful to the environment. But ACCCE claimed coal wasn't the problem ― new technologies could clean it up.
Those technologies never really materialized, and ACCCE ultimately paid Podesta nearly $1.2 million over the course of Harrison's involvement with the coal group. Harrison denies that he did any work to "kill Obama's energy legislation" for ACCCE. Instead, he says he was seeking "incentives for clean coal technology" and financial assistance for "people in those communities and also something for people who invested money in a corporation that's going to be shuttered" due to new regulations.
ACCCE, which declined to comment for this article, wasn't Harrison's only stint with the coal industry. The Podesta Group also received a total of $160,000 for lobbying work over the final six months of 2010 representing the National Mining Association, which includes Caterpillar, Alliance Coal, the American Coal Council, Arch Coal, Berwind and several coal interest groups. Harrison is listed as one of NMA's lobbyists on federal disclosure forms.
Another of Harrison's early lobbying gigs involved tobacco clients. For half of 2009, Harrison worked on a campaign to help tobacco companies fight new legislation moving through Congress that would require tougher, more explicit health warnings on cigarette boxes. Taken together, the three tobacco companies ― S & M Brands, Dosal Tobacco and Xcaliber International ― control the Bailey's, Tahoe, Riverside, Echo, Edgefield, Exeter, 305, Competidora and DTC cigarette brands. Harrison also worked alongside the Zip-Zap cigarette rolling paper company and the Council of Independent Tobacco Manufacturers Association on the project. All told, tobacco interests paid the Podesta Group about $120,000 over the course of six months, according to the filings.
None of those companies or interest groups would comment on Harrison's work on their behalf, but Harrison defended working for "small tobacco companies," which he said would have been "shut down completely" by the new rules. The cigarette industry is heavily concentrated at the top, with 85 percent of the domestic market controlled by Altria, Philip Morris and Reynolds American.
"It's not that they don't want to be compliant [with federal rules], but the way that the legislation or regulations are drawn, they're drawn to impact the larger guys," Harrison said. "And if they apply to the smaller mom-and-pop-type operations, they'll be shut down."
This is a common defense for small players battling reforms. Still, even small cigarette companies make money selling products that kill people.
Harrison also worked on behalf of Bank of America and Wells Fargo as Obama's Dodd-Frank financial reform legislation was moving through Congress. Both banks received big bailouts from the federal government and spent billions to settle fraud charges tied to bogus mortgages, and both declined to comment for this story. Harrison said he could not recall what policies he lobbied for with the banks.
Harrison would not be the first political operator to move from the lobbying world to the chairmanship of the DNC. Steven Grossman had been president of the nation's pre-eminent pro-Israel lobbying group, the American Israel Public Affairs Committee, before being elected head of the DNC in 1997. Harrison says Democrats need to stop disparaging lobbyists, many of whom do important work.
"The question I have for a lot of Democrats is, 'Are we condemning people who can break out of poverty, or do we have to do the jobs that we deem are appropriate to do?'"
Popular in the Community