"Despite strong performances at the debate and DNC regional forums, the votes are simply not there for me to secure victory on Saturday," Harrison said in a Thursday statement announcing his decision. "We have a candidate for DNC Chair who can unite the Democratic Party behind the goal of enacting progressive change, a candidate who can take the fight to Donald Trump and rebuild our Party infrastructure, and a candidate whom I, as a voting member of the DNC, am proud to support: Tom Perez."
Harrison's endorsement is a significant pickup for Perez heading into Saturday's vote in Atlanta. The former labor secretary is locked in a tight race with Rep. Keith Ellison (D-Minn.), co-chair of the Congressional Progressive Caucus. Harrison was the third-most popular candidate behind Ellison and Perez, according to an Associated Press report, and his support will now likely go to Perez.
Neither Perez nor Ellison currently has a majority of the 442 party officials eligible to vote. If no candidate wins an outright majority in the first round of voting, there will be additional ballots until a candidate obtains one.
The close state of the contest has set the stage for a scurry of dealmaking in the race's final days. New Hampshire Democratic Party Chair Ray Buckley exited the race and endorsed Ellison on Saturday. If Ellison wins, Buckley will lead the DNC's efforts to revive state Democratic parties, according to the two campaigns.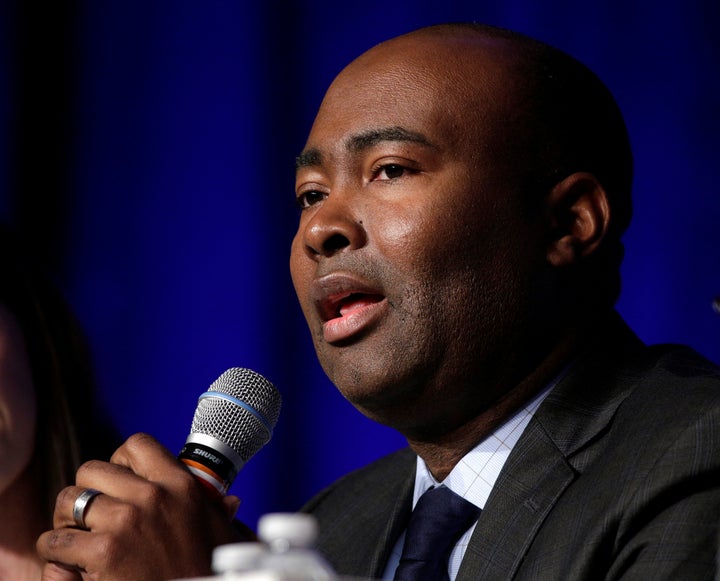 In addition to Perez and Ellison, South Bend, Indiana, Mayor Pete Buttigieg; Idaho Democratic Party Executive Director Sally Boynton; media strategist Jehmu Greene; Milwaukee attorney Peter Peckarsky and U.S. Air Force veteran Sam Ronan are still in the running.
Harrison turned in one of his most forceful performances of the monthslong campaign at a CNN-sponsored debate on Wednesday night. But the former floor director for then-House Majority Whip James Clyburn (D-S.C.) has failed to gain traction in a race dominated by two figures with major national backing. Until entering the DNC chair race, Harrison worked as lobbyist for the Podesta Group, where he represented the coal, tobacco and financial industries.
Democratic activists and operatives are closely watching the DNC race, viewing it as a proxy battle between the Sen. Bernie Sanders (I-Vt.) wing of the party and the Democratic establishment. Ellison endorsed Sanders in the 2016 primary and now has the blessing of Sanders and many of his most active backers. Perez backed Hillary Clinton in the primary, and has earned the endorsement of major figures from the Barack Obama administration, including former Vice President Joe Biden.
But Perez also has strong progressive credentials, winning liberal praise for his leadership of the Department of Labor and the Department of Justice's Civil Rights Division. One of his only major policy differences with Ellison is his backing for the now-defunct 12-nation trade agreement, the Trans-Pacific Partnership.
In their pitches to the state party chairs and other insiders who will decide the race, Perez has emphasized his executive experience, while Ellison has focused on his organizing prowess and record of winning elections.
REAL LIFE. REAL NEWS. REAL VOICES.
Help us tell more of the stories that matter from voices that too often remain unheard.
BEFORE YOU GO
PHOTO GALLERY
Democratic National Committee Chair Candidates