Sometimes art can be a little too honest. And when that happens, especially if the artist is a child, it is unsettling for the adults viewing the work. So maintains artist, Jaime Lee Loy, with whose dark scary pictures her schoolteachers in Trinidad had problems with and tried to dissuade her from doing. "My teachers in high school thought the work that I was doing on family pain and abuse was just a bit too honest, and many of them had a problem with that."
These days Jaime Lee Loy has no problems going to those dark scary places of family pain and dysfunction and their resulting impact on children. A lot of her work looks at how what is strange, painful and unfamiliar can, through domestic discourse, become normalized in individuals -- particularly women's lives.
Jaime Lee Loy was born on the island of Trinidad and at the tender age of three years she lost a father with whom she remembers being very close. This crucial loss, and the resulting dislocations it would cause in her domestic life, is a theme that the artist returns to in various guises in her work. Early in her career she sought to address the overwhelming loss of her father in a series of powerful charcoal and paint drawings, which were the works that some of her high school teachers found so upsetting and unsettling.
Jaime Lee Loy's father was a mixture of Chinese and other races, with relatives who came from various parts of the Caribbean. Her mother's parents, on the other hand, came straight from China, and they would end up opening shops where they would sell preservatives on the island of Trinidad. "My mother was creative and ambitious," Lee Loy shared with me, "but she never got to express her creativity because she had to stay home and sell in the shops that her family had opened. Consequently, my mother always felt held back." The artist was quiet, thinking for a while, before continuing. "I guess that is maybe why the theme of the woman held back by family obligations would become so resonant throughout most of my work."
At the University of the West Indies, where she would eventually graduate with first class honors in Literature and the Visual Arts, and a Master of Philosophy degree in Literature, Lee Loy would go on to explore the themes of family loss and betrayal that has since become a hallmark of her work. Indeed, Lee Loy was such a good student of literature that her intention was to go on to pursue a doctorate in literature, but that plan was shelved when she decided to pursue a career as a creative writer and visual artist over and above that of being an academic.
Following the receipt of her master's degree and the birth of her daughter, Lee Loy would go to work at the then newly opened Caribbean Contemporary Arts organization in Trinidad, which she credits with being an eye-opening experience for her. "CCA opened up a world for me and allowed me to recognize myself as a contemporary experimental artist."
During the time she was at CCA, Lee Loy worked on a 30-foot mural that examined women as outcasts in society, and produced a documentary on what it means to be a single mother in Trinidad. "In my work as an artist I find that I am always probing into areas that are often stigmatized and barely spoken about, especially in relation to the lives of women. Being a single mother is one such area."
Mental illness is another area the artist would go on to explore. "The stigma of mental illness in the Caribbean is strong and it is enduring," the artist believes. "In exploring the stigma of mental illness, I ended up doing a sculptural piece on schizophrenia consisting of a woman's torso with two heads. The two heads are of course representative of the two faces of the illness; one, that at times seems to be comparatively 'normal' looking, and the other, an anguished face.
"While I was working on the sculpture, and trying to explain to others and myself what I was doing, I started probing the various uses of the word 'crazy'. This probing around that word and its many manifestations and iterations specific to Trinidadian society would end up in me doing a video piece entitled Crazy which examines the many culturally loaded meanings of that word."
The artist continues, "I guess you can say that I am fascinated not only by boundaries and limits and definitions and silences, but, as well, by crossing and indeed breaking boundaries."
Naturally, I was curious to know if it was not difficult for Jaime Lee Loy to make works that were so often on the edges of acceptability, particularly in her home country of Trinidad where she resides. Lee Loy was quiet for a while before answering my question. "You know," she began softly, "I often create works that I do not know if I will show. It is only after I have created the work, that I begin trying to figure out whether or not I will show it. Showing works for me can be quite tricky because, more often than not, galleries do not know what to do with my work, and the art market in Trinidad remains remarkably conventional."
The fact that her works can be sometimes ephemeral, perhaps adds to the reluctance of galleries to show her work. For example, quite recently the artist executed a body of works that involved working with live flowers. The work all came about when she was attending a residency at Vermont Studio Center when she was sent an unwelcome intrusion of flowers. For the artist the flowers started to take on a menacing, dogged quality and eventually came to symbolize an invasion of cockroaches. What the artist ended up doing was making sculptural cockroaches out of the flowers as a commentary on things that might, at first glance, seem beautiful, but can invade your home and multiply and then become quite difficult to get rid of.
"For me, my roach flowers are a battle of paradoxes. They represent being both attracted to and repulsed by something at the same time. This body of work is called the Un/familiar and in it I am trying to understand how something so unfamiliar can become your everyday, your routine, and your familiar. Through this work I was seeking to understand how women in particular could become accustomed to the domestic abuse and physical abuse that is meted out to some of them in their daily lives."
What the artist eventually came to understand through her roach flowers and other subsequent works is that societal norms and constructions can oftentimes set women up for abuse. While still in residence at the Vermont Studio Center the artist pulled out particular sentences from a book that many housewives read that she ended up coalescing into a sharp and pointed commentary that showed how households, long thought to be the safest of spaces, can indeed be unsafe places for many women.
The theme of one's house and home being an unsafe space becomes particularly resonant in the 45-minute video Bury Your Mother that the artist completed in part with funding from the Trinidad and Tobago Film Company. The film is silent, with only text and subtitles as guides, and is about a woman and her mother trapped in a large colonial house. This video is a haunting, non-linear visual narrative in which, "[Two] women struggle with departure, loss, intimacy, and betrayal. Comparable to a modern day 'Miss Havisham', the mother drifts around the house alone, and the daughter from time to time, scurries in and out and in-between spaces."
Perhaps the artist's most poignant work is a performance that she completed at a residency in Europe where the theme of the outcast woman and yet another taboo subject, this time, suicide, would become conflated into one work. It so happens that where the residency was located, a beautiful bucolic place, a young woman, Betty, had committed suicide. What happened following Betty's suicide was that no one knew where to bury Betty, because most people were appalled by and alternately afraid of the fact that this woman had committed suicide. In effect, what was happening was that no one wanted Betty or her terrible story next to them and there was a concerted effort to make both Betty and her story invisible.
But, for Lee Loy, Betty and her story were important. It was a story that more people should indeed be engaging with and talking about, and so what Lee Loy ended up doing was photo-shopping Betty into and onto everything that she could and she started moving the figure around the landscape, giving her mobility. The worst thing that could happen to Betty, Lee Loy felt, was that she and her tragic story should be forgotten.
What a viewer takes away from an examination of Jaime Lee Loy's body of work so far is a careful consideration of the terms 'home' and 'family'. Jaime Lee Loy's engagements time and time again show us how those that are supposed to guide, guard and protect us, especially at the most vulnerable stages and moments in our lives, can become some of our greatest transgressors. It is a hard pill to swallow but, I would maintain, a necessary dialogue to have. Lee Loy's work offers a loaded meaning to such words as 'belonging' 'culture' 'family' and especially 'home.'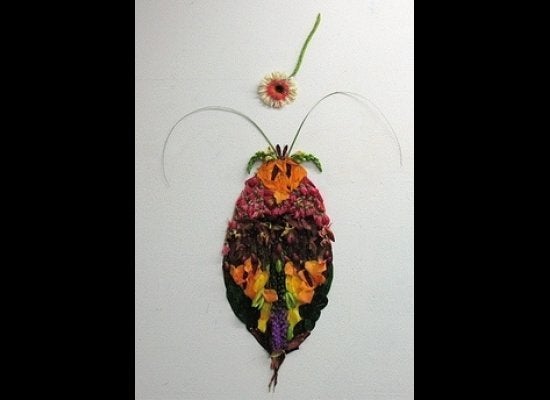 Works by Jaime Lee Loy
Popular in the Community