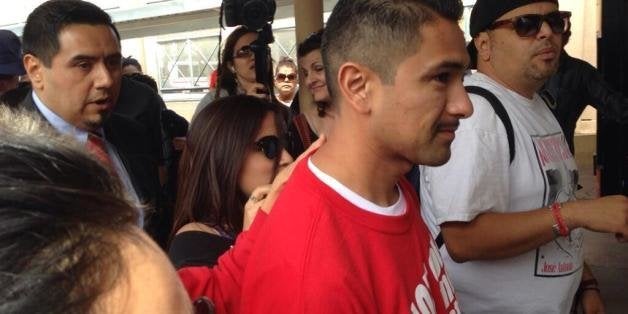 Two undocumented immigrants who say they were expelled from the United States in retaliation for their activism are crossing back into the country through the legal port of entry at Nogales, Ariz., this week, hoping to fight their deportation cases through the legal system.
The demonstration is the latest in a growing trend in which people who once lived in the United States as undocumented immigrants return to the country through legal ports of entry, where they openly declare their status in an attempt to gain residence through legal channels.
"I have faith that the president will hear us and let us enter," Jaime Valdez, one of the returning immigrants, told The Huffington Post.
Activists livestreamed the first crossing Tuesday, chanting "bring Jaime home" as Valdez approached the gate to pass from Mexico to the United States. He plans to apply for humanitarian parole, an exemption that allows inadmissible immigrants to enter the country for humanitarian reasons.
Valdez, 31, was born in Michoacán, Mexico, and moved to the United States with his family when he was 14 years old. They made their home in Phoenix, where Valdez worked in restaurants and fixed computers in his spare time.
He was deported on Feb. 25 as he was taking part in a hunger strike organized by families with relatives locked up in Eloy Detention Center. Valdez said authorities at Eloy, which is owned and operated by the Corrections Corporation of America, put him in solitary confinement for participating in the demonstration.
"My deportation was retaliation for the hunger strike," Valdez told HuffPost.
In a statement after the deportation on Feb. 25, Immigration and Customs Enforcement said it was "committed to sensible, effective immigration enforcement that focuses on its priorities, including convicted criminals and those apprehended at the border while attempting to unlawfully enter the United States."
Valdez had appealed his deportation order to the 9th U.S. Circuit Court of Appeals, which denied his request for a stay of removal. He has two DUI convictions on his record, one from when he was in his early twenties and one from 2011. He says his lawyer convinced him to plead guilty to the latter DUI charge. "Because I was misrepresented, I've been paying for it ever since," Valdez said.
Valdez's deportation hit his family hard. His father, José, says he has lost three sons to deportation. His second-oldest son, Luis Felipe, was killed while being robbed after he was deported last year, José Valdez told HuffPost when Jaime was deported in February.
"I don't want to have the same fate as my brother," Jaime said.
Ardani Rosales, the second of this week's immigrants to re-enter the U.S. at Nogales, will cross the border on Wednesday. He was deported to Guatemala in December while activists and family members held a vigil for him outside the Florence Service Processing Center, an immigrant detention center about an hour's drive southeast of Phoenix. He has two children who are U.S. citizens.
"Why is ICE deporting people who are just here to work and have a family?" Rosales' fiancée, Naira Zapata, said in a statement. "Why are they doing this to so many families and why did they do it to mine?"
President Barack Obama ordered a review of his administration's deportation policies last month amid growing criticism from immigrant activists, Latino voters and Democratic allies over his record-breaking pace of deportations. His administration has deported approximately 2 million undocumented immigrants.
"We're going to keep fighting so that they stop deportations, against all this injustice happening, so that President Obama listens to us," said Valdez.
Calling all HuffPost superfans!
Sign up for membership to become a founding member and help shape HuffPost's next chapter
BEFORE YOU GO
PHOTO GALLERY
6 Misconceptions About The Border