Let's make it official. The toughest new chick on the TV block this season is Jaimie Alexander from NBC's Blindspot.
It also means no disrespect to Melissa Benoist, a/k/a Kara Danvers on CBS's Supergirl, or Priyanka Chopra, who plays Alex Parrish on ABC's Quantico.
Up until about 10 years ago, either of those two would have won the title by acclamation.

Since then, however, you might have noticed that TV has rapidly moved away from women who fumble in their purses for pepper spray when confronted with a menacing adversary.
Today, much more likely, they're packing heat. They're packing fists of titanium. Or they're simply more hard-core than the guy foolish enough to challenge them.
And that's not just the women who are cops.
If you ever find yourself in a barroom brawl with the current cast of TV characters, do not antagonize Taraji P. Henson from Empire. Especially stay clear of Constance Wu from Fresh Off The Boat.

So this year's crop of tough chicks arrived ready to roll, from Supergirl and Alex Parrish to Erika Christensen's Betty Beaumontaine on Wicked City, who moonlights as a serial killer, or Charity Wakefield's Cassandra King on The Player, whose steady hand on a sniper rifle is only a small part of her skillset.
Only a few years back, cops like Jennifer Carpenter's Rebecca Harris on Limitless and Jaina Lee Ortiz's Annalise Villa on Rosewood would also have led the pack. These days they're eclipsed by the likes of Jean Smart's Floyd Gerhart on Fargo, who can order an execution as casually as she orders pancakes.
In any case, now that all this fall's new characters have had some episodes to work up a sweat, Alexander has earned the top spot.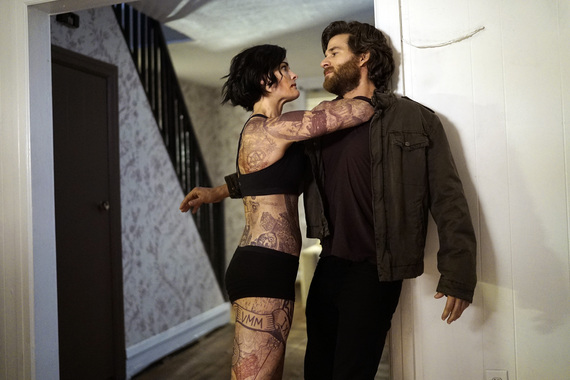 Interestingly, she claims the title before she even has a for-sure name. She's mostly still called Jane Doe, which offers little hint about her mad combat skills.
She can fire any gun from any position, and that includes picking off the pistol-wielding bad guy who is standing behind an innocent hostage.
When it's time for hand-to-hand combat, Jane gets even better. She knows martial arts, but she doesn't just flip a bad guy on his back and point her gun at him. If he punches her, she punches him back. They throw each other against walls and the worst she does is fight him to a draw until her FBI agent quasi-partner Kurt Weller (Sullivan Stapleton) arrives.

We've had some hints, via blurry flashbacks, that Jane at some point had intensive military-style training, like Navy Seals get. That would explain a lot.
What it doesn't entirely explain, which in fact nothing could entirely explain, is the premise of Blindspot.
Which goes something like this.
At some point, after her military training and after she apparently did some things that needed to be forgotten, Jane took a drug designed to blot out the memory of her entire life.
We joined her story shortly after she took the drug, when she woke up naked in a duffel bag in Times Square and discovered she was covered entirely with tattoos.
Best TV series opening scene in years.
Those mysterious tattoos have subsequently helped drive the plot, since they hold clues to a series of crimes committed by nefarious shadowy bad guys.
So there's still a lot of "Huh?" to Blindspot, though to be fair it's not much weirder than the premise of fellow NBC shows The Blacklist or The Player.
Alexander, against this backdrop, has carved out a complex character who is surprisingly relatable in spite of the fact that only a tiny percentage of us will ever wake up in a duffel bag in Times Square, naked and covered with tattoos.

Sometimes Jane is a female Terminator with ink. Sometimes she's scared and confused. She's looking for answers, she's looking for love. When the whole tattoos-and-clues thing asks a little too much of our forbearance, we can just sit back and root for her, which may help explain why Blindspot has already been renewed for a second season.
Maybe NBC was afraid not to.
REAL LIFE. REAL NEWS. REAL VOICES.
Help us tell more of the stories that matter from voices that too often remain unheard.