Anyone can tell you who's already made it, but HuffPost Arts & Culture's On Our Radar series is here to tell you who's about to blow up -- and, in some cases, go pop.
We don't know what we love most about Jaimie Warren: her knack for puns, her obsession with "Toddlers & Tiaras" or her endless devotion to Roseanne Barr. The Kansas City native channels the vulgarity, randomness and inscrutability of the Internet through her work. Warren, like a Reddit-crazed Cindy Sherman, inserts her self portraits into the best and most bizarre memes, channeling everything from Picasso's "Demoiselles" to the celebrity spoof, "Lasagna Del Rey." She makes us laugh, she creeps us out, and she inspires us to put our reality TV addictions to good use.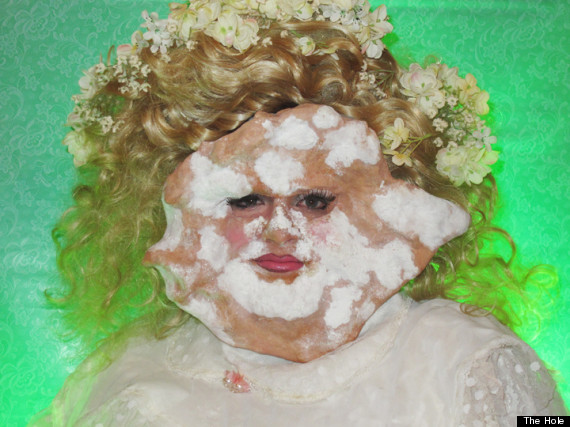 "Self-portrait as JonBeignet Ramsey by skitterypigeon and breadpeople"

HP: What are you trying to say with this project? Why does it matter?
JW: For about ten or so years I was always taking self-portraits as a way to entertain myself living in a smaller city. They usually involved some sort of low budget silly costuming like dressing goth with friends at the local cowboy bar or a weird mermaid costume to crash an acquaintance's wedding. They had a prank-ish sort of vibe and were about performance.
With the newest series of images, they are staged and more focused on the setting and costuming. There are three different series— one where we are re-creating found Photoshopped images of art historical paintings. Another is re-creations of found Photoshopped images mixing celebrities with food. The last is from www.totallylookslike.com where people pair images of celebrities with objects, animals, food, other celebrities, etc, and show how they look alike. What all of the images have in common is that I am putting in a lot of hand-made effort to re-create Photoshopped images without using Photoshop. What I love about the images is the ridiculousness of spending so much time and effort on images that are so ridiculous. Also, I like being the male and female characters, usually in a pretty self-deprecating/unflattering manner, which I think is more fun and interesting anyway.
Interview continues below slideshow.
PHOTO GALLERY
Jaimie Warren
HP: Who are your influences?
JW: Little Richard, RuPaul, Roseanne Barr, Dolly Parton, Marilyn Manson, Madonna, Michael Jackson, Britney Spears, Lil Wayne, Damien Echols, Leigh Bowery, and Elvira. Also, "Chic-a-Go-Go," "Pee Wee's Playhouse," "The Carol Burnett Show," "Double Dare" and "Soul Train."
HP: What has been a high point in your career so far?
Whoop Dee Doo [is] a recent project that was in Miami. [I worked] with seven high school students from Martin Luther King High School to create an interactive performance and installation for the Art Live Fair, an event that benefitted the homeless women and children at the Lotus House in the Overtown neighborhood of Miami. Ten Whoop Dee Doo artists from Baltimore, Portland and Kansas City, resided at LegalArt (now called Cannonball) for ten days to create an installation titled "Monster Stereo." The outcome of this project would be a piece with design and performance elements created as a collaboration between the Rites of Passage students and Whoop Dee Doo artists. It was our most thoughtful and thorough project yet, and it really resonated with the young people we worked with more than anything we have ever done.
HP: What are you obsessed with right now?
JW: I'm always obsessed with watching Roseanne. Roseanne Barr in general (old Roseanne, not necessarily Roseanne for President, but maybe...) Also, reality TV! I think I love "Flavor of Love" the best, "RuPaul's Drag Race," and "Toddlers & Tiaras." I just got word of a new show that does fantasy funerals in Dallas called "The Best Funeral Ever" and I think I almost had a heart attack. I want to go intern for them. I don't think it would be possible for me to be more inspired by something.
HP: What movie/book/artist are you embarrassed about not knowing?
JW: In school I was terrible at art history and obsessed with pop culture, and though I am really trying to re-fill my brain with knowledge about many of the paintings from art history I am re-creating, I must admit there is so much I don't know and it can definitely be embarrassing. But I am trying, I swear!
HP: How would your childhood art/music teacher describe you?
JW: As a typical art student with bad taste taking black-and-white semi-nude portraits of their friends after school. Heehee.
Jaimie Warren's "The WOAHS Of Female Tragedy II" will show from January 10 – February 9, 2013 at The Hole in New York.
REAL LIFE. REAL NEWS. REAL VOICES.
Help us tell more of the stories that matter from voices that too often remain unheard.
BEFORE YOU GO