One of the biggest complaints about the art world, from both insiders and outsiders, is its tendency to seem more than a little pretentious at times. From press releases that prefer artspeak to good old English, to gallery crowds that seem to have perfected their unimpressed yet totally knowledgeable half-smiles, the realm of art, we readily admit, needs to lighten up.
If this be your qualm, Jaimie Warren is here to help. The photographer, born and raised in Kansas City, Missouri, is one of the most refreshingly anti-snobbish artists on the planet. Example A: she recently climbed out of a giant butt at Art F City's roast. She gleefully gushes over her obsessions with reality television and Roseanne Barr, among other things, citing them both as more influential in her work than most artists. And despite her down-to-earth attitude, her artwork is some of the most brilliantly bizarre stuff out there today, conjuring the grotesque shock-pop of trashy TV inside the white-walled gallery space. Like this terrifying GIF, based on a B-movie horror film.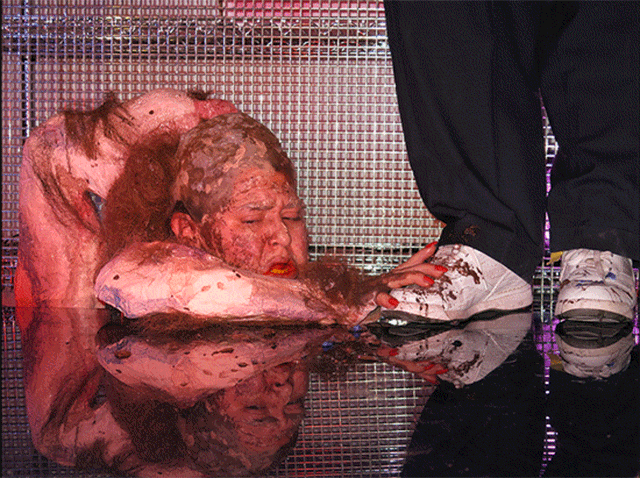 The photographer, and recent Baum Award recipient, offers an artistic antidote to all things stuffy, exclusive and abstruse, with campy self-portraits that capture the turned-up volume of the internet age. With titles like "JonBeignet Ramsey" and "Self-portrait as Female Gremlin/Self-portrait as rapper Lil' Kim in Female Gremlin Totally Looks Like Lil Kim by iworejungleboots," Warren's oeuvre feels like the nastiest guilty pleasures in your browser history jammed together in the best way possible.
While the internet aesthetic is, for lack of a better word, trending right now, Warren is set apart by her genuine, unabashed love for her subject matter. Other artists mimic lowbrow culture with a wink and an eye roll, but Warren loves her celebrity train wrecks, one hit wonders and living memes with all her heart, and makes a convincing case why. "I've spent my whole life in the Midwest," she explained to The Huffington Post, "and that's how you're exposed to everything... is television and the internet."
"Reality television opens you up to all these worlds you wouldn't normally be exposed to, and it's all so personal. As long as you know the content is manipulated, but even that in its own way is amazing," she added. Sometimes it seems Warren doesn't just love her celebrity subjects, she worships them.
Warren's new exhibition at The Hole features the two collaborations for which she is best known, "Totally Looks Like," based on the popular meme, and "Food'lebrities," which pairs celebrity portraits with pun-tastic food products. But the "pièce de résistance," as the gallery calls it, is a five-channel video remake of Fra Angelico's High Altarpiece of San Domenico in Fiesole, recreated panel by panel featuring 200 of her friends. "It's not that hard to get 150 people to help you with something for free, or for pizza," Warren mused.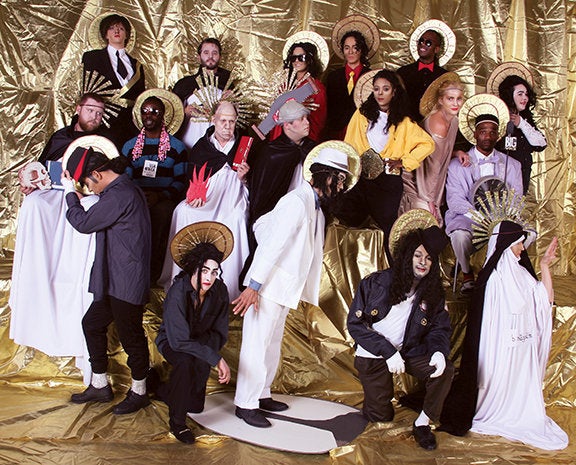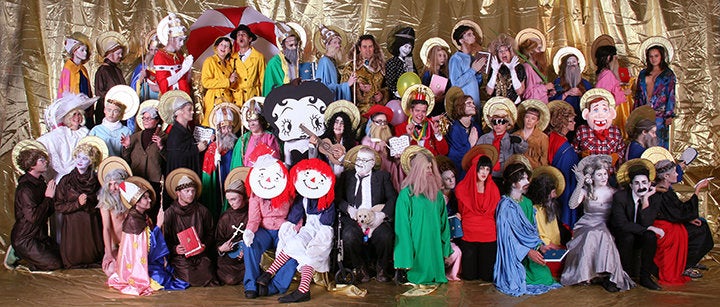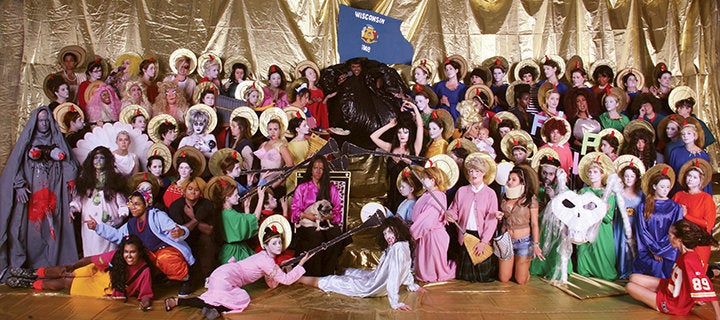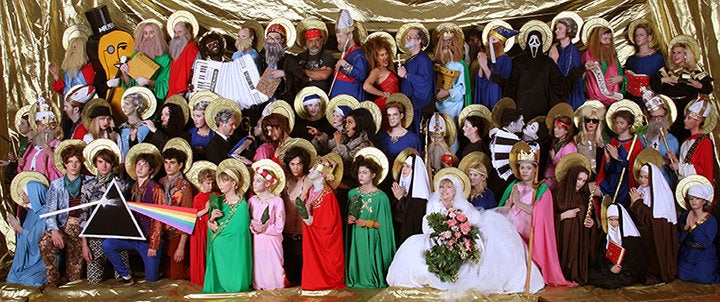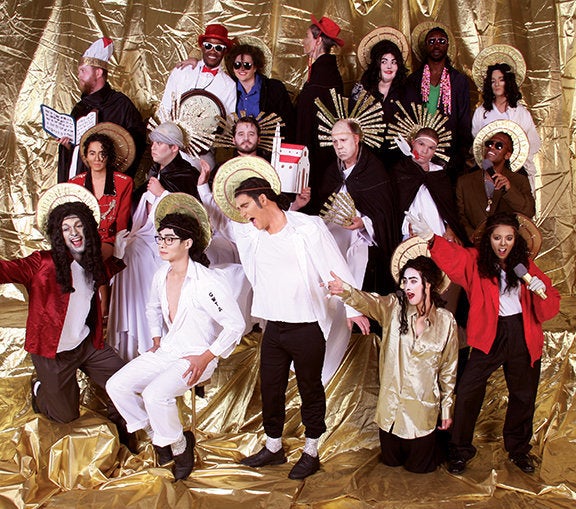 "All summer I was working on that giant recreation of that Fra Angelico painting which has almost 200 people in it," she continued. "It was a collaboration with my mother and my grandmother -- they helped me figure out all the celebrities to include. It's a five panel photo and it's also a music video that's a rendition of 'That's What Friends Are For' by Stevie Wonder and Dionne Warwick. I'm the main character in the middle, Missy Elliott, with her infamous garbage bag outfit. She's replacing Jesus who is originally in the painting. I chose Missy because the history of that costume specifically, where she wore it as a response to her record company saying she needed to lose weight or she'd never be successful. Then she created that costume and became a fashion icon.

"The second panel has people my grandma put in there, her icons [including Betty Boop, Howdy Doody and JLo], and the fourth is people my mom chose as her idols [Pink Floyd, Tina Turner and Princess Diana]. In the end, everyone was singing together and it sounded like a church choir. The girl from 'The Exorcist' is kind of below Missy Elliot in the photo and she has all this blood coming out of her mouth and we're doing a duet holding hands."
It's the kind of over-the-top, headache-inducing visual overload we'd expect to see on a bizarre commercial or music video of a star desperate for a comeback. And yet, placed in the arena of fine art, it's undeniably beautiful, and even profound. Warren's works capture the strange contemporary phenomenon of letting pop culture seep into our skin and the fiber of our being. When we fill out Facebook or OKCupid profiles, citing our favorite films, shows and icons, we're painting a picture of ourselves. Warren does exactly this, honoring her pop cultural heroes by morphing their poor faces into her absurd self-portraits, illustrating just how much she's tried to mirror them in art and in life.
"Whenever people ask me to talk about my influences they expect me to talk about art history, but what I really look to is pop culture and comedians. I always say my idol is Roseanne Barr. Even 'Pee-wee's Playhouse' is a big inspiration... My work is dipping more and more into pop culture and celebrity and the shows that I love. I'm about to do a giant tribute piece to Michael Jackson with all the people that inspired him throughout his life. It ranges from Elizabeth Taylor to E.T. to Peter Pan, it has the nuttiest mix of people he's inspired by."
We look forward to a bright future when bad taste and good taste go head to head in an epic art battle. In the meantime, check out a preview of Warren's beautifully strange collection -- one of the few photography series that will make you laugh uncontrollably, maybe with your pants unbuttoned, because we feel like she'd be cool with that.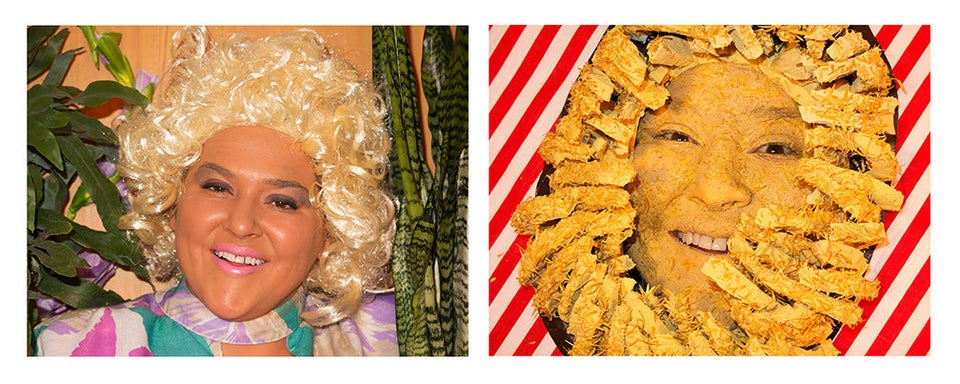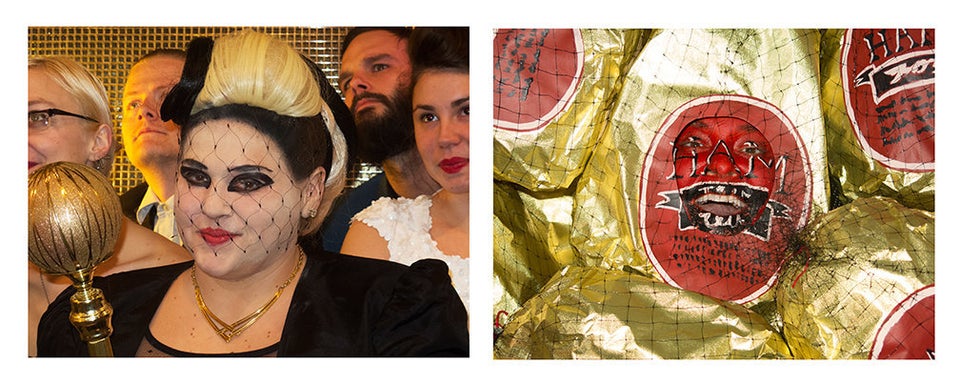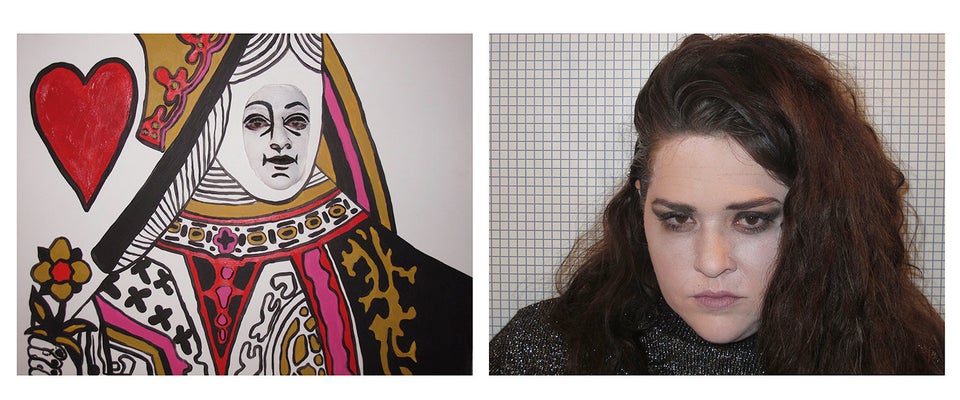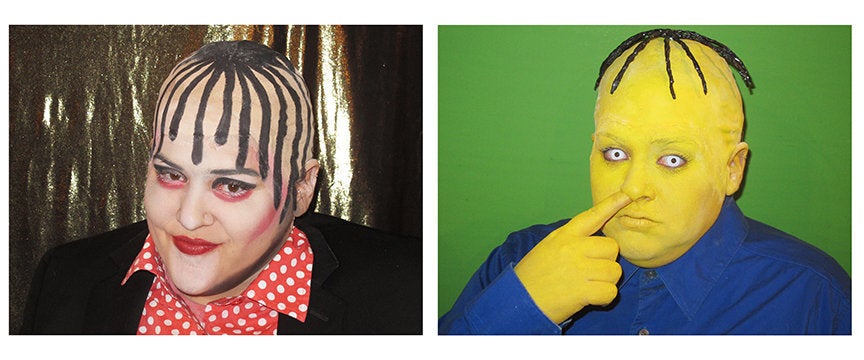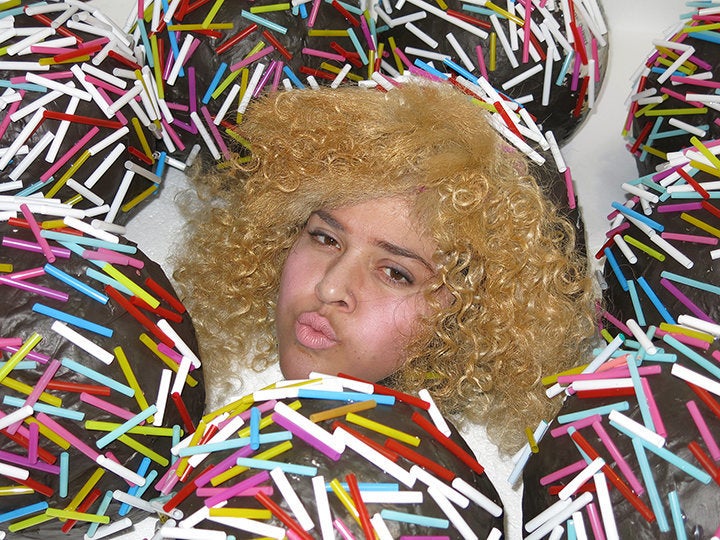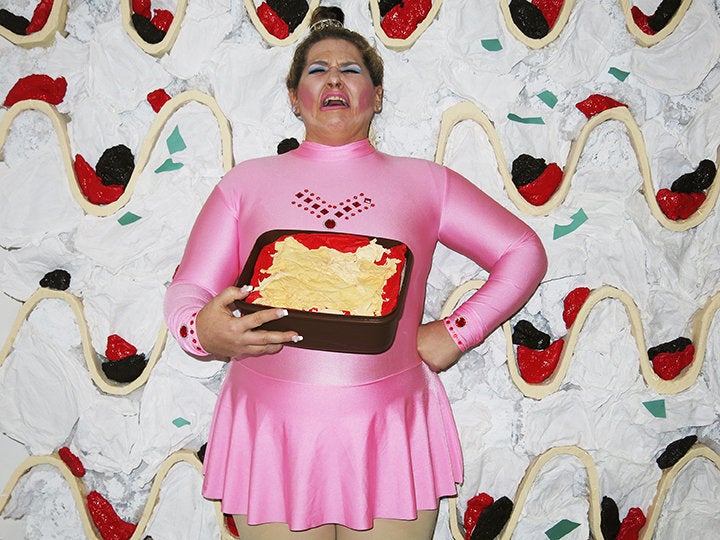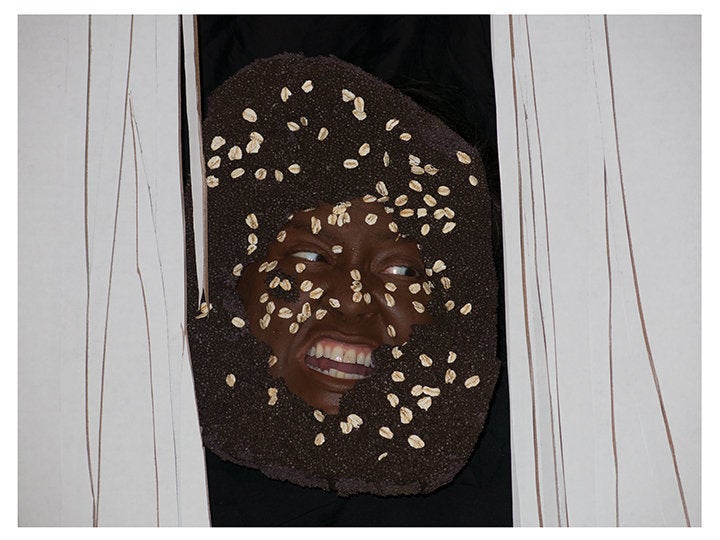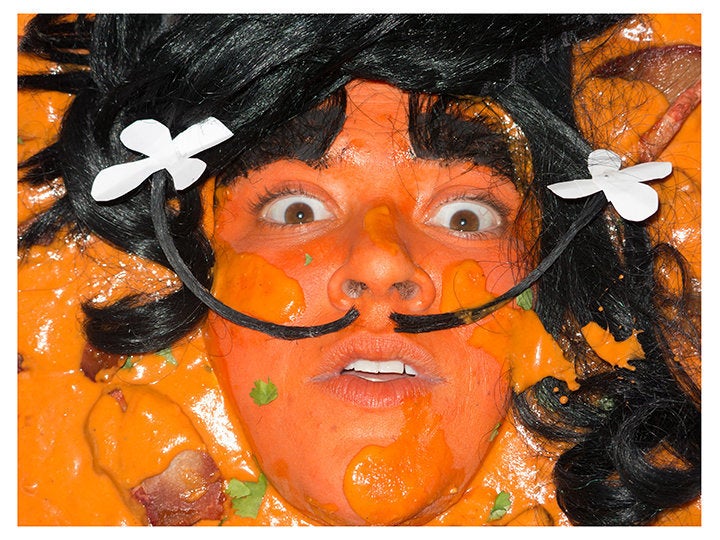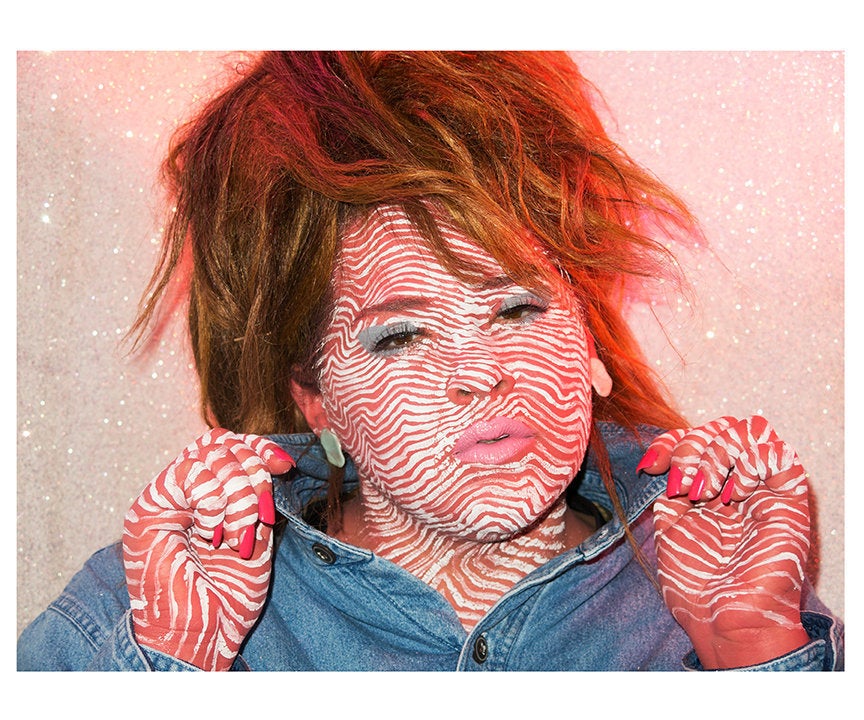 "That's What Friends Are For" runs until May 4, 2014 at The Hole in New York.
Related
Popular in the Community