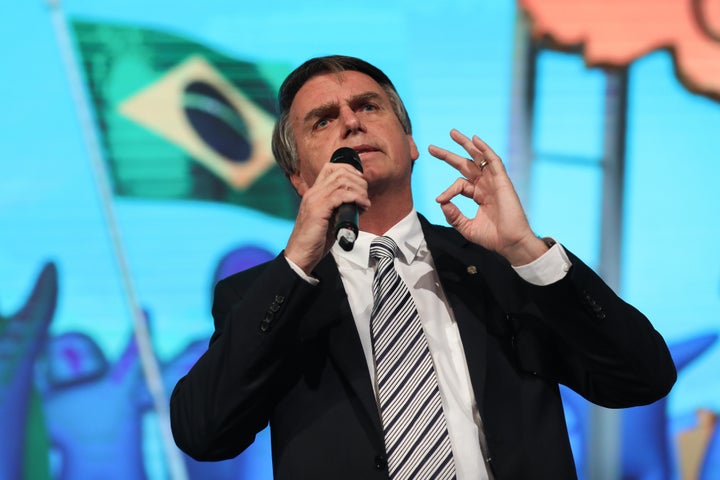 Far-right Rio de Janeiro congressman Jair Bolsonaro took a major step toward becoming Brazil's new president Sunday night with a resounding win in the first round of voting.
Bolsonaro finished atop the 13-person field of candidates with more than 46 percent of the vote with most votes reported.
But because he fell short of a clear majority, Bolsonaro will now advance to a runoff election on Oct. 28. He will face former Sao Paulo Mayor Fernando Haddad of the leftist Workers' Party, who finished second with roughly 29 percent of Sunday's vote.
Bolsonaro's victory in the first round is the latest in an alarming trend worldwide, as right-wing leaders with authoritarian politics have risen to prominence across Europe and the United States.
His presence in the runoff will put the health and continuance of Brazil's three-decade-old democracy at risk. A former Army officer, Bolsonaro has praised the dictatorship that ruled Brazil from 1964 to 1985, and has said his administration would be heavily stacked with military officers. Bolsonaro has praised police killings and proposed further militarizing Brazil's already deadly police forces, and has taken extreme, violent stances toward LGBTQ Brazilians, black people, indigenous people and women.
After more than two decades spent on the political fringes, he rose in the polls as Brazilians turned away from establishment parties amid an economic crisis, a widespread political corruption scandal, and an outbreak of violence that has led to more than 60,000 homicides in each of the last two years. And while Bolsonaro has aimed his fire at all of Brazil's elite, established political system, he has targeted the left especially. The Workers' Party, under former presidents Luiz Inacio Lula da Silva and Dilma Rousseff, oversaw both Brazil's economic boom and its bust.
Rousseff was impeached in 2016, while da Silva ― who had led most 2018 presidential polls ― was convicted on corruption charges in 2017 and imprisoned this spring. Bolsonaro has painted da Silva and the Workers' Party, which has won each of Brazil's last four presidential elections, as the primary source of the country's woes, and he has enjoyed the support of conservative evangelicals who oppose the left's socially progressive policies and of financial and business elites who don't want the left to return to power.
Now, Bolsonaro's finish atop the field on Sunday will set up a head-to-head match-up with Haddad, the Workers' Party candidate who replaced da Silva on the ballot after the former president was barred from running in September thanks to his conviction. While previous polls suggested they were statistically tied in second round scenarios, right-wing candidates aligned with Bolsonaro scored huge wins across Brazil on Sunday night, and his near miss of a clear majority in the first round suggests he will be a heavy favorite in the run-off.