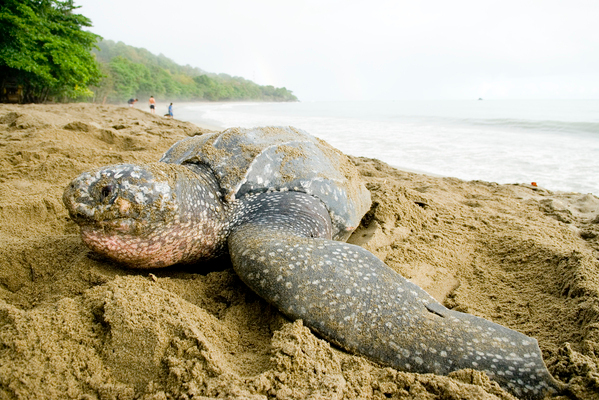 A leatherback turtle camouflages her nest on Trinidad's Grand Riviere beach. (© Rod Mast)
The direct connections between conservation, security and good governance were brought into stark relief late last week in Costa Rica. Jairo Mora Sandoval, a young aspiring sea turtle biologist from Costa Rica, was allegedly abducted by masked men together with four volunteers, three from the U.S. and one from Spain.
The conservationists were on their way to patrol the beach of Moin, Costa Rica at night in search of nesting leatherback turtles, with the purpose of protecting the turtle nests from poachers. The masked men reportedly took the foreign volunteers to an abandoned building. When they eventually managed to escape and inform the authorities, it was too late for Jairo. He was found, shot in the head, lying on the beach close to where he was abducted.
Less than a month earlier, in a conversation with a reporter from the Costa Rican newspaper La Nacion, Jairo had denounced sea turtle egg poaching by people involved in drugs and organized crime. Jairo's colleagues and friends are convinced he was murdered in retaliation for shining a light on the shady trade in sea turtle eggs and its close connection with other illegal activities.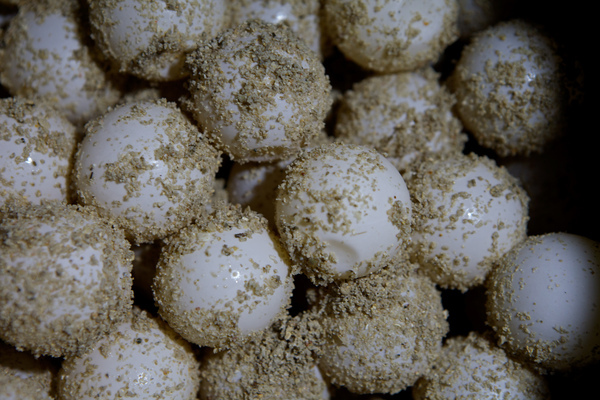 Sea turtle eggs in Malaysia. In Costa Rica, the eggs are stolen by poachers and sold as bar snacks (and a supposed aphrodisiac). (© Keith A. Ellenbogen)
For me, the fate of Jairo -- a young man committed to conservation and passionate about selflessly protecting his country's natural resources for the benefit of current and future generations -- has struck a deep, personal chord.
Before I joined CI and moved to the Washington, D.C. area in 2006, I spent nine years working on sea turtle conservation on the same Caribbean coast of Costa Rica. I spent countless nights walking along black sand beaches in the dark, looking for endangered leatherback, green and hawksbill turtles.
These beaches are known for their importance to leatherbacks in particular. I flew over Moin Beach four times in 2001-2003 in a small Cessna airplane to count leatherback turtle tracks from above; we found more tracks than we had expected.
We compared the proportion of tracks found on the beach with surveys conducted in the 1980s, and concluded leatherback nesting had shifted from northern Costa Rican beaches toward Moin Beach. The importance of the beach for leatherback nesting, as documented during the aerial surveys, was used by the Costa Rican authorities to evaluate environmental impact statements for proposed developments.
Unfortunately, the concentration of nesting turtles on the Caribbean coast of Costa Rica also attracts poachers. I remember the night I spent on a remote section of beach in Tortuguero National Park in a cat-and-mouse game, liberating green turtles that had been turned over onto their backs by poachers, who planned to collect them in the morning and take them to the nearby slaughterhouse in the provincial capital of Limon.
Another time I was conducting an early morning track survey, and a boatload of poachers wanted me to get into their boat. I declined and continued along the beach, but a couple of days later a track surveyor from the local village was forced onto the boat and intimidated to make sure he did not tell park rangers about the poachers.
I can't count the number of times I alerted park rangers to the presence of poachers. The rangers would fire warning shots in the air that sent the poachers running back to their boats. Sometimes the poachers would fire back.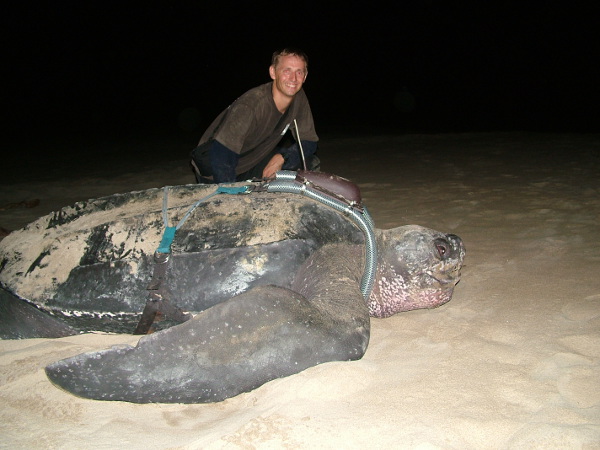 Sebastian Troeng with leatherback turtle on a beach in Caribbean Central America. (© CI/photo by Sebastian Troeng)
During my nine years in Costa Rica, I visited pretty much every coastal community along its Caribbean coast, and I count friends in many of these villages. My wife and I are godparents to a young boy from Limon. To my knowledge I never met Jairo, though it's possible we briefly crossed paths during my visits to Gandoca where Jairo grew up and where he learned about sea turtle conservation at a project I have visited several times.
However, I know Jairo's colleagues at WIDECAST, the organization running the sea turtle project at Moin, and I collaborated with one of them to describe and quantify the leatherback nesting along the entire coast in 2004, including Moin Beach. I can only imagine his pain and the pain of Jairo's family and friends. After Jairo's death, my friend has been forced to close down the Moin Beach sea turtle project to avoid putting volunteers and staff at risk. This is probably exactly what the poachers and drug runners wish to see.
The links between the drug trade and sea turtle poaching along the Caribbean coast of Costa Rica have been well known for a long time. Locals talk of intimidation of or collusion by police and judicial officials to minimize action against poachers and drug runners. When meeting with officials from the environment ministry in Limon, I used to go by boat along the canal just behind Moin Beach. Remote enough to provide a safe haven from the authorities, it was known to be a rough place, where impunity is the order of the day.
It is disconcerting that this situation exists even in a country as conservation-minded as Costa Rica. The country takes great pride in its natural beauty, its commitment to conservation and the sustainable development of its economy -- and rightly so. It has an impressive protected area system encompassing stunning natural areas; it was also one of the first countries to pioneer payment for ecosystem services to conserve forests and maintain freshwater resources.
Nesting sea turtles are the engine of a multimillion-dollar tourism industry in Costa Rica, generating jobs, economic development and opportunities for its people. The turtles attract tens of thousands of tourists to the country every year -- tourists who spend money on lodging, souvenirs and tour guide fees.
Costa Rica is a country known for its good governance and for the rule of law. There can be no impunity for the murder of Jairo Mora Sandoval, one of Costa Rica's young and bright conservationists. The Costa Rican authorities must take concerted action to bring those responsible to justice, and to protect the sea turtles and the critical natural capital the country and its people depend on for economic development and well-being.
The province of Limon and its people deserve a healthy coast, with good governance, security and sustainable economic development. They deserve that Jairo's sacrifice not only be remembered but also acted upon -- swiftly and determinedly -- by the Costa Rican authorities.
Sebastian Troëng is the managing director of CI's Betty and Gordon Moore Center for Science and Oceans.
Popular in the Community