UPDATE: On April 19, the Washington, D.C. medical examiner released a report finding that Capitol Police Officer Brian Sicknick suffered two strokes and died of natural causes. The medical examiner found that there is no evidence that Sicknick suffered an allergic reaction to the powerful chemical irritants that prosecutors allege two rioters attacked him with, but said that "all that transpired" on Jan. 6 "played a role" in Sicknick's condition.
This story also reported that Sicknick was attacked with a fire extinguisher, a claim made by unnamed law enforcement sources to the New York Times and Associated Press. No evidence supporting this claim has since emerged, and no officials have ever made the claim on the record.
A man whose ostentatious outfit of horns and fur (and no shirt) made him impossible to miss in photos of Wednesday's armed insurrection at the U.S. Capitol has been arrested.
Arizona man Jake Angeli, aka Jacob Anthony Chansley, was taken into custody on Saturday, according to the Department of Justice. He was charged with knowingly entering or remaining in any restricted building or grounds without lawful authority, and with violent entry and disorderly conduct on Capitol grounds.
Capitol Police said that Angeli had called the FBI on Thursday and confirmed he was the man in the photos, according to a Capitol Police arrest affidavit obtained by The Washington Post. The document stated that Angeli said he had traveled to Washington "with other 'patriots' from Arizona, at the request of the President that all 'patriots' come to D.C. on January 6, 2021."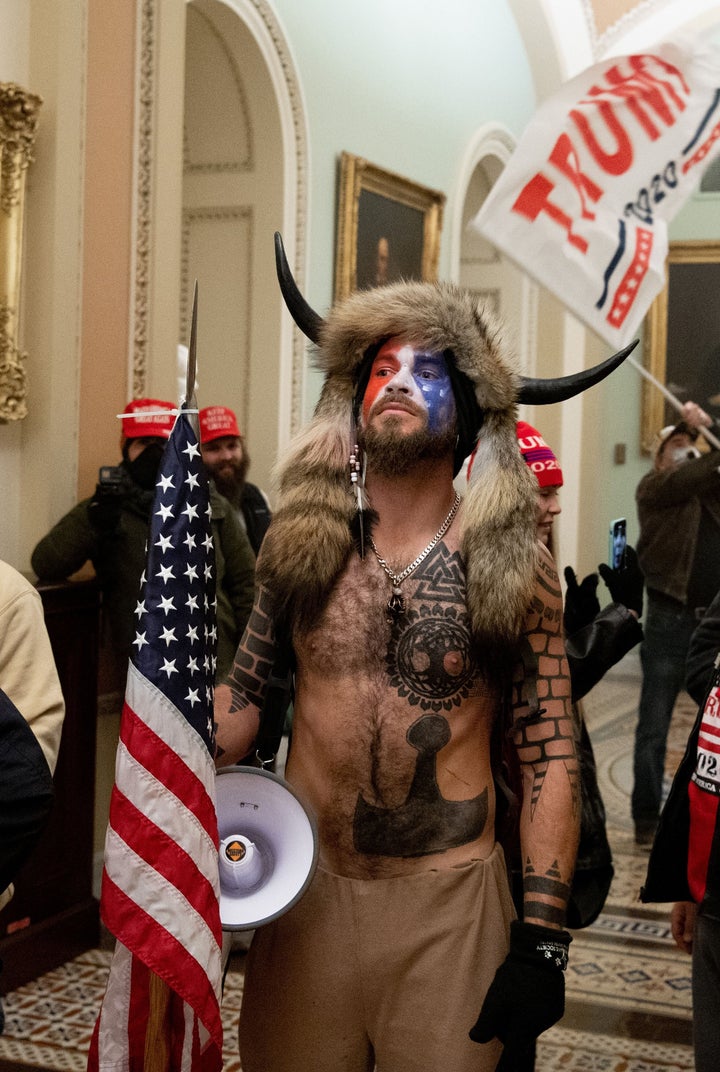 Angeli also wore red, white and blue face paint and carried a spear with the American flag attached as he roamed the Capitol. His many torso tattoos were also visible, including an old Norse runic symbol called the "valknut," or "knot of the slain," that has been appropriated by white supremacists. (Modern-day Pagan groups have condemned the riots as well as the misappropriation of their symbols by some groups.)
Angeli was among the supporters of outgoing President Donald Trump who broke into the Capitol to disrupt the joint congressional session that was formally certifying the results of the 2020 election, which Trump lost to Joe Biden.
The riot left at least five people dead, including Capitol Police Officer Brian Sicknick, whom the mob beat over the head with a fire extinguisher; and Ashli Babbitt, whom police shot dead as she and others tried to breach the Speaker's Lobby through a smashed window. Three other people involved in the insurrection died due to what officials described as "medical emergencies."
Capitol Police made only 15 arrests on Wednesday, despite hundreds of rioters breaching the U.S. Capitol, smashing windows, destroying property and forcing members of Congress to flee for their safety.
In the following days, more people have been arrested for their involvement. Along with Angeli's arrest on Saturday, the DOJ also announced the arrests of Florida man Adam Johnson, who was photographed taking House Speaker Nancy Pelosi's lectern, and West Virginia lawmaker Derrick Evans, who had livestreamed himself invading the Capitol.
Angeli, a supporter of the far-right conspiracy theory QAnon, has become known for his distinctive choice of protest-wear at rallies in Arizona, and his description of himself as a "shamanic practitioner" has led to his "Q Shaman" or "QAnon Shaman" nicknames.
Following the riots, Angeli said on Twitter that, contrary to rumors, he was not a member of Antifa or the Black Lives Matter movement.
"I'm a Qanon & digital soldier," he tweeted. "My name is Jake & I marched with the police & fought against BLM & ANTIFA in PHX."
On Wednesday, Angeli's outfit got him a lot of attention on social media, prompting some people to compare him to Chewbacca — after which Star Wars fans jumped in to defend their beloved Wookie. Jamiroquai singer Jay Kay also logged on to clarify that, despite their physical similarities, the insurrectionist was not him.
Popular in the Community