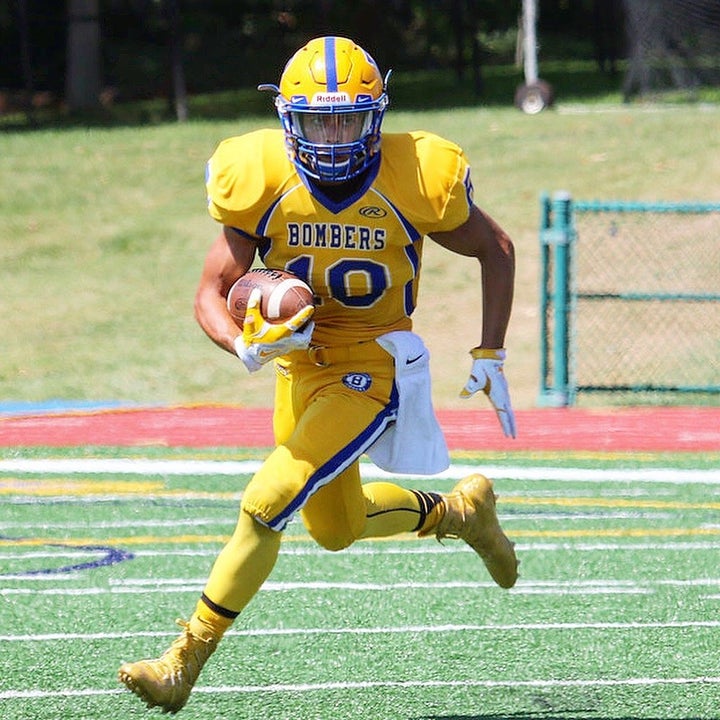 I am, for the most part, your average 18 year old, getting ready to graduate high school and begin the next chapter of my academic career. I will be attending Indiana State University in the fall, and I will embark on my lifelong dream of playing Division 1 football.
Up until a year ago, that is all anyone ever knew me for: the outgoing, stereotypical jock. And yes, that is who I was, but I also had one secret that I felt I may never be able to tell anyone, one secret that I knew if made public could change the way people looked at me for the rest of my life. I am a Division 1 football player, and I am also gay.
I feared that once I came out, not only would I never be able to live out my dreams of playing college football, but I would lose some of my closest friends. So, for most of my life, I kept a part of myself from everyone around me.
As I continued to grow, being in the closet began to take a toll on me mentally. I was living a life I knew to be a lie, wearing a mask that no one could see. I decided that I could no longer bear the weight of my secret, and I figured that if people were going to treat me differently over something that I cannot and would not ever change, then they probably are not the people that I want to associate with, anyway.
So I mustered the courage to tell my family, who were all extremely loving and supportive of me. Coming out to my family felt like the weight of 17 years of secrets had been lifted off my shoulders. I could finally be myself and not have to worry about being judged by the ones who love me most.
After telling my family, I came out to a few of my friends and let the word spread. My friends and family all embraced me with open, loving arms and treated me the same way they did before I came out. I could not have asked for a better support system.
It was not until the beginning of the next football season that I would realize that though coming out brought a lot of love and support, it also brought a lot of hate. On the field, I would hear my opponents shout things like, "Stay down you fag," or "Football is no sport for gay kids." Not only were people attacking me on the field, but on social media as well. Members from a rival school posted gay slurs about me online and made posters filled with slurs to try to tear me down.
It was then that I realized I needed to step out of my comfort zone to stand up for myself and for the thousands of other kids who are having to deal with the same thing I was.
I feared that if people who were in the closet saw and heard the things that were being said about me, they may never feel like they could be themselves. I could not stand back and let my voice go unheard as kids continued to be bullied every day based solely on who they are attracted to. I wanted to use my platform as a Division 1 athlete to show people that anyone can be gay, and that the people in the LGBTQ community are no different than straight people and should not be treated differently.
So, last fall, I decided to write a speech for National Coming Out Day and present it in front of my entire school in assembly. My message was to any kids who were listening who were in the closet, feeling like they may never be able to be themselves, that I was with them.
I never had someone that I could look up to and relate to, especially since there haven't been more than a few openly gay athletes. I wanted to make sure that the next generation of kids after me had that person who they could look to as an example that you can be whoever you want to be. If others were able to see my story, and see how much love and support I have received, and realize that where there is hate, there will always be an army of people who will love you for who you are, then I felt like my story could make a difference.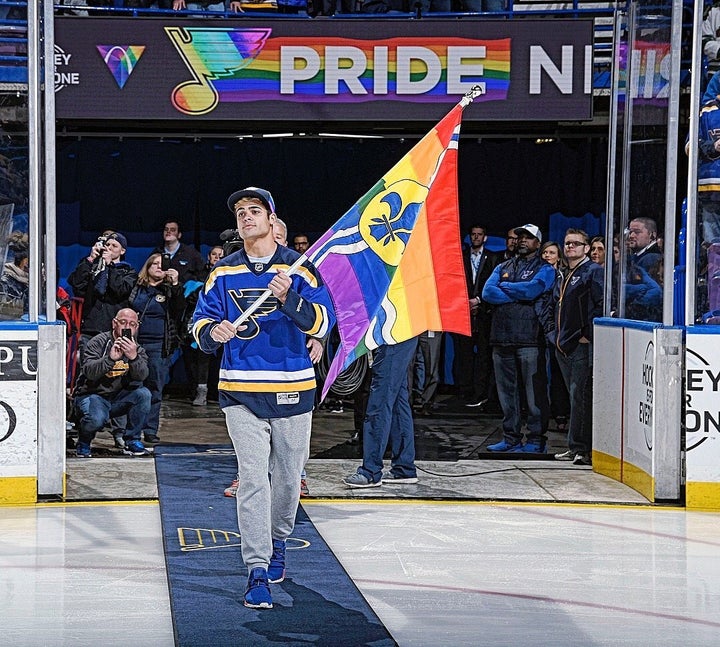 After my speech in assembly, my life took a turn that I never expected. I always wanted to be a role model for people who were in my community, but I never could have imagined that my story would reach so many people and help so many others who were struggling with things similar to what I was struggling with. After my story appeared in the St. Louis Post-Dispatch, I began to get messages from kids at my school, and in other schools around St. Louis, about how I had inspired them to come out and be who they truly are. I even began receiving calls and messages from people around the country who said I was able to give them courage to be themselves.
Then, last week, I was informed by the headmaster of my school, Andy Abbott, that an international hate group known as the Westboro Baptist Church was planning on coming to my school to protest against me and the entire LGBTQ community at my school.
When I first saw the hateful, disgusting things the Westboro Baptist Church said about me on their website, I was completely shocked and extremely upset. However, after I talked with some of my closest friends and family, I realized that if a hate group is coming after me, then I must be doing something right.
Equality for everyone, regardless of race, gender, sexual orientation, color, or creed, goes against everything they stand for, so the fact that they are coming to protest me means that they realize a change is occuring. More and more people are beginning to see that there is nothing weird or different about the LGBTQ community, and we ― like everyone ― deserve to be treated equally. This idea of equality scares the Westboro Baptist Church, and it is why they tried to tear me and my community down for who we are and what we stand for.
Once I had time to process the situation, I reached out to Pride STL, an organization that promotes the LGBTQ community and offers many different resources, to ask how they thought my school and I should respond. I never thought I would receive the kind of response that I did. With the help of Pride STL, hundreds of people came to my school to counterprotest against the Westboro Baptist Church, and completely drowned their hate out with love and support for the LGBTQ community.
Not only were there hundreds of people who showed up to support us, including many students from other high schools in St. Louis, but our entire school banded together, and became stronger because of it. Dozens of my school's alumni sent in videos expressing support, along with many current students ― from the LGBTQ community as well as allies ― who wrote beautiful speeches and poems to show their pride. It was truly breathtaking to see so much love from not only my community, but from complete strangers.
Now that I've seen that I can make a difference in so many people's lives, I realize that all of the pain I had to go through to get to where I am today was worth it.
I hope that my story will help to inspire so many more people to come out, and to support the LGBTQ community. Life is too short to worry about what other people are going to say about you. 
So, to anyone who is out there going through the same thing I have, and feels like they can't be themselves because of what other people will think of them, know that you are perfect just the way you are. You are not weird, or different, or anything less than anyone else because of your sexuality. You are loved, you are strong, you are brave, and you will always have me, and so many more in your corner.
REAL LIFE. REAL NEWS. REAL VOICES.
Help us tell more of the stories that matter from voices that too often remain unheard.