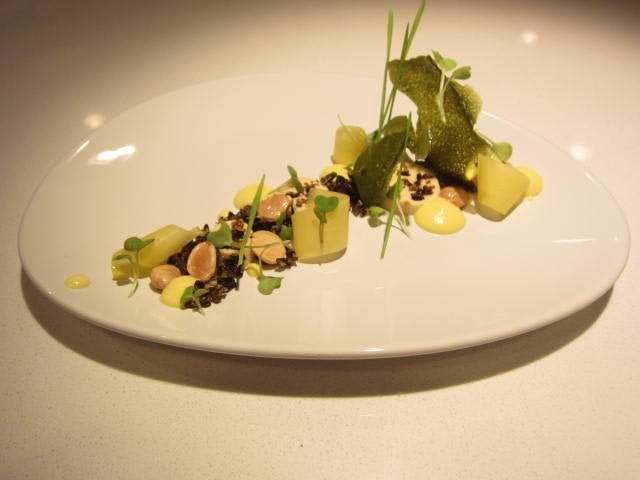 He's worked in the kitchens of some of Chicago's most highly-regarded restaurants -- including Alinea, Charlie Trotter's and Schwa -- and won considerable praise for Sous Rising, the underground "guestaurant" he runs out of his home, but Chicago chef Jake Bickelhaupt is hungry to take his craft to the next level.
Late last month, Bickelhaupt launched a Kickstarter campaign with the ambitious goal of getting a new 36-seat BYOB brick-and-mortar restaurant, named Dyne, off the ground. In exchange for funding pledges, he is offering prizes including autographed aprons, engraved chefs knives and -- for $500 or more -- a 12-course dinner and a "chef for a day" experience.
But funders have been slow to bite. With less than ten percent raised of the fundraising goal of $125,000 and a mere two weeks to go before the campaign is up as of this writing, The Huffington Post spoke with Bickelhaupt about his vision for what he hopes will one day be one of the city's best restaurants.
The Huffington Post: Your Sous Rising dinners obviously have a really solid reputation and have gotten killer reviews, why take the jump now to Dyne?
Jake Bickelhaupt: Sous Rising isn't the end goal for me; it's the beginning. For me, the move to Dyne isn't a jump. I see Dyne as a natural progression to or evolution of what I've been doing with SR. Sous Rising dinners started as an outlet for me to do what I love, a way to share my particular style and food vision with people equally passionate about the experiences associated with food. Dyne will be a new challenge and push me to be better than what I am now.
HP: Tell me more about the dining experience you are aiming to offer at Dyne, how will it compare to what you've created at Sous Rising?
JB: When Dyne eventually gets off the ground, the creativity and passion that I put into Sous Rising will be applied in equal measure. From the standpoint of service and dishes Dyne will be Sous Rising, but on a larger scale. Even though service is limited to my wife and myself, we're attentive to every detail and believe that the best service is when your server anticipates your needs. I believe that we accomplish that and there is no higher purpose in life than serving others. The experience at Sous Rising is intensely focused on the guest. Dyne will have the same mission; we want to give our guests an experience that leaves them satiated on all levels.
I currently order the highest quality food I can afford: Kurobuta pork, winter truffles, Matsutake mushrooms, Lubina sea bass from Spain, and Blis trout roe to name a few. My style of cooking is to redefine expectations (like a cupcake served as a roe course). I evoke emotions from diners with unique flavor combinations or surprises. My dishes have been described as "whimsical," but make no mistake everything on the plate has a purpose. The foundation of my dishes comes from years of learning proper technique.

HP: Do you have any general locations in mind for Dyne?
JB: Nothing specific. Does it sound new-age to say that I believe that a space will find me when the time is right? I don't mean to be weird, but life is like that sometimes. These things have interesting ways of finding you and I'm going to leave it be until the time comes to put energy towards it.

HP: Why did you choose the Kickstarter funding model?
JB: I first learned about Kickstarter a couple of years ago through either a magazine or online article (the source escapes me). I was blown away by all the positive stories and projects that had been funded. Then in early 2011, a couple of the Kickstarter founders came in to eat at Schwa and I told them I liked what they were doing.

As I got underway with Sous Rising earlier this year and began to gain confidence in the idea of making 'a go' of it Kickstarter just seemed like the natural choice. The more I poked around on the site the more I started to think "Why couldn't I try this?" Dyne is a chance for me to operate on my own terms. Maybe it's my affinity for Cinderella stories, but crowdsourced funding seems to champion the underdog, the little guy. Who doesn't dream of making a living doing what they love and also being their own boss?
HP: Attempting to fund the opening of a brick-and-mortar restaurant via Kickstarter seems uber-ambitious -- what is your message to the naysayers?
JB: If you'll indulge me a quote: Vincent Van Gogh said, "If you hear a voice within you say 'you cannot paint,' then by all means paint, and that voice will be silenced."
To the naysayers I simply say, "Why not?" I don't think there are any negatives I haven't already thought of. But ultimately, what have I got to lose by trying? I've had this dream for ten years, Kickstarter has been around for the last three. If anything, they should be asking what took me so long.

HP: If the funding does not come through with the Kickstarter, what do you think will be your next steps?
JB: I will continue looking for a way to make it happen, whether that's investor dinners, a small business loan or trying Kickstarter again. I've set my sights on this goal and I'm working at it every day in one way or another. Anyone in the restaurant industry can tell you that there are a lot easier ways to make a buck, but this is what I love.
It's back! If you have a Chicago-based Kickstarter or IndieGoGo project that you'd like to see featured in "Can They Kick It?"? Get in touch at chicago@huffingtonpost.com.
WATCH: Dyne Restaurant's Kickstarter campaign video:
Calling all HuffPost superfans!
Sign up for membership to become a founding member and help shape HuffPost's next chapter