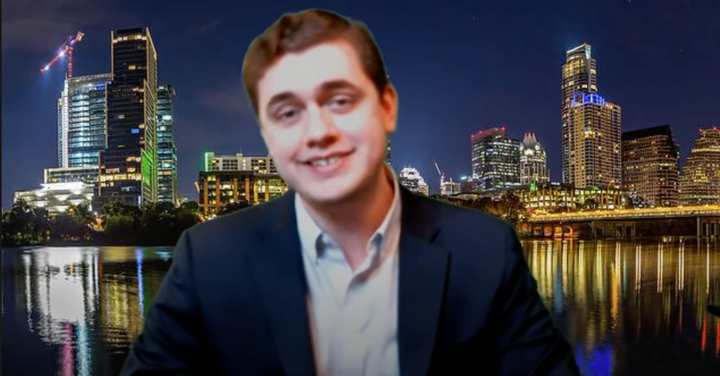 A Republican candidate for governor of Texas says he will not fire a prominent white nationalist activist from his staff, despite extensive evidence of the staffer's past leadership role in a deeply racist and anti-Semitic group.
Don Huffines, a former Texas state senator and one of three Republicans running in a primary against Texas Gov. Greg Abbot, told HuffPost on Tuesday that his campaign will "not participate in cancel culture" by severing ties with Jake Lloyd Colglazier, who once declared that the white "race is dying."
On Friday, the social justice think tank Political Research Associates published a report detailing how Colglazier became a leading voice in the white nationalist America First, or "groyper," movement. Prior to that, he was a host at the far-right conspiracist website InfoWars.
Colglazier, 24, was listed as "deputy communications director" for Huffines on the website of the True Texas Project, a right-wing activist group closely aligned with Huffines' campaign, last week. (That description has since been removed.) Colglazier's Twitter bio includes a link to Huffines' campaign website. And on Friday, Ben Lorber, a research analyst at PRA, says a Huffines staffer confirmed over the phone that Colglazier was deputy communications director for the campaign.
Huffines told HuffPost that Colglazier was not his deputy communications director, but did not dispute that he works for the campaign — and said he will remain on staff.
"He has done fieldwork for my campaign. I have 12 field offices across Texas and over 70 people on payroll with my campaign. If I were to go through the social media history of any young Texan I would find something I disagree with," he said. "My campaign will not participate in cancel culture."
But Colglazier's extremism isn't limited to a couple of bigoted tweets. He is closely associated with some of the most prominent racists in the country.
His position in the Huffines campaign is just the latest example of the GOP's ever-growing embrace of explicit white nationalism. There's evidence Huffines himself has a bigoted worldview, having claimed credit for hounding Abbot to move to the far right on a series of issues, including immigration and transgender rights.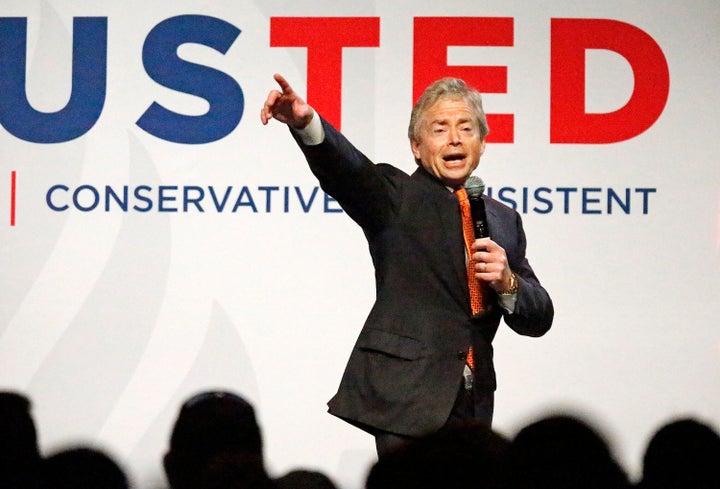 While Colglazier was a host for InfoWars — the far-right site run by Alex Jones which, among other despicable projects, launched a conspiracy campaign against the parents of kids killed in the Sandy Hook massacre — he repeatedly offered a platform to white nationalists.
Accordion to PRA, he gave sympathetic interviews to Vincent James Foxx, head of the white nationalist website Red Elephants; Faith Goldy, a Canadian far-right influencer who once recommended a book calling for the "elimination of Jews" and who was fired from a job after appearing on a neo-Nazi podcast; and Nick Fuentes, the founder of the America First, or "groyper," movement.
After leaving InfoWars, Colglazier — who went by the name Jake Lloyd — closely allied himself with Fuentes, a Holocaust denier who attended the deadly 2017 white supremacist rally in Charlottesville, Virginia, and who has talked about the "necessity" of a whites-only ethnostate.
In December 2019, Colglazier was one of three featured speakers at a conference for Fuentes' America First organization. The other speakers were Fuentes and Patrick Casey, a Charlottesville rally attendee who headed up the now-defunct white nationalist groups Identity Evropa and its offshoot, American Identity Movement.
In Colglazier's speech, PRA reported, he repeatedly invoked the power of the "groypers," the nickname members of America First gave themselves, a reference to their online mascot, a cartoon toad that's a variation on Pepe the Frog, the infamous alt-right symbol.
"'Conservative Inc.' and the greater political establishment of the United States will crumble at the hands of the groypers," Colglazier declared. "History will remember the groypers and the movement that followed — flowed from America First, from AIM [American Identity Movement], from the greater groyper network at large."
Colglazier did not respond to a request for comment via Twitter DM. A cell phone number registered to his name was no longer in service.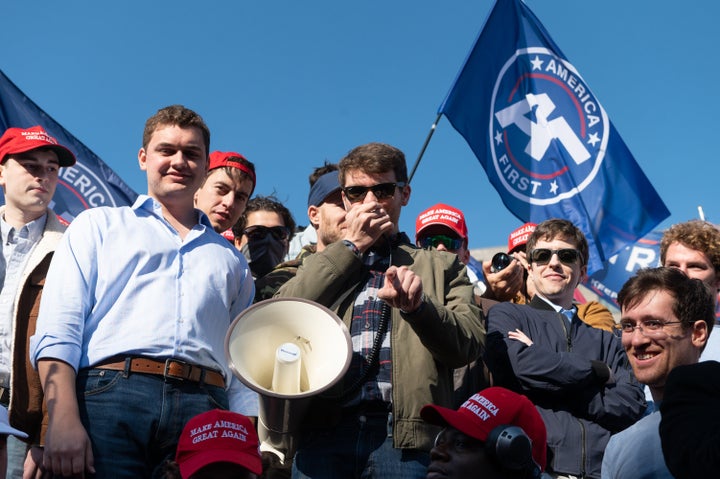 In a January 2020 livestream, Colglazier laid out a plan for groypers to mainstream their white nationalist views.
"We need to get into positions of authority, or within close proximity of positions of authority," he said. "We need to get into positions of institutional power so that we can enact policies that can prevent or stymie demographic change, so that we can continue to gain institutional power, so that we can restore historical America."
This is a strategy called "entryism," which The Institute for Research and Education on Human Rights describes as the practice of "gaining a place in more mainstream organizations by moderating one's appearance and expressed values in order to further movement goals."
At the end of the livestream, Colglazier talked about how on Twitter, after he invoked his pride in being a Texan, followers often replied that it was "too bad it's already minority white."
"It's like bro, can I tweet anything about my epic state being epic without you trying to remind me and bring me down with the fact that my race is dying?" he whined.
And on Nov. 14, 2020, two weeks after Donald Trump's defeat in the presidential election, Colglazier spoke alongside Fuentes and other groypers at the Million MAGA March in Washington, D.C., an event that is now recognized as a precursor to the Jan. 6 attack on the Capitol.
"I'm so proud to see the American nation rallying to support its leader and president, Donald Trump!" Colglazier said into a megaphone, according to video footage from the rally.
"Donald Trump was the beginning," he added. "America First was the beginning, and it will not stop here until we take our country back!"
Colglazier then led the crowd in a chant of "America First."
Huffines did not acknowledge the controversy this week, outside of his response to HuffPost. However, the longshot GOP candidate for governor — whom political observers partially credit with pushing Abbot to build a Texas border wall — did find time to tweet.
"America First," Huffines tweeted. "Texas First."
Popular in the Community