If a show gets spoiled by one of its stars, does it lessen the blow? That's something I found out first hand while talking to Jake Johnson on Tuesday night at a Stella-sponsored event in New York's SoHo neighborhood. The "New Girl" star -- and America's boyfriend -- revealed this season's biggest shocker barely an hour before the episode aired on the East Coast.
(Warning: Spoilers ahead, obviously.)
"They break up," Johnson said of Nick and Jess, the main "New Girl" couple whose relationship has been a driving force of the third season. While it is a game-changer for the series, it isn't exactly surprising news. After giving the people what they wanted in Season 2, audiences shrugged at the now-realized relationship. With the third season almost through, however -- and with one swift game of True American -- Nick and Jess are done.
With Nick and Jess back to being "roomfriends," the 35-year-old spoke to HuffPost TV about whether "New Girl" is backtracking, his upcoming role in "Jurassic World" and asking Prince if that pancake story actually happened.
Do you like playing douchebags, like in "Ceremony" or "Safety Not Guaranteed," or do you prefer playing the best guy ever?
I do miss playing a dick, but on certain scripts I don't want to do that. Like, I read this great movie that I almost did this summer and my character [would have been] a real dick and did really bad things. And at the end of the day, I don't want to spend two months and get in that headspace. That guy sucks; he sucks. He's a terrible human. I have a theory that if I can't find a way to like somebody, then I don't know how to play them. Now, if I get limited and I'm playing characters that are too similar, then I'm going to have to change that theory.
Did you get involved with "Jurassic World" because of Colin Trevorrow, who directed you in "Safety Not Guaranteed"?
Absolutely. Now, I'm also a huge fan of "Jurassic Park." When I was growing up and "Jurassic Park" came out, I freaked out like every other kid. I was born in '78, so I was, like, 12. If it wasn't Colin and someone said they wanted me in "Jurassic Park," I would jump on it. The fact that it's Colin, written by Derek Connolly (who wrote "Safety Not Guaranteed") and both those guys are personal friends, I'd go through a wall.
Have Nick and Jess broken up forever?
I don't know; I don't write it. This season, they fight all the time. I think Nick and Jess have a real love for each other, they just can't get along.
Do you feel like the breakup is backtracking on Nick and Jess getting together so soon?
I don't think it is. If it were a backtrack, then episode three of Season 3, we would have broken up. I think they naturally came to a breaking point. We were together for like 20 episodes. That's a lot more than I thought we'd be, if we were going to backtrack. And so, if it's a backtrack then it's a backtrack for strategy and I don't think it is. I don't think that [creator Liz Meriwether] has any idea what happens in Season 4. So, now they breakup. The question that the audience will say is, "Now what?"
Have you ever taken a character quiz about your show?
No. But a lot of people have and they tell me they're either me or they're somebody else. I don't want to find out I'm Schmidt or something like that.
There's been so many guest stars this season, but let's talk about the Prince episode. Did you come away with any funny Prince anecdotes from his appearance?
Yes. I was going to say this on the Kimmel show, but I got nervous. I said to Prince, "Is it true about you and the pancakes?" And he said, "No, it's not." And then I said, "Oh, well it was really funny." And then he said, "But I make the best omelette you'll have in your life." And I laughed, because he just admitted the other one was a bit. And I go, "Is that true?" And he got dead serious and said, "Yes, that's true. I make a great omelette." Then there was a pause and I asked, "Well, what's the secret?" And he said, "I'd tell you, but then I'd have to kill you." And then I got confused and he said, "I'm just joking. It's coconut oil."
Related
Before You Go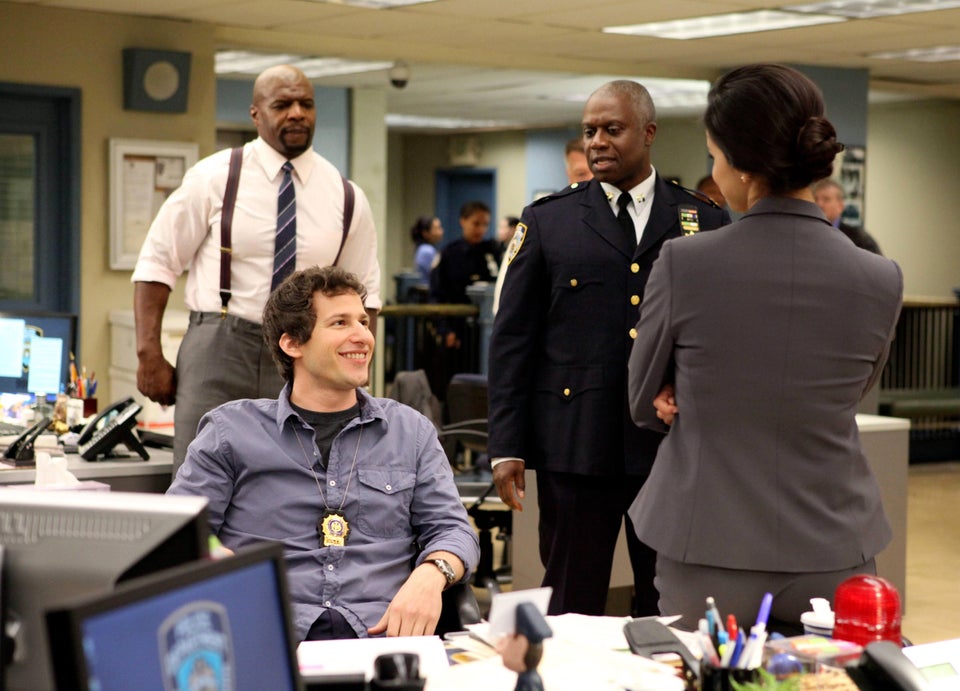 Fox New Shows 2013-2014
Popular in the Community