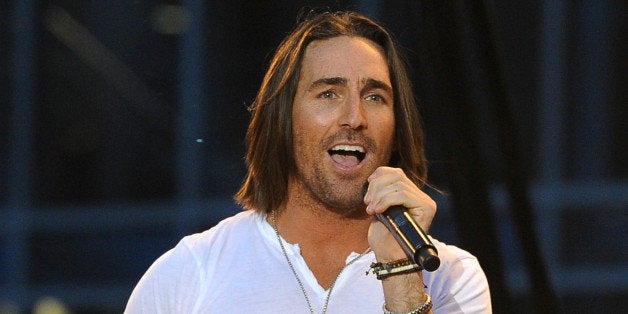 Some artists climb their way up the music charts naturally, while others get by with a little help from their musician friends. Country star Jake Owen thinks the latter is always a good way to do it.
"It's important in any format of music to embrace your peers," Owen told HuffPost Entertainment while promoting Discover Boating, a national campaign powered by the North American recreational boating industry. "I think a lot of people would come up with the idea that they shouldn't try and help other people out because it's a fight for your own place on the charts, but I enjoy helping people and promoting good vibes because I feel like it all comes back around. No matter what artist you are or whatever genre of music you're in, we only have such a short window of time to make our mark, and at the end of it, all you have left is your character," he continued. "I'd rather have great character than a long line of big hit songs that no one remembers 20 years from now."
Owen, who has released hit songs like "Barefoot Blue Jean Night," "The One That Got Away" and most recently "Beachin,'" off his latest album "Days of Gold," chatted with HuffPost Entertainment about his career, his family life and what it takes to write a smash summer anthem.
How did you get started in country music?
I started playing in college. I had actually hurt my shoulder and I had nothing else to do and a buddy of mine had a guitar in his closet, so I started learning how to play at Florida State. I was playing at fraternity and sorority parties, or wherever they would have me, and that's kind of how I got started. And then I got bored of playing by myself, so I started a band and after playing with a band for a few years, that's when I decided I really need to move to Nashville and do my own thing. So, I left college with nine hours of school left and moved to Nashville. And the rest is history.
You have this beachy, summer vibe going on. How did you figure out where you wanted to fit within the country music scene?
I don't think I originally had [that vibe]. Originally, I was just excited to be a kid with a record deal and be on the radio and touring with people that I looked up to my whole life –- Brooks & Dunn, Alan Jackson, Kenny Chesney and Tim McGraw. I was a fan and I got to travel the country with these guys that I admired. But as the years went by, I realized that it's important to have some sort of brand identity. And I was always trying to hide the fact that I was born and raised in Florida, but after I released songs like "Barefoot Blue Jean Night" and wrote songs like "The One That Got Away," with the lyrics, "She rolled in, my little sandy town …" my Florida roots started to show themselves and now, it works out.
Florida Georgia Line are huge now, too, thanks a little bit to you. Tell me about that friendship.
I can't really say I helped them other than I took them out on tour with me and told a lot of people about them. It's really cool to see how big their careers have become. They have well over a million Twitter followers now and it's just funny to think that not even a year and a half ago those guys didn't even have 10,000!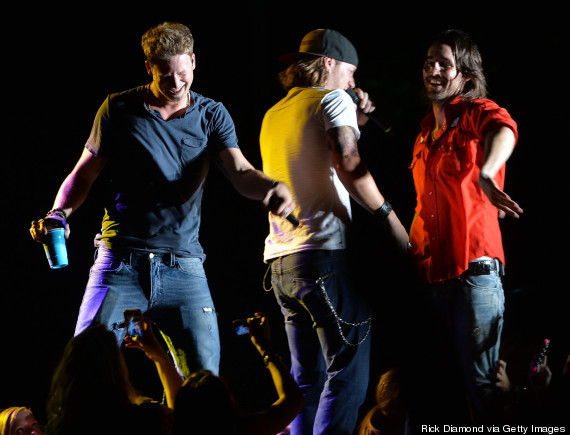 Is there anyone that you'd love to work with?
Yeah, there are a lot of people I like. For instance, my friend Mike Posner, who is out on the road with me right now, is an amazing artist. Totally on the opposite side of the spectrum of country music, but he's an artist, a writer, a producer in the pop and rap world, so I'm excited to do some things with him. I got to do a song on the Merle Haggard tribute record this year, which was a huge deal for me because I love classic country music so much. Singing a Merle Haggard song on a record and then actually having him write me a note telling me how much he appreciated it was like the highlight of my life. I like all genres of music and I could go anywhere and do any kind of music just because I love the feeling of making it.
A lot of artists in different genres are collaborating, including Florida Georgia Line with Nelly, and that definitely helps you get your name out there to people who might not be fans of, say, country music.
Definitely, and [the music business] has evolved into this digital age where people can acquire music pretty instantaneously. Being able to just collaborate with other people and put it out there -- people can gravitate towards it if they want to, if not, they don't, but we're able to see a quicker reaction to things.
Who's your favorite artist of the moment? Like, who do you listen to at the gym or at the beach, etc.?
I'm a big Jimmy Buffett fan. I love him. But music to me is about the feeling and depends on where you are. When I'm at the gym, I listen to ultra rock and roll or I'll listen to hip-hop or something that has a driving tempo. I'm not going to go to the gym and listen to Merle Haggard or Hank Williams Jr. -- that's more for like when I'm drinking beer! Or if I'm out on my boat, I'm always listening to Jack Johnson, Jimmy Buffett, like I said, and if I'm fishing, I really enjoy listening to country music. I've always said that the fish bite better when I'm listening to Conway Twitty or something. It's always a matter of where I am or what mood I'm in.
What was the inspiration behind your "Days of Gold" album?
Just good songs. Every time you put out a record, it takes up a couple of years of your life, not only making it, but then promoting it. So if you're going to spend a couple of years of your life promoting something, it better be good!
You have "Beachin'" on that album, which is a new summer anthem. How do you go about writing hit summertime songs?
I kind of put myself in the listener's position and in their shoes. When I sit back and listen to a song, I picture myself with my friends the same way my fans out there are doing. Like when I go out on my boat with my friends, I'll put the music on, turn it up loud and ask everybody what they think. And I can usually tell pretty quickly if they're enjoying the song, you know? But a lot of the time my friends are honest and they're like, "God, this is so great, you got to get this out there," or they're like, "This song sucks." [laughs] And that's why you have to have good friends that will be honest because music is art and art is subjective. There are people out there that will go buy a painting and hang it in their house and then there's someone else that might walk buy it and never think twice about looking at it because it doesn't appeal to their eye. And the same thing with music –- some music doesn't appeal to people's ears. So it's about giving everybody a wide variety of things and letting them choose what they want.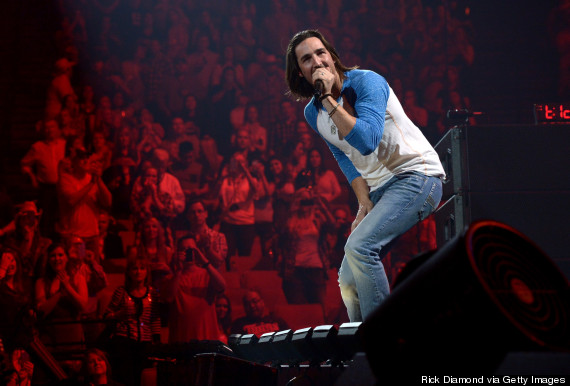 What's your favorite part about touring?
That my office every day is not in the same place. I get to meet new people, I get to have a lot of fun – I never know what's going to happen. Whereas, I have a twin brother who loves living in our hometown in Vero Beach, Florida, and he sells insurance, but he goes to the same office every day, at the same time and checks out at the same time. I mean, I never wanted to be that guy. I cannot walk in and out of the same exact place and do the same thing every day. I love that one day I'm in New York City walking around downtown Manhattan, then playing a show that night. Then today, I'm outside Denver, Colorado, at a big rodeo, and my wife [Lacey] and my little girl [Olive Pearl] are out walking around looking at livestock and things like that. So, you don't get Denver in New York City and you won't get New York City outside here in Denver. So, every day there's something new that we're not only able to do for ourselves, but for our daughter. I think there's so much education within the art of traveling and I've seen her blossom already into such a smart kid because of how she's able to see new things and it's not monotonous.
Definitely! And hold the phone, you're a twin?
I am a twin, yes!
Who knew? Does your brother ever get mistaken for you?
He has short hair, so he gets it sometimes, but he doesn't mind it too much, I'm sure. He's a pretty awesome dude himself .... We're best friends and twins and growing up we were always Jake and Jared, and now I hate it when I hear people say to him, "Oh, you're Jake's brother?" He's like, "No! I'm Jared!" [laughs]
What city has surprised you the most while you're on tour? Maybe a place where you didn't think there would be country music fans?
I would have to say New York City is definitely one of those places because for a long time it didn't have a country-music radio station -– thankfully it does now [Nash FM 94.7]. And that's the beautiful thing about New York City -- there's so many walks of life there that it's always so flattering to go there and see the reaction, like at Hammerstein Ballroom recently. People were going nuts! It was an atmosphere, it was a feeling that people had and it was so apparent to me standing on stage watching them, that I was just addicted to it. That's what I love the most about playing places like New York is that you can walk on stage with an expectation of how you think it will be, but when the crowd and the vibe of the room exceeds your expectation? It's like a kind of drug or something. It gives you crazy feelings, it's addicting. So, I wish every night was like Hammerstein Ballroom when we play.
This interview has been edited and condensed.