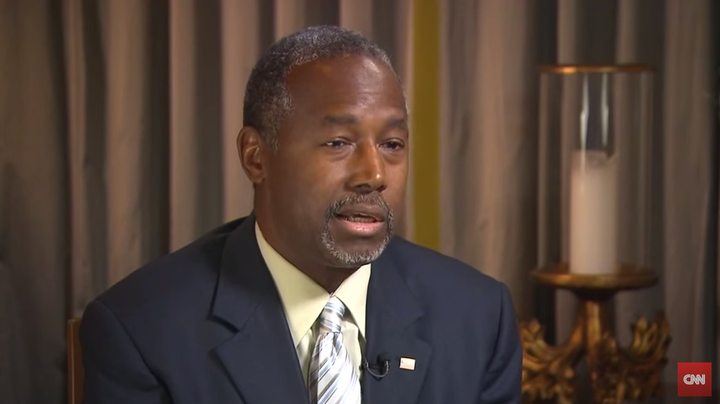 Things got heated during CNN's "State Of The Union" on Sunday, when host Jake Tapper pressed Republican presidential candidate Ben Carson on remarks he made recently about Muslim Americans -- that is, until Carson's campaign manager cut the interview short.
"I would not advocate that we put a Muslim in charge of this nation. I absolutely would not agree with that," Carson said last Sunday during an interview with "Meet The Press."
Carson explained his remarks to Tapper.
"I would have problems with somebody who embraced all the doctrines associated with Islam," he said. "If they are not willing to reject Sharia and all the portions of it that are talked about in the Quran -- if they are not willing to reject that, and subject that to American values and the Constitution, then of course, I would."
"Would you be willing to advocate for someone who would not do that?" he asked Tapper.
"I don't assume that because somebody's Muslim that they would put their religion ahead of the U.S. Constitution," the host responded.
Tapper then asked Carson if he thought he could have been clearer with his statement about Muslims.
The presidential hopeful said he had been "very clear," adding that he thinks the media cares more about his comment than ordinary Americans do. The majority of Americans "agree" and understand exactly what he meant, he said.
"I have heard from a lot of people who don't think Muslims can be patriotic who agree with you, and I don't know that if I were running for president I would want the support of people like that," Tapper shot back.
The conversation went on a bit longer before Carson's campaign manager, Armstrong Williams, stepped in.
"This interview is over," he said from off-camera.
Watch the full interview below:
Related
Popular in the Community