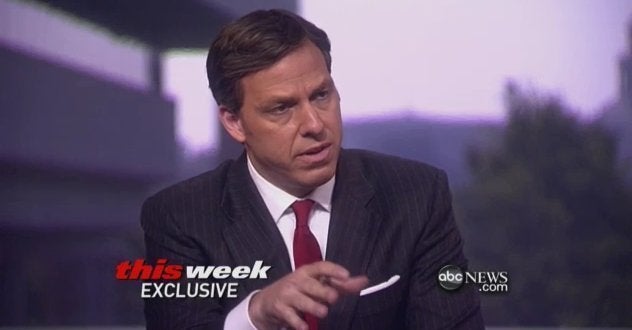 CNN is reportedly trying to court ABC News' senior White House correspondent Jake Tapper.
Fishbowl DC's Betsy Rothstein, who was first to report the news, learned that CNN chiefs were looking for a "game changer" and were interested in Tapper.
Tapper and senior vice president and spokesman for ABC News Jeffrey Schneider, both released statements to The Huffington Post's Michael Calderone. Tapper said, "Being the White House correspondent for ABC News is a dream job, one I'm focused on 100 percent. I couldn't be happier where I am right now."
Schneider echoed Tapper's sentiment. "Hardly surprised to read about all kinds of poachers being interested in Jake Tapper. That's what happens when you are at the top of your profession. We're thrilled Jake works for ABC News and expect him to have a leadership role for a long time to come," he said.
It's not surprising to hear that CNN is looking for a "game changer." The network experienced its lowest-rated month in more than a decade in April 2012. A Time Warner spokesperson said that CEO Jeff Bewkes was "clearly not satisfied" with CNN's performance and planned to turn up the heat on the network and company-at-large "to come up with a plan to restore momentum."
Tapper is still under contract with ABC News though that does not prevent other networks from talking to him about new opportunities.
When "This Week" host George Stephanopoulos stepped down from the show in 2010, many thought Tapper would replace him. He served as the interim host for the program for much of the year, but the network decided to appoint Christiane Amanpour to host the program.
Amanpour left CNN for ABC and spent a year hosting "This Week." She stepped down in December 2011 amidst disappointingly low ratings. Though Tapper once again guest-hosted the show, Stephanopoulos returned to the program in January 2012.
REAL LIFE. REAL NEWS. REAL VOICES.
Help us tell more of the stories that matter from voices that too often remain unheard.
BEFORE YOU GO