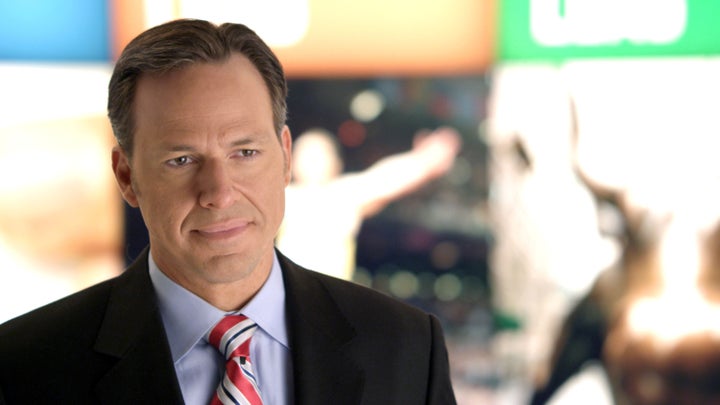 NEW YORK –- As white smoke signaled the selection of a new pope Wednesday, Jake Tapper's executive producer informed him they'd have to blow up the day's show to focus on the big news from the Vatican.
Well, not an actual show. Tapper, who joined CNN in December, would be running through a "fake show" on Wednesday afternoon in anticipation for Monday's launch of "The Lead" at 4 p.m. As ABC News chief White House correspondent, Tapper was best known for antagonizing press secretaries and covering politics in Washington. But on "The Lead," Tapper will assume the anchor chair and focus each day on the biggest news stories, whether in politics, pop culture, business, sports, science or health.
"Look, everyone's turning on CNN right now because the conclave has just selected a new pope," Tapper told The Huffington Post minutes after the white smoke appeared. "CNN will have a lot of viewers, and has a lot of viewers right now, to watch this breaking story."
Tapper said "The Lead" will provide the breaking news coverage CNN is known for. "Our challenge," he added, "is more for when there isn't a big breaking story that everybody is turning on cable for."
CNN, as a whole, has been grappling with that problem for several years, with viewers tuning in on election night or following a natural disaster for up-to-the-minute information, but not returning day after day. Cable news junkies with strong political leanings, whether right or left, have been more likely to head to Fox News or MSNBC.
"That has been a challenge for CNN," Tapper said. "That's why we're trying to make some more shows destination viewing, appointment television."
CNN's new chief, Jeff Zucker, has been shaking up the network vying for viewers who aren't among the relatively small pool of hyper-partisan news junkies. Tapper seemed on board with that strategy.
"We are trying to compete absolutely with everyone, not just with Fox and MSNBC, but with everyone," Tapper said, adding that he'd like people following the financial markets, for example, to know they can turn to "The Lead" for major stories in business.
And in covering politics, his specialty, Tapper said that it's "essential for us to be independent, for us not to be part and parcel of any particular ideology or viewpoint."
"I think that people want that in media and when they feel that they're getting that, it can be very important and compelling to viewers or readers or listeners," Tapper continued. "I think independence is essential."
During President Barack Obama's first term, Tapper seemed one of few television journalists to get significant praise from conservative media figures, including Rush Limbaugh, and outlets such as Breitbart News and National Review. With "The Lead," Tapper said he hopes to cover a variety of stories and reach viewers of varying political views.
"I think that there are people who want topics covered more that aren't being covered," Tapper said. "Whether it's drones or Benghazi, I want to be an outlet that covers a lot of those stories. Whether it's what effect Obamacare will have on businesses or the treatment of Bradley Manning. These are stories I will cover and they're ones that maybe more liberals have an interest in one and maybe more conservatives have an interest in another, but I think that they're important and I hope that at this point, I have become an honest enough broker that viewers will tune in because they know that I will be able to get guests and ask tough questions regardless of the party affiliation of those I'm asking. I hope. That's the hope."
Of course, Tapper won't only be covering hot-button political and foreign policy issues. And now that Tapper gets to spread his wings beyond the Beltway, he can presumably compete for interviews outside the political world. When asked who his dream "get" would be, Tapper replied, "the new pope."
"Right now, I don't even know who it is," Tapper said, in the minutes before Cardinal Jorge Mario Bergoglio made his way to the balcony of St. Peter's Basilica. "So, whoever it is, that's who."
"We're a news show," he added. "So ask me again in a day and I'll have a different answer."
REAL LIFE. REAL NEWS. REAL VOICES.
Help us tell more of the stories that matter from voices that too often remain unheard.
BEFORE YOU GO
PHOTO GALLERY
Faces Of CNN