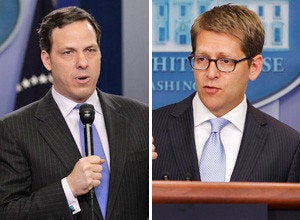 Carney said that he was going to go to George Condon of the National Journal and then return to Tapper for his question. Tapper, who sat in his usual front row seat next to fellow network correspondents and wire reporters, looked visibly perturbed.
Carney confronted Tapper after he noticed his reaction and said, "Jake, I've been doing this for months," referring to his style of jumping around the press briefing room for questions.
Tapper responded by calling it "annoying." Fellow reporters in the press room broke out in "ohs," and "whoas," in response to Tapper's candid answer. "Oh I'm sorry, tell it to your colleagues," Carney said. "I'll get to you."
Tapper asked if Carney was "going to break with decades of precedent," referring to the tradition of the press secretary first taking questions from reporters seated in the front row.
When Carney started to say that he was going to "ensure that 49 people in these seats" had their questions answered, Tapper spoke at the same time as him and said, "ok, then take a question about bestiality, go for it.''
Tapper's remark was in reference to a December 5th press briefing. WorldNetDaily's Lester Kinsolving asked Carney, "Does the commander in chief approve or disapprove of bestiality in our armed forces?''
UPDATE: Tapper and Carney took their dispute to the Internet on Friday, with Tapper speaking to both FishbowlDC and to the Washington Post's Erik Wemple about the incident. "I'm all in favor of Jay mixing it up," Tapper said. "...What I think a lot of TV reporters are surprised by is Jay's decision to break with decades of precedent and to create a new policy of avoiding first going to the TV reporters who have been assigned those front-row seats by the White House Correspondents Association."
Carney said that nothing of the sort was true. "I go back and forth in order to include some of the 42 other reporters who don't sit in the front row," he told Wemple, adding that every TV reporter in the front row is always called on.
Watch (jump to 7:21):
Related
Popular in the Community