Jake Tapper is tired of all the yuge controversies coming out of Washington.
"I like news; this is exhausting, though," said Tapper.
While visiting "Conan" on Tuesday, the host of "The Lead with Jake Tapper" put the Trump administration through the wringer over its constant controversies and misinformation.
"Four weeks in, it's pretty early to be saying, 'What did the president know and when did he know it?'" said Tapper discussing National Security Advisor Michael Flynn's resignation and the reports that President Donald Trump knew Flynn had talked about sanctions with the Russian ambassador during the Obama administration and lied about it.
Tapper said, "Usually we get into the, 'What did the president know and when did he know it?,' two years into the second term, not four weeks, but, you know, he's doing things differently."
The anchor would later add, "Facts and truth are not partisan — Republicans and Democrats all, and Independents — there are just empirical facts and we want presidents to tell the truth."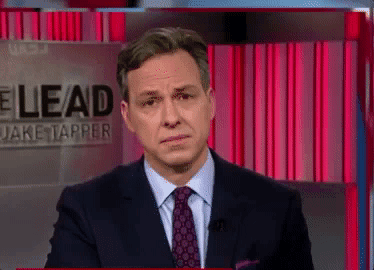 "There were just empirical lies that the president was telling, and I was challenging her on them. She wasn't really disputing it," he said.
Tapper explained Conway said something "to the effect" of, "Do those things he says that aren't true, are they more important than the things he says that are true?"
"What?" said Tapper while Conan talked about how that moment felt like we had all just gone through a "time warp."
Tapper said he hadn't heard anyone in the administration admit that the president was lying before. He continued, "It's just such a bizarre formulation, 'What about all the lies that Nixon didn't tell?' What? What are you talking about? 'What about all the presidents that John Wilkes Booth didn't kill?'"
The CNN anchor ended the segment by talking about White House Press Secretary Sean Spicer. Tapper said journalists used to have good relationships with Spicer when he was a communications director at the Republican National Committee, and now, "A lot of us don't necessarily recognize the guy that we see on the podium."
We'll help you out, Jake.
Calling all HuffPost superfans!
Sign up for membership to become a founding member and help shape HuffPost's next chapter
BEFORE YOU GO
PHOTO GALLERY
Unromantic Trump V-Day Cards