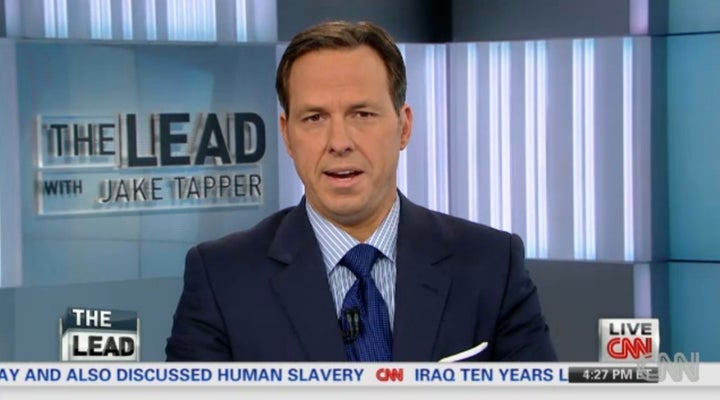 Jake Tapper's new CNN show, "The Lead," made its long-awaited debut on Monday.
Tapper has been tasked with nothing less than to help lead the way in CNN's renewal. At a party on Monday, his boss, Jeff Zucker, proclaimed "The Lead" to be "the start of an incredible new era" at the network. Monday's show gave an idea about how he and his boss, Jeff Zucker, intend to do that.
Keeping with the new catchphrase at CNN HQ — "expanding the definition of news" — there were at least seven different "leads" on the show. Among them: a quick politics segment, interviews with Mike Bloomberg and Stephen Colbert, and rapid-fire runs through some of the news of the day. In what seemed to be a clear statement, the politics segment came nearly 45 minutes into the show.
"The Lead" appears designed with a "something for everyone" mentality. Don't like business? There's a pop culture story waiting for you. Bored by stories about Robert Mugabe or — somewhat more obscurely— the film "The Natural"? LeBron James is coming up. Because there are so many different topics, viewers don't have to wait too long for something else to come around.
What remains to be seen, of course, is whether people will actually stick around. The show seems to have unmistakably prime-time ambitions. (Tapper has not been shy about the possibility of moving "The Lead" to a later hour.) Though Tapper provided a consistently engaging presence — with notably more attitude-heavy copy than Wolf Blitzer ever intones — the constantly shifting tone of the show made it hard to pin down at times.
As with almost every show at its outset, "The Lead" has not quite figured itself out yet, but Tapper comes into the game with a great deal more built-in credibility than many freshman hosts, and the first hour received positive reviews from places like Variety and Breitbart News — surely a rare combination.
Below, see some of the immediate reactions to Tapper's debut.
REAL LIFE. REAL NEWS. REAL VOICES.
Help us tell more of the stories that matter from voices that too often remain unheard.