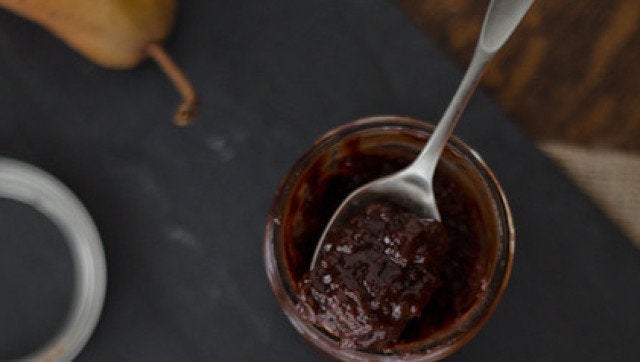 This time of year in colder climes, we begin to miss the juicy, colorful fruit that spring and summer offer in abundance. But just when I begin to imagine scurvy symptoms, I spot a jar of thick, gooey goodness made from those end-of-season fruits preserved for the long, cold, colorless winter ahead. Grab a jar, get a spoon and read on. I'm going to unfold the mysteries of these gelatinous treasures and offer some ideas for making your own.
Preserving fruit is an age-old technique for, well, preserving that which perishes oh so quickly. Before refrigeration, this was the only way to keep a piece of fruit or vegetable around longer than a day or two. Now, of course, we have access to all manner of fruit and vegetables year round due to greenhouses, refrigerated transport, and freezing techniques. However, I find that these techniques rob the food of most of their flavor.
Our customers are drawn to the rich jewel-like colors of our wide selection of jams, confit, chutneys and tapenades, but are often confused by the terminology.
Each of these is simply a way to preserve fruit and vegetables. The difference is technique, typical flavor profiles, and use. Here is primer on each preserving technique. The differences are small, but there. Some are used as condiments to savory foods, some to coat your toasted bread, some to top cheese.
Chutney - this is a condiment typically from India and South Asia. Chutneys may be made with either vegetables or fruit and contain a flavorful melange of spices. They are usually used as a condiment for meats or fish due to the addition of savory spices. They have complex flavor profiles and include vinegar as part of the recipe.
Jelly - fruit is cooked low and slow with water to extract the juice, which is then combined with sugar, lemon juice, and pectin. It is then boiled down until it sets. Jellies are usually sweeter than jams, smooth in texture with no sign of fruit pieces. They are used as a sweet addition to your food, such as toasted bread or ice cream.
Jam - much more rustic than jelly because a shorter cooking time is used. The fruit flavor is more concentrated and fresher and pieces of fruit are apparent. Jam is also used mostly for a sweet added flavor on toast, ice cream or cake, however, a jam made with herbs or other interesting flavors is spectacular on cheese.
Marmalade - an English specialty, it is typically made with citrus. The whole fruit is simmered for several hours or even days, then the flesh and the rind are combined with sugar. Marmalades usually have a slight but pleasing bitter component.
Confit - Most common in southwestern France, this is a general term for food immersed in a substance for flavor and preservation. It is one of the oldest ways to preserve food and is not limited to fruit or vegetables. Duck confit appears on many menus today and refers to the duck being slowly cooked in its rendered fat. Garlic confit refers to garlic cooked then immersed in oil, such as olive oil. The delicate French specialty floral confit are flower petals, like lavender buds, immersed in sugar and pectin. The immersion makes this a very different technique than jams, jellies and marmalades.
Mostarda - This is an Italian condiment made of candied fruit and a mustard-flavored syrup or essential oil of mustard. Mostardas are a newcomer to the U.S. specialty food market. They are a surprisingly delicious and unusual flavor addition to meats and poultry combining a bit of sweetness with the tang of mustard.
Relish - a cooked or pickled sauce used as a condiment made with vegetables or fruits. There are smooth and chunky versions and they might be sweet or savory and could be quite spicy. Relishs are not slow-cooked and are heat sealed for storage over the long winter. They are best used within two weeks.
So, are you thoroughly confused or seeing the light? The bottom line is, there are some mighty tasty preserved fruit and vegetable ideas that make a bland meal sing. Just a spoonful atop a chicken breast or pork roast and you have an orchestra of flavor on your plate.
Making preserved fruit seems daunting. All that sterilizing of jars and mashing of fruit might be intimidating, but until summer returns and we can frolic through the farmers markets, what better way to spend a cold, grey winter day?
Rachel Saunders, founder of Blue Chair Fruit Company has written a coffee table-worthy book with explanations and recipes for making your own. I have adopted one of her recipes and modified it a bit with a little Ah love. I have also included a couple of simple relish and chutney recipes. Try your hand at mixing your favorite flavors.
Here are a couple of quick and easy recipes using ingredients readily available this time of year. When summer makes a return, try out a few relishes, jams and mostardas with fresh fruit.
Cranberry Relish
1 cup fresh cranberries
1/2 cup sugar
2 tablespoons water
1/2 cup Cranberry Balsamic
1 teaspoon ground ginger
1 teaspoon cinnamon
1/2 teaspoon ground pepper
1 chopped apple
1/2 cup chopped dried apricots
In a heavy saucepan, combine cranberries, sugar and water and cook on medium-high heat until just beginning to boil. Turn heat down to medium-low and add balsamic and spices. Continue to cook stirring constantly until cranberries begin to soften; about 6 minutes. Add apple pieces and chopped apricots. Continue stirring for another 5-7 minutes until thick and just beginning to bubble, but not sticking to the plan. Add 1 teaspoon sea salt, stir and remove from heat. Store in a covered jar in the refrigerator for up to two weeks. Bring to room temperature before use and add as a relish to roast turkey, chicken, or pork. Also great with baked brie and ginger snaps as an hors d'oeuvre.
Butternut Squash Mostarda
This is a wonderful condiment for any meat or try with portobello mushrooms for a vegetarian meal.
Extra-virgin olive oil
1 red onion, cut into 1/4-inch dice
1/2 teaspoon crushed red pepper
Sea salt
4 cups butternut squash, cut into 1/2-inch dice
1 cup dried cranberries
1/2 cup 25-Star white balsamic vinegar
1 orange, peel removed in strips with a veggie peeler and cut into 1/4-inch dice
2 tablespoons mustard seeds
1 tablespoon dried mustard powder
1/2 bunch fresh chives, finely chopped
Chive olive oil, for drizzling
Coat a large straight-sided saute pan with olive oil. Add in the red onions, crushed red pepper, and season with salt. Bring the pan to a medium heat and cook the onions until they are soft and aromatic, 7 to 8 minutes.
Add in the squash, dried cranberries, sugar, white balsamic vinegar, orange zest, mustard seeds, mustard powder, and season with salt. Stir to combine. Add 1 cup of water and bring to a boil and then reduce to a simmer. Cover and simmer for 10 minutes. Remove the lid and cook another 15 minutes, stirring the squash frequently until the liquid has evaporated and the squash is a chutney-like consistency. Check to make sure the squash is cooked through and soft but can still hold its shape. Stir in chives and drizzle with olive oil.
If you're feeling ambitious and want to spend the winter becoming a master jam-maker, here is a great recipe from the aforementioned Rachel Saunders Blue Chair Jam Cookbook
This requires some special equipment and a couple of days dedicated to the making, but it's well worth it and you'll be so proud of your accomplishment.
Keep a few jars of chutneys, jams, mostarda, and relishes in your frig and any meal can simply be transformed with a fireworks of flavor. They make last minute entertaining easy by just dolloping on top of a block of cream cheese or brie. And that spoon in your hand, just dip and lick for a delightful little treat.
Eat well and play with your food!
Cary is the owner of Ah love Oil & Vinegar, food specialty stores in Arlington and Fairfax, VA. She is committed to promoting artisan-crafted foods and focuses on products that have few steps between the earth and table. She looks for food-crafters who make one thing with integrity and quality. Ah love Oil & Vinegar is a museum to these crafters' work to which you are invited to come and taste. Cary loves meeting the producers and hearing about the passion they have for their work and is proud to be part of the growing specialty food movement.
Related