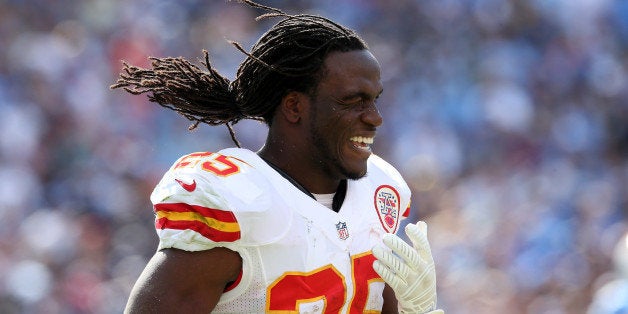 It took a little while to jumpstart his pro career, but Kansas City's Jamaal Charles, with his electric speed and dynamic ability, has become one of the NFL's elite running backs. The former Texas star was a third-round draft pick in 2008 and has been selected to three consecutive Pro Bowls. Charles, 27, caught up with The Huffington Post to discuss the state of the running back in pro football, why they deserve big contracts and why DeMarco Murray is his favorite guy to watch.
What is the next step for you to get back, or are you already in the same form as last year, when you were arguably the best running back in the league?
All seasons don't start the way you want them to start off, and it's kind of rough on me right now. But at the end of the day only I can go out there and play my heart out for 60 minutes with my teammates and try to help my team win.
When you say it's rough on you, is it because you need more carries? Or just because the way the games have flowed, you haven't gotten into that rhythm that you need?
At the end of the day, I don't know how I'm going to get the ball or when I do, but every time I get the ball in my hands I gotta take advantage of every situation I get in. So I gotta play every time I get the ball as if it's my last play. I would love to get the stats like [Dallas running back] DeMarco Murray is getting right now, and he's having a great season, but I'm not there yet.
We're starting to see running backs get back into that mold of being the focal point of offenses, because of their involvement in the throwing game. How exciting is that for you?
It's exciting to see everybody's talking about the league might be a throwing league, but if you don't have a good running game, the throwing game doesn't do nothing for what those people say. The running game opens up a good passing game, and I think that's what people are now knowing.
How much do you love to see guys like DeMarco Murray and LeSean McCoy get the big contract?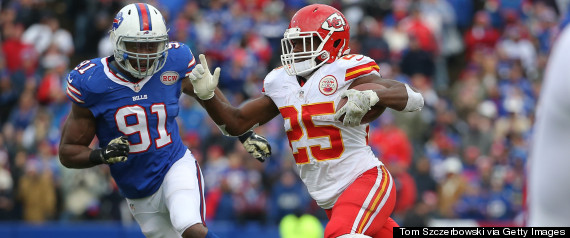 I'm very excited to see guys get big deals. The body of what they put on a running back, [people think] most of the guys don't last long in the league no more, but that's not true. You used to have two-a-days and beating up these running backs, but now I think the average of a running back staying elite is longer than the quarterback. I mean, the value of a running back of my caliber, for all I do, like run, catch, and block, I think I'm a high value at that position, and I think we work more than what they say.
You're a proud Texas Longhorn. Who is your favorite Longhorn in the NFL not named Jamaal Charles? I was thinking Earl Thomas from Seattle.
Oh Earl Thomas, definitely. The passion he's got for the game of football, the way he's hard-working, he's a leader, he's won a Super Bowl.
Are you just waiting for Texas to get back to being an elite team, because we know it's an elite program?
Yeah, we're not used to seeing the Longhorns struggle. It takes time for coaches like [Charlie Strong] to really get adjusted to how it works, and he's been successful where he's been, so I know he's still going to be successful in a couple more years.
What running back would you say you enjoy watching the most?
I like watching DeMarco Murray run right now, because he's running with so much passion, so much determination. I also like to watch LeSean McCoy, Marshawn Lynch as well, guys like that who play with a lot of passion and heart.
The Chiefs offense is lethal in play-action, and clearly you are the main reason why. How much do you enjoy the play-action game?
We need to have the play-action game in there because these guys respect me running the ball so much that they come up and bite so hard that it opens holes up on the back-end of the defense so Alex [Smith] can throw down-field, or throw a dig route or a stop route to something in the flat coverage. It helps my guys be open because they bite on the pass so hard -- especially when we're running the ball so good -- that they have no other option but to come up.
This interview has been condensed and edit for clarity.
Email me at jordan.schultz@huffingtonpost.com or ask me questions about anything sports-related at @Schultz_Report, and follow me on Instagram @Schultz_Report. Also, be sure to catch my NBC Sports Radio show "Kup and Schultz," which airs Sunday mornings from 9 to 12 EST and 12-1 for fantasy football, right here.
REAL LIFE. REAL NEWS. REAL VOICES.
Help us tell more of the stories that matter from voices that too often remain unheard.