The third largest Caribbean island, famed for its dreadlock Rastas, reggae music, and blue mountain coffee is emerging as a top destination for both budget-conscious and high-rolling holidaymakers. My first observation, after touching down in Montego Bay, was that travel to and from the airport and hotel should never be done after sunset, as road transportation gets pretty treacherous in the dark here. *SEE PHOTOS BELOW* However, on reaching the secure tourist compound of Swept Away at Couples in Negril, an hour-and-a-half's drive, the champagne on arrival and attentive staff signaled the real start to my much-anticipated visit to Jamaica. When the sun rose in the morning, I could really take in where I was, with the resort taking pride of place on the bay, set off by a perfect powder white sand beach. The sprawling complex has everything you could ever need on your holiday, from swimming pools with their own bars to 10 acres of near-Olympic-quality sports facilities, and I quickly felt it would be easy to stay within its confines for the entirety of my stay.
But after a delicious traditional breakfast of fresh ackee and salt fish at the hotel's Patois Patio restaurant, my keenness to explore the wider area got the better of me and I booked a horse ride on a trail half an hour's drive up the coast. It was the perfect outing, with just me and the instructor navigating through the mangrove swamps and taking in the rolling countryside before galloping along deserted beaches and finishing with a dip in the ocean to cool both ourselves and the horses off. Back at the resort, I opted for a Swedish massage to ease my saddle pains, and was expertly tended to by a well-trained masseuse within an oasis of relaxation, complete with a soothingly-lit tranquility pool. Then it was time for a plunge in the crystal clear sea, where I could see from a couple of hundred meters out, the full panorama of hotels stretching across the seven-mile bay, from Sandals to the notorious Hedonism II (where you'll doubtless catch an eyeful of the all-over-body-tan, anything-goes party people doing their thing). When you tire of paddling about, the hotel's glass-bottom boat is well worth taking a trip on for a laid back tour of the shipwrecks, stingrays and clown fish in abundance further out to sea. And when you get peckish and want a bite back on dry land, Couples' Palms restaurant provides a great array of freshly-caught seafood for lunch before sumptuous dinners at Lemon Grass, where you'll be entertained by steel drum bands and singers providing their own novel take on chart hits.
If you feel like venturing out and getting down with the locals then Bamboo Roots nightclub is a 15-minute drive by taxi. This veritable outdoor hotbed of local entertainment has authentic live reggae music, complete with log wood burning through the night, as well as ... other Jamaican foliage. Moving further along the coast the next day, I discovered another part of Negril with no beaches, but a plethora of cliff tops with spectacular views. Built into the rock faces here are a variety of different residences and hotels, but none are more spectacular than The Caves (located next to Harrison Ford's ex-wife's house), said to be a favorite getaway of Michael Douglas and Catherine Zeta-Jones. Its huge dozen one and two-bedroom guest houses offer a truly luxurious and authentic colonial vibe, with beautiful exposed timber beam ceilings and classic white wood shutters, not to mention well-stocked, full-size bars in each. None of this 'mini bar' nonsense here. There's plenty to do in the area, including scuba diving and snorkeling trips to take you down into the caves under the hotel. Here your guide will flick a stone at the canopy to create a whirlwind of bats around you. And if you're still unfazed, he'll get you to climb the steps back up so you can plunge 40 feet off the edge! Cliff-diving is most definitely not for the fainthearted, but it's a real rush once you've broached the fear of your first leap. After I threw caution to the wind and took a step off (following half an hour of stomach-lurching consideration), I was hooked. And in the unlikely event you chicken out half-way and belly flop, the hotel's excellent masseur will doubtless put you right in his decadent cliff-top balcony spa. The food here was very good too, whether you're sitting with the other guests in its al fresco gazebo restaurant or you want to wow your partner by hiring their torch-lit private grotto. In the latter, the waiters carry everything down the cliff steps and across the entrance's precarious stepping stones, all of which adds up to your very own private candlelit nirvana ... and perhaps one of the best places in the world to pop the big question, while the shooting stars and crashing waves set the mood. The last place I visited -- on the Western-most part of the island -- was Treasure Beach and another boutique resort called Jake's, favored by celebrities who prize their privacy. No doubt part of its appeal to singers seeking solace is that it's owned by Chris Blackwell, the founder of Island Records who discovered Bob Marley and U2. Lily Allen is said to stay in this bohemian resort's rustic shacks, and I particularly liked their outdoor showers decorated with seashell and mirror glass mosaics, and of course my shack's wonderful balcony that opened out on to the sea. Taking in the sunsets while you're relaxing on your own rocking chair is a must, especially with a rocket-powered rum punch mixed by Dougie, the resort's resident barman. The massage rooms here also open out onto a beautiful ocean view terrace so you can watch the sun set on the horizon in-between your feet. Bliss! If this doesn't sound exclusive enough, a half-hour speedboat ride out to sea takes travelers to a shoal on which you'll discover the truly picture-postcard perfect Pelican Bar: an ocean oasis for the discerning drinker who needs to tick the 'most remote bar experience' box off their lifetime to-do list. Clamber up this makeshift shack-on-stilts' rickety driftwood steps and you'll find tourists slamming dominoes with the locals while necking Red Stripes until the last water taxi leaves for the mainland. Back at the hotel and dinner at the celebrated, adjoining Jack Spratt restaurant was for me a mixture of pleasure and pain... perhaps what I should have expected after ordering a 'smashed crab' curry jerky. It looked, smelled, and occasionally tasted superb. But extracting the microscopic morsels of meat from a million fragments of shell definitely isn't the best dish to order when you're very hungry.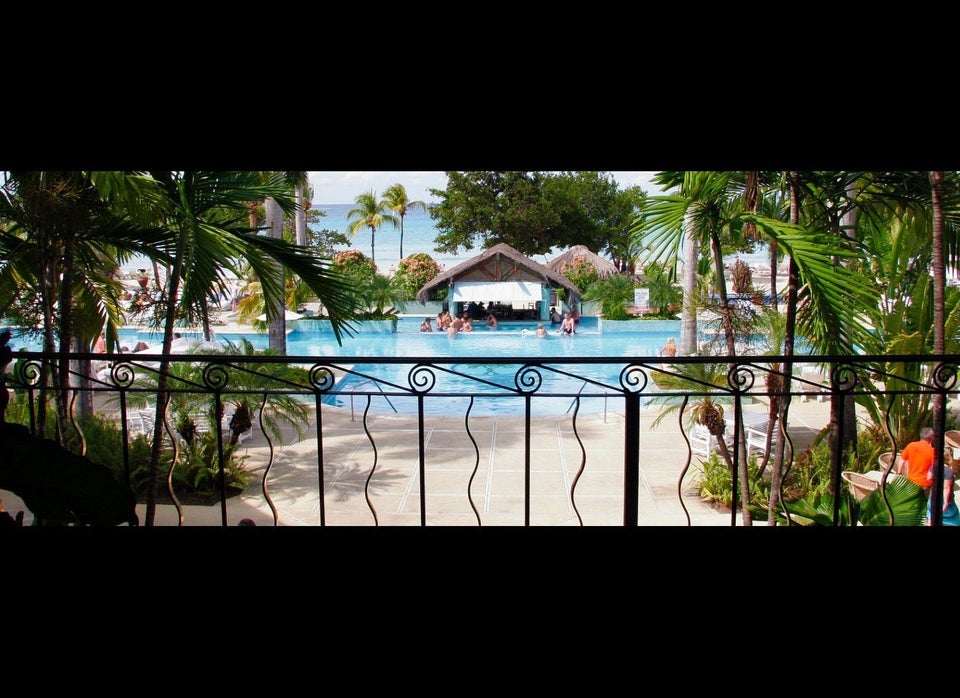 --- Seven nights at Couples Swept Away with Virgin Holidays + Hip Hotels, including Virgin Atlantic flights and accommodation on an all inclusive basis with transfers starts from £1,415. Prices are per person based on 2 adults traveling and sharing a garden room. Visit www.vhiphotels.co.uk or call and speak to a VHip Travel Guru on +44 (0) 844 573 2460 Seven nights at The Caves with Virgin Holidays + Hip Hotels, including Virgin Atlantic flights and accommodation on an all inclusive basis with private transfers starts from £2,199. Prices are per person based on 2 adults traveling and sharing a one drop suite. Visit www.vhiphotels.co.uk or call and speak to a VHip Travel Guru on +44 (0) 844 573 2460 Seven nights at Jake's with Virgin Holidays + Hip Hotels, including Virgin Atlantic flights and accommodation on a room only basis with private transfers starts from £1,139. Prices are per person based on 2 adults travelling and sharing a deluxe garden view room. Visit www.vhiphotels.co.uk or call and speak to a VHip Travel Guru on +44 (0) 844 573 2460