According to a press release, protestors gathered outside of the Ford Foundation on Sept. 26 in an effort to raise awareness of the institutionalized mistreatment and disenfranchisement of LGBT Jamaicans and Simpson-Miller's blind eye to their situation.
In 2011, Simpson-Miller promised LGBT Jamaicans a concise vote in Parliament surrounding the country's LGBT laws. However, this has yet to happen.
Jamaica Anti-Homophobia Stand reportedly wants Jamaica to legalize homosexuality.
Protestors shouted "Gay rights are human rights!" and "Portia, shame on you!" as the Prime Minister came out of the building, blew a kiss at the group, and returned inside.
Since its branding as the "most homophobic place on earth" in 2006 by Time magazine, Jamaica has gained international media attention surrounding its treatment of LGBT citizens. The country still operates under an "abominable crime" law of buggery that punishes sex between two men or two women with up to ten years of hard labor. As a result, LGBT Jamaicans live enshrouded within a culture of fear and violence, largely driven by the homophobic attitudes their friends and neighbors are raised to embody.
Earlier this summer, five gay men were trapped and barricaded in their home by members of their village after an "alleged homosexual man... made statements that made them gravely concerned." Additionally, a mob attempted to attack two men following a minor car accident because they perceived them to be gay, forcing the men to take refuge in a police station.
Increasingly violent instances of anti-LGBT sentiment have also plagued Jamaica, with an openly gay man having allegedly been stabbed to death and his house burned with his body inside late one evening.
The anti-LGBT violence pervading the country has sparked not only international outrage, put protests against Jamaica's homophobic climate. Though coverage of anti-LGBT violence in the country is sparse and limited, smaller news outlets have sprung up, enabling those outside of the nation to gain a perspective surrounding the lives of LGBT Jamaicans.
Jamaica Anti-Homophobia Stand is reportedly planning another protest on Saturday, Sept. 28 at the United Nations Plaza.
Before You Go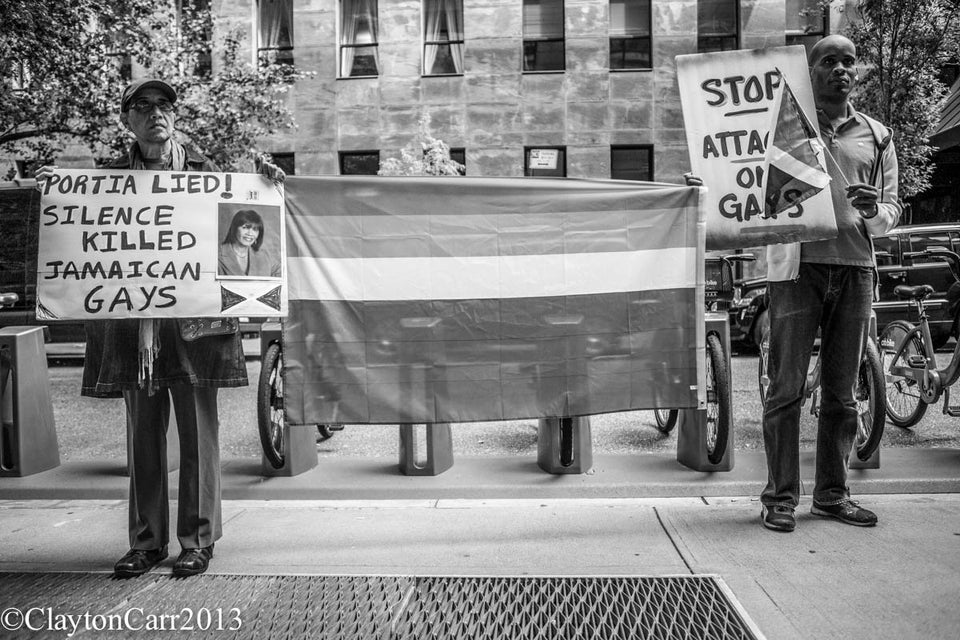 Jamaica Anti-Homophobia Protest In NYC
Popular in the Community