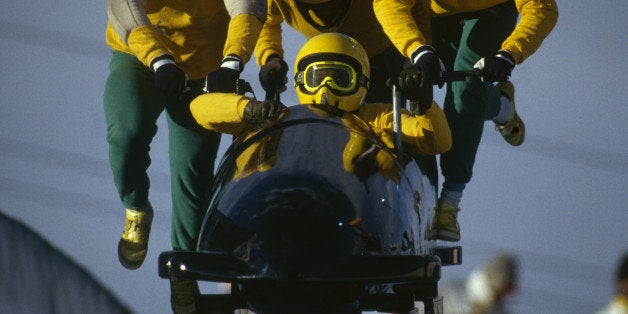 There may be a "Cool Runnings" sequel if the Jamaican bobsled team (or bobsleigh, as it's also known) succeeds in reaching the Sochi Olympics in just a few weeks. It's been 26 years since the first Jamaican bobsled team went for gold at the Calgary Games in Canada -- an underdog story that inspired the movie. After failing to qualify in 2006 and falling short of funds in 2010, the Jamaicans are ready for a comeback.
And veteran bobsledder Winston Watts may be just the guy to make it happen.
In pursuit of another Olympics berth for his old team, Watts emerged from retirement in 2010 to become the new captain, according to Evanston, Wyo.'s Uinta County Herald. Watts, who at 47 would be one of the oldest Olympic bobsledders, previously competed in the 1994, 1998 and 2002 Olympics. In 2002, he and teammate Lascelles Brown recorded an Olympic record for the fastest push-start time in the two-man bobsled, with a time of 4.78 seconds.
But before he re-entered the sport, Watts was working in the oil fields of Wyoming.
"When you give up something you really do like, you cannot see it go away from you," Watts told NBC Sports about retiring after missing the 2006 Games. "I came here out of retirement and decided, look, I'm very hungry. A hungry man is an angry man. And that is me. I am very angry because I want it."
Now the Jamaican team is training in Evanston, a town of just over 12,000 that has a bobsled track remaining from the 2002 Winter Olympics in Salt Lake City.
In the Olympic Games, the men's two- and four-man teams compete over four runs. Back in 1988, the original Jamaican team, which consisted of Devon Harris, Dudley Stokes, Michael White and Nelson Stokes, fell out of the contest due to a devastating crash during one run.
"We have another chapter to write,'' Dudley Stokes, now president of the Jamaican Bobsleigh Federation, told Today.com in October.
To qualify for the Sochi Olympics by the Jan. 20 deadline, the pilot -- the team member who jumps into the sled first -- must be ranked in the top 50 by the International Bobsleigh and Skeleton Federation. But only 30 sleds will actually be able to compete. According to an NBC Sports column from August, pilot Watts would qualify for the two-man competition as No. 30 out of 30, but so far not for the four-man event.
The other big hurdle this year's team -- which consists of Marvin Dixon, 31, Hanukkah Wallace, 31, Wayne Blackwood, 42, and Watts -- faces is to secure enough money to pay travel expenses to Russia.
"We are really barely scraping through with funding right now,'' Watts told Today.

Calling all HuffPost superfans!
Sign up for membership to become a founding member and help shape HuffPost's next chapter
BEFORE YOU GO