There's a new chapter in the ultimate Olympic underdog story of the Jamaican athletes who captivated the world by competing in a traditional alpine sport with only a few months' practice, spawning the Disney cult classic "Cool Runnings."
Last Saturday, when the Jamaican bobsled team announced it had qualified for the 2014 games in Sochi next month, no one was sure the athletes and all their equipment would be able to make the expensive trip to Russia. The group couldn't even make it to the official qualifying event in Switzerland last weekend -- they had to rely on past scores and hope no one would out-sled them. But as soon as the Internet got wind of a potential "Cool Runnings" 2.0, supporters flooded PayPal, Crowdtilt, Indiegogo and Reddit -- using the crypto-currency Dogecoin -- to make donations.
On Monday, the Sochi organizing committee formally offered the Jamaicans one of 30 spots in the two-man bobsled event, which they accepted.
Here's your guide to the Jamaican bobsled team at the 22nd Winter Olympiad:


(YouTube)
The 46-year-old Watts has competed in three Winter Olympic Games -- 1994, 1998, and 2002 -- but he's now eight years older than any other bobsledder who's qualified for the 2014 games. He came out of a six-year retirement for a shot at glory this year because, as he told The Telegraph, "Age is just a number." Watts believed in the team's potential enough to give it one more shot despite the battle for funding, which he said gave him "headaches a lot of times, man, believe you me."
But all that aside, Watts described himself as "one of life's optimists." He's even competed in the Olympics under two different names -- Watts and Watt -- due to passport errors. "I just flow with it," he told The Telegraph.
"It don't matter what I compete under ... Winston Watt, Winston Watts. Whatever, makes no difference, man. I'll still be fast!"
These Olympic Games will be the first for 31-year-old Dixon. A former sprinter, he hails from Rockfort, Jamaica -- one of the more volatile sections of the island nation. "Overcoming daily challenges brought on by living circumstances in his community," his bio reads, Dixon has developed into a skilled pusher for the team.
Blackwood, 42, will travel with the team and compete if needed.
Stokes was part of the pioneering 1988 team, competed in the three subsequent Games, and has been involved in Jamaican bobsledding ever since. He serves as the team's chef de mission this time around, helping to keep track of funding.
Watts and Samuel go way back -- the latter being a Canadian ex-bobsled driver who used to beat Watts. Note: Pictured below is not actually Thomas Samuel.
Jamaica has a strong tradition of sending fast runners to the Summer Olympics, which is the reason U.S. businessmen decided to fund a team back in 1988 in the first place. While Lascelles Brown -- who helped Watts off to a record push-off time of 4.78 seconds in 2002 -- might be competing for the Canadian Olympic team nowadays, Watts and Dixon still seem to stand a chance of reaching Olympic glory. They've got the determination, anyway, and some clear international support.
The town of Evanston has been a home away from home for Jamaica bobsledders ever since a local lawyer Paul Skog watched "Cool Runnings." (True story.) Skog offered the Jamaicans use of the town's nearby sledding tracks to help prepare them for the 1998 and 2002 Olympics, and now the 2014 games, too. A few small Evanston businesses helped kick off the team's initial fundraising efforts last summer.
Watts has said that he chipped in $150,000 of his own money to fly the team from Jamaica to training in the U.S. and help ensure their qualification. Germany had donated a sled along the line, which still needed an extra set of runners. To make it to Sochi, the team needed about another $80,000. Over just two days, however, they received over $120,000 in donations. The Jamaica Olympic Association offered to cover travel costs, and the team announced it was all set on funding.
The Jamaican bobsled team has competed in five Winter Olympics, yet despite its popularity, has not won any medals so far. The first team in 1988 actually crashed, as portrayed in "Cool Runnings." In 1994, the team placed 14th overall -- beating both U.S. sleds.
Before You Go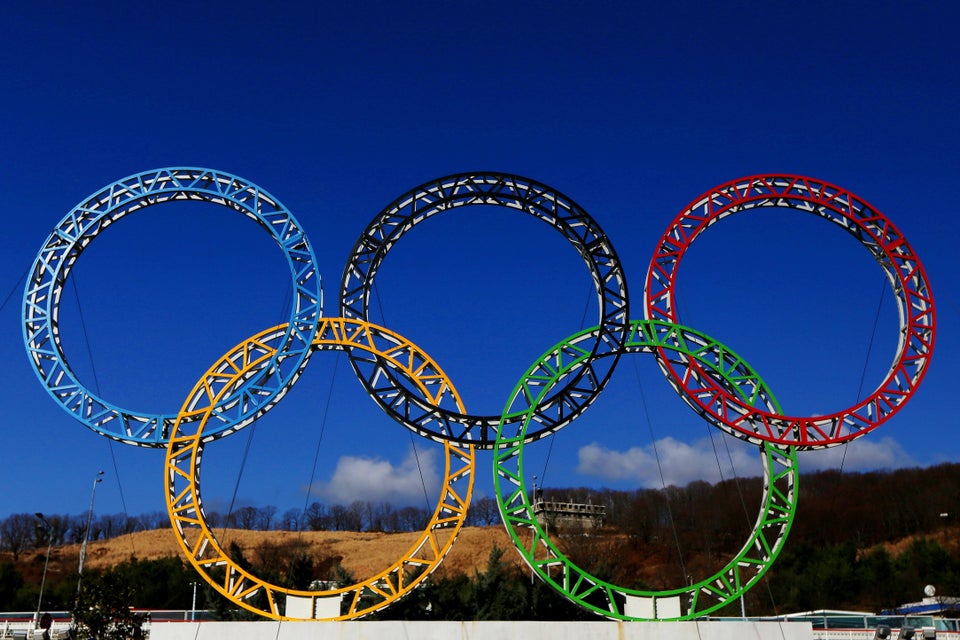 Russia Preps For 2014 Sochi Olympics
Popular in the Community