Surveillance footage captures the moment back in September when Fort Lauderdale police officer Franklin Foulks, 49, collapses from chest pain as he's booking Jamal Rutledge, 17.
Foulks falls back while he's doing paper work, struggles on the ground and grabs at his chest. Rutledge springs into action and begins kicking on the security door, alerting other officers. Detective DeAnna Greenlaw told the Sun Sentinel that Rutledge also yelled for help.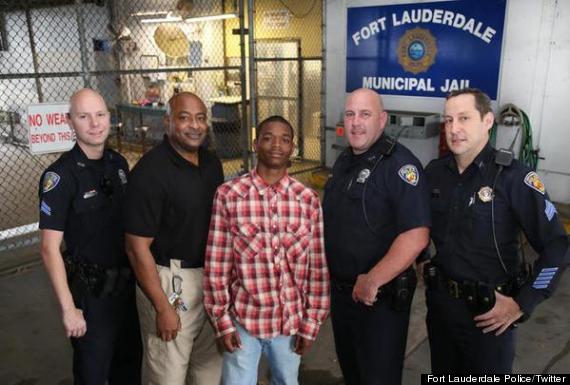 Left to right: Officer Raymond Ketchmark, Officer Franklin Foulks, Jamal Rutledge, Officer Robert Norvis, Sergeant Todd Bunin (Fort Lauderdale PD/Twitter)
Once rescue crews arrived, Foulks was taken to an area hospital. Medical personnel said that he survived in part due to Rutledge's quick thinking and the officers' prompt response.
The Sun Sentinel said Rutledge has unfortunately racked up multiple arrests since saving Foulks' life.
Popular in the Community