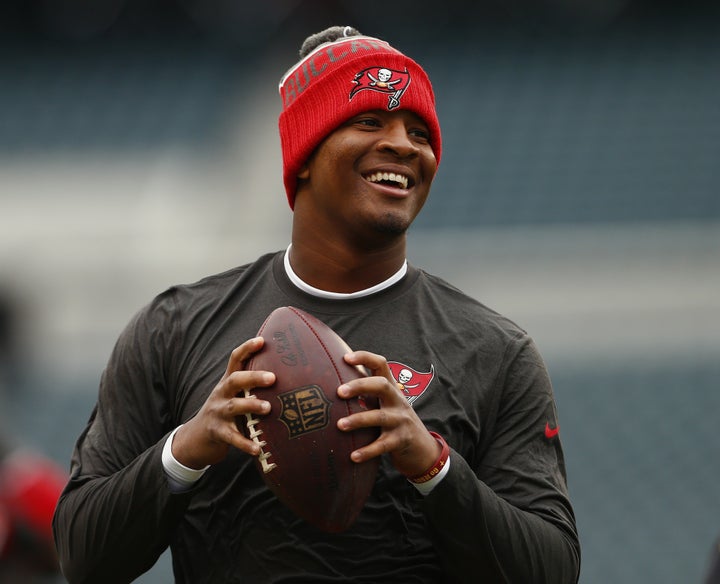 Jameis Winston's NFL debut for the Tampa Bay Buccaneers in September admittedly went less than swimmingly.
Against Tennessee in Week 1, the polarizing No. 1 overall pick was hit, battered and confused. Despite tossing two touchdowns, Winston amassed a woeful quarterback rating: under seven. He threw two interceptions -- his first pass was a pick-six -- and completed a wretched 48.5 percent of his passes.
Making matters worse was the fact that the Titans' Marcus Mariota, selected second behind Winston in the draft, was downright sensational, tying the NFL rookie debut record with four touchdown passes in the first half en route to a perfect 158.3 passer rating. 
But Winston, as he tends to do, stayed above water even under the most dire of circumstances. "I believe we're going to bounce back," he said following the Buccaneers' 42-14 defeat. "That's what we'll do. ... It's not the end of the world."
To be sure, the rookie was true to his word. Despite a makeshift offensive line with two new additions, both of whom are rookies, Winston has largely been able to avoid the rush and stay away from the typically egregious errors we see from young signal callers.
With only two interceptions since Week 4 to go along with 19 total touchdowns (15 passing), Winston is among the best in pro football. And just as was the case during his Florida State days, Winston isn't merely dinking and ducking his way down the field, throwing short, non-risky passes. His 7.66 yards per pass attempt rank him ninth in the league. And, on the road in Philadelphia on Sunday, the 21-year-old tied the league's all-time rookie record with five touchdown passes.
One of the crucial questions about Winston during the entire draft process -- and even during his Heisman-winning collegiate days -- was his maturity, or lack thereof. Was this a guy a team could legitimately build its franchise around? Was this a guy who would show up and lead -- even when it wasn't convenient, when he was struggling and losses were piling up?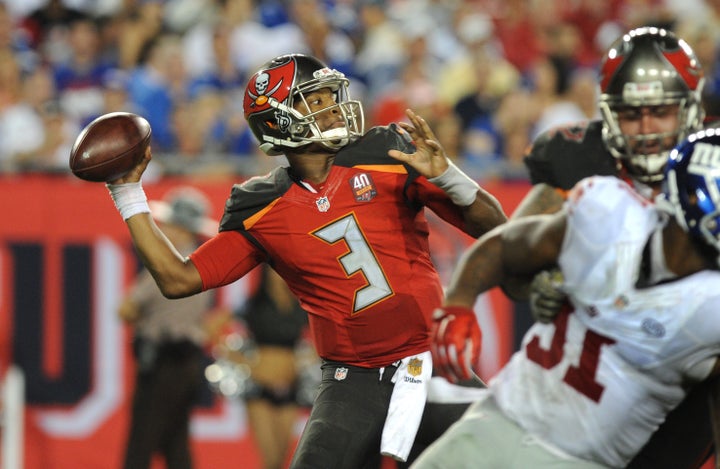 We often hear coaches talk about how even the most talented of players may be able to fool the fans or even the coaching staff, but can't ever fool his teammates. Those are the guys who see it everyday, and in reality, they're really the only people that matter. To that point, Winston's youth hasn't been a liability -- at least, not yet -- and his teammates believe in him as a result.
"We are watching a young quarterback grow before our eyes," second-year wide receiver Mike Evans -- a rising star in his own right -- said after the Buccaneers' dominant win over Philly. "He is a hard worker, fun to be around and has great leadership. And it shows every day, on and off the field."
Now Tampa is on a quest to end its eight-year playoff drought. After the team's shocking Week 8 overtime win in Atlanta to improve its record to 5-5, head coach Lovie Smith said of his quarterback: "He is going to be our leader. He's not a captain yet. But he is in that role."
And that's just the thing. It's easy to lead when you're winning. It's convenient. Everyone is happy, meetings are fun and guys want to work.
Winston, on the other hand, debuted with the Buccaneers as they lost three of their first four games, the last of which culminated in a four-interception outing. For someone who won a national championship and became the only quarterback in college football to win his first 26 starts since the 1964-65 season, Winston has handled himself and his newfound leadership role brilliantly.
Calling all HuffPost superfans!
Sign up for membership to become a founding member and help shape HuffPost's next chapter