Jameis Winston is about to be even more famous.
The 19-year-old Florida State quarterback was named the winner of the 2013 Heisman Trophy during a crowded ceremony in New York City on Saturday night. Winston headlined a group of six finalists invited to New York for the 79th presentation of the most prestigious award in college football. He is the youngest player ever to take home the famed stiff arm trophy.
"This Heisman isn't just for Jameis Winston," Winston said near the end of an emotional acceptance speech. "This is for Florida State. I love everybody in here. I'm so blessed right now. It means so much to me. But I got one thing to say: At Florida State, if we gonna do it then, we do it big then."
The Seminoles' redshirt freshman sensation totaled 2,025 points and 668 first place votes in a landslide win. Alabama quarterback AJ McCarron was the runner up with 704 points and was followed by Northern Illinois quarterback Jordan Lynch, Boston College running back Andre Williams, Texas A&M quarterback Johnny Manziel and Auburn running back Tre Mason. Despite being left off 115 ballots, Winston topped McCarron by 1,501 points. McCarron and Mason, meanwhile, were separated by just 300 points.
Heisman Finalist Voting Totals, via The Associated Press
CLICK HERE for complete list of Heisman Trophy winners
Winston racked up 3,825 passing yards and 38 passing touchdowns during a breakout season in Tallahassee. The teenaged signal caller piloted Florida State through an undefeated regular season. A win over Duke in the ACC Championship Game clinched a spot for the No. 1 Noles in the title game opposite No. 2 Auburn.
Despite his record-breaking performances, Winston's candidacy was nearly derailed by off-field issues. Just days before the Heisman finalists were named, he learned that he would not be charged with sexually assaulting a woman who accused him of raping her in December 2012.
During an emotional acceptance speech, Winston spoke repeatedly about trusting in "the process" and referred to "all the things I've been through this past month." He also spoke about his family's hardships and his relationship with his parents.
A day earlier, Winston mentioned "the process" when commenting on the allegations and ensuing investigation during the finalists' media availability in New York.
"I knew I did nothing wrong," Winston told reporters, via CBS New York. "I knew I could respect the process and I'd eventually be vindicated. It was more about me being silent for my family because I didn't want to put my family in those situations."
Also speaking on Friday, the attorney for the woman who accused Winston of sexual assault railed against the Tallahassee Police Department's handling of the case. Attorney Patricia Carroll also called on Florida's attorney general to examine the rape investigation.
Related
Before You Go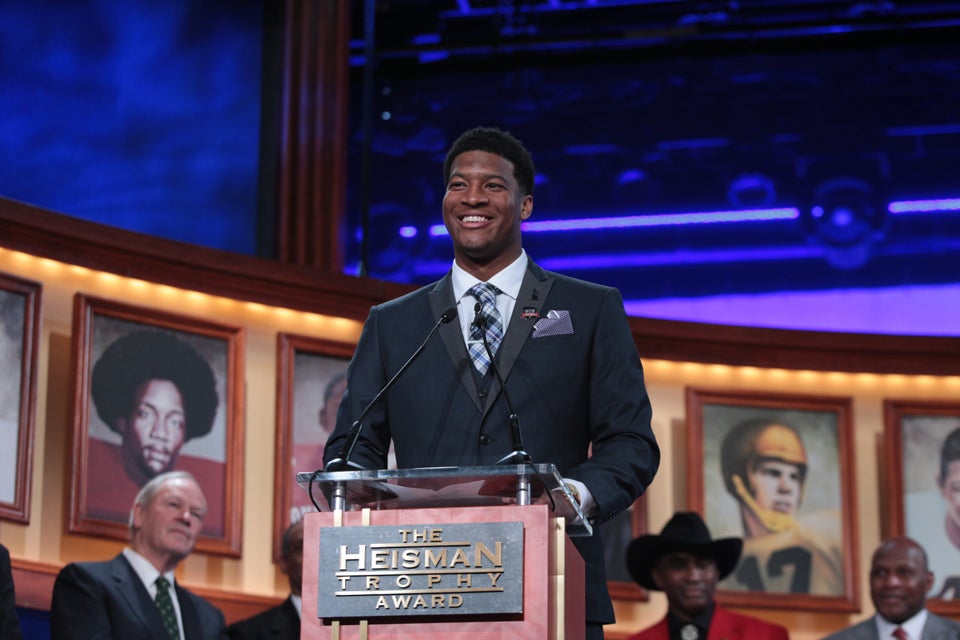 PHOTOS: 2013 Heisman Trophy Ceremony