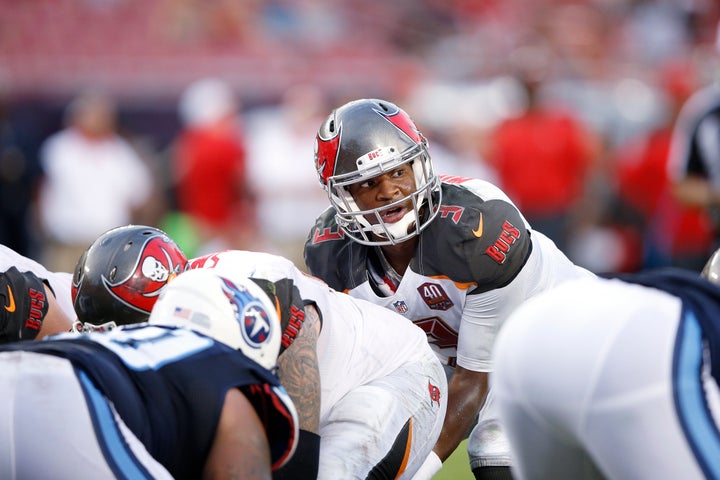 Jameis Winston, Tampa Bay Buccaneers quarterback, will likely learn from a Week 1 start that went less than swimmingly. He will also likely grow from it. But in today's NFL, where rookie quarterbacks -- especially No. 1 overall picks -- are expected to not merely play immediately, but also play well, Winston showed his immaturity and lack of readiness under center in his first start. 
In an ideal matchup against Tennessee and its own rookie quarterback, Marcus Mariota -- the second pick in the draft -- we saw the dichotomy between two extremely talented and inexperienced young signal callers.
Let us not forget that Winston, for all the talk about him running a pro-style offense at Florida State, as well as winning the Heisman Trophy and a national championship, also threw 18 interceptions just last season. Against the Titans, he made the same errant decisions and throws -- forcing the ball into tight windows amid double coverage -- that signaled red flags about him becoming a successful pro. He completed fewer than half of his passes to go along with two interceptions and two touchdowns.
To be fair, his defense was miserable and put the Tampa Bay offense in predictable passing situations. Perhaps most alarming, however, was the way Winston locked in on receivers, almost always on his first or second read, failing to make the necessary progression any successful pro quarterback relies on. That is precisely what happened on his first throw, a pick-six that seemingly took the air out of his arm for the remainder of the game, a 42-14 loss.
"I can't perform that way in a home opener," Winston said afterward. "I can always bounce back. It's not the end of the world."
And Winston is definitely right. It's not the end of the world, nor is it panic time. While he didn't have his ace receiver Mike Evans -- scratched before the game -- the 21-year-old quarterback found a new favorite target in the massively talented second-year tight end, Austin Seferian-Jenkins, whom he connected with for the two touchdowns, including a beautiful 41-yard strike that displayed impeccable timing and touch. We often hear the term "security blanket" for quarterbacks, and a reliable tight end can become a real weapon for a young quarterback. Maybe Seferian-Jenkins is that guy.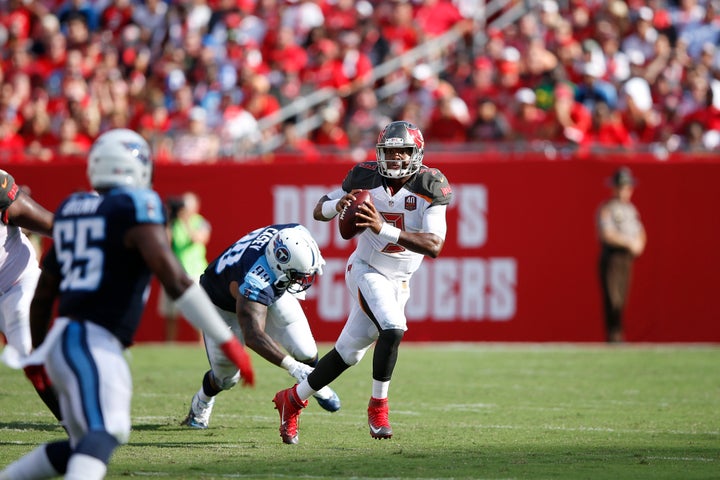 It surely didn't help that Mariota was downright electric, tying Hall of Famer Fran Tarkenton, who had previously been the only player to throw four or more touchdowns in their first NFL game. (Mariota also earned a perfect 158.3 quarterback rating.) 
Bucs coach Lovie Smith -- a neophyte when it comes to offense -- and his staff also deserve a fair share of blame for not designing easier concepts for Winston, as the Titans did with Mariota. Remember, Smith -- who coached this team to a measly two wins just a year ago -- drew criticism during the preseason for lauding his quarterback after a disappointing opening outing in which he went 9-19 with a pick.
"Felt pretty good about the good things he did," he said. "I thought it was a typical Jameis Winston day." 
Winston needs guidance because as naturally talented as he may be, he's still a project. The concern has to be that Week 1, while surely not a disastrous debut, highlighted his flaws -- and some pretty significant ones at that. This is also a Tampa offensive line coming off a woeful season, and a line that now has four new starters to protect its franchise cornerstone. 
And Smith, because he's coached in a Super Bowl and I haven't, deserves the final word. 
"Jameis didn't play well," he said after the game. "Their coach did a better job of coaching their football team than I did today."
Calling all HuffPost superfans!
Sign up for membership to become a founding member and help shape HuffPost's next chapter