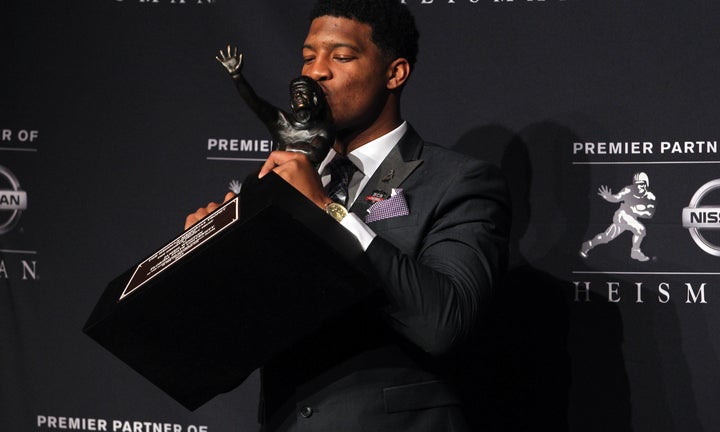 In a profile on Tampa Bay Buccaneers quarterback Jameis Winston, The Undefeated managed to gloss over a major part of Winston's background: His alleged 2012 rape of a former Florida State University student, for which he was controversially not charged.
The gushing press release profile by Alex Kennedy, "The Continued Maturation of Jameis Winston," praises his community involvement -- Winston is "always giving back, volunteering, supporting good causes and showing up at teammates' camps," says one teammate -- as well as his work ethic and perseverance as an athlete.
"Jameis is the hardest-working player I have been around," says a second Buccaneer, while yet another is quoted as saying: "Words can't really explain how impressed I am with [Winston's] ability to focus on his craft."
Yet among all of this praise, there is just one sentence devoted to the alleged assault: 
Winston's off-field issues have been well-documented, from his shoplifting citation to the sexual-assault allegation for which he wasn't charged. He believed it was important to bring up his own struggles in life in order to connect with the campers and make sure that his message resonated with them.
Equating sexual violence with a minor "shoplifting citation" is slap in the face to the heinousness of sexual violence. And later in the profile, Kennedy devotes an entire paragraph to an anecdote about Winston shooting squirrels with a BB gun. More space is dedicated to the life of a squirrel than the life of the woman who says Winston raped her. 
In December 2012, Winston was accused of raping then-FSU student Erica Kinsman. Kinsman reported the alleged assault to local Tallahassee law enforcement, who sat on the accusations for 10 months and, according to Kinsman and the prosecutor, seriously mismanaged the case. 
Kinsman sued FSU, accusing the university of protecting a star athlete instead of investigating the alleged rape, as university officials are obligated to do under Title IX. Because of this lawsuit, the university also faced a federal investigation. Earlier this year, FSU announced that it would make a $950,000 settlement in Kinsman's case. Kinsman and Winston have also sued each other, and those cases are ongoing.
Amidst the tangled web of lawsuits and counter-lawsuits (during which an alleged rapist received a multi-million dollar paycheck from the NFL), The New York Times found in their report of Winston's investigation that ultimately "there was virtually no investigation at all, either by the police or the university."
The New York Times' Walt Bogdanich wrote in 2014: 
The police did not follow the obvious leads that would have quickly identified the suspect as well as witnesses, one of whom videotaped part of the sexual encounter. After the accuser identified Mr. Winston as her assailant, the police did not even attempt to interview him for nearly two weeks and never obtained his DNA.

The detective handling the case waited two months to write his first report and then prematurely suspended his inquiry without informing the accuser. By the time the prosecutor got the case, important evidence had disappeared, including the video of the sexual act.
None of this was mentioned in The Undefeated's 1,100-word profile of Winston.
As Deadspin's Tom Ley pointed out, refusing to engage with the parts of Winston's story that aren't so feel-good meant that the profile became nothing more than "a glorified press release":
It was never meant to offer any critical analysis or frank discussion, but to gently remove words like "rape" and "cover-up" from conversations about Jameis Winston, and to replace them with "football IQ" and "potential."
Other journalists have been vocal in their criticism of The Undefeated profile: 
Of course, The Undefeated is not the first major publication to emphasize an alleged sexual abuser's athletic career at the cost of overlooking his violent assault on a woman. 
The trope of the promising athlete who valiantly overcomes adversity in the form of a rape allegation is so common that it became an Onion video half a decade ago. But when satire feels so close to real life, it's hard to laugh.
REAL LIFE. REAL NEWS. REAL VOICES.
Help us tell more of the stories that matter from voices that too often remain unheard.
BEFORE YOU GO
PHOTO GALLERY
40 Powerful Images Of Surviving Sexual Assault