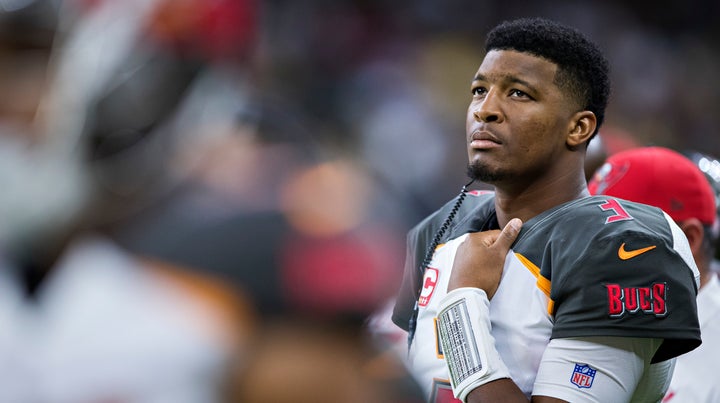 The Uber driver, referred to as "Kate" throughout the BuzzFeed article, said she had been working as a driver for two years when she picked up Winston in downtown Scottsdale, Arizona, around 2 a.m. on March 13, 2016. According to Kate, Winston was the only passenger and his friends put him in the front seat of her car. 
Winston immediately began behaving inappropriately and shouting homophobic slurs at people on the sidewalk, Kate told BuzzFeed. Winston then asked to stop to get food. While waiting in a drive-thru line, Kate said Winston "reached over and he just grabbed [her] crotch." She said he held his hand there for three to five seconds until she looked at him and said, "What's up with that?"
"I wasn't just creeped out. I was frozen," Kate said. "I mean he's an NFL quarterback and I'm 5-foot-6. I'm not prepared for that. So I completely froze." 
Kate, who no longer works for Uber, filed a complaint with the company right after the incident happened. Uber responded to the allegations in a statement to BuzzFeed: "The behavior the driver reported is disturbing and wrong. The rider was permanently removed from the app shortly after we learned of the incident." (The account holder who ordered the Uber has been removed from the ride-sharing service, but it's not clear if that account is Winston's.) 
"I believe the driver was confused as to the number of passengers in the car and who was sitting next to her," the statement read. "The accusation is false, and given the nature of the allegation and increased awareness and consideration of these types of matters, I am addressing this false report immediately. At the time of the alleged incident, I denied the allegations to Uber, yet they still decided to suspend my account." 
"I am supportive of the national movement to raise awareness and develop better responses to the concerns of parties who find themselves in these types of situations, but this accusation is false," it continued. "While I am certain that I did not make any inappropriate contact, I don't want to engage in a battle with the driver and I regret if my demeanor or presence made her uncomfortable in any way."
According to a letter obtained by BuzzFeed that was sent to Kate from Lisa Friel, the NFL's special counsel for investigations, the NFL is looking into the accusations. 
Winston has been in the headlines for allegations of sexual misconduct before. Winston was accused of raping a fellow student in 2012 while attending and playing football at Florida State University. In a 2015 civil complaint, the woman sued Winston for "sexual battery, assault, false imprisonment, and intentional infliction of emotional distress arising out of forcible rape." Winston denied the allegations, claiming the two had consensual sex. 
Although Winston was never formally charged for the alleged rape, FSU paid the woman $950,000 in January 2016 as a settlement for a lawsuit she filed against the university that said the school had mishandled her case. 
Kate told BuzzFeed that she came forward with her story to ensure what she says happened to her doesn't happen to other women. 
"I have been empowered by my sisters who have forged this path by speaking up, and I must do my part to make it a little more well traveled," she said. "If I'm silent, I fear that further harm will come to other women, if it hasn't already. He sexually assaulted me, and I have every right to tell the damn truth about it." 
Calling all HuffPost superfans!
Sign up for membership to become a founding member and help shape HuffPost's next chapter