NEW YORK -- A marijuana industry executive's plans to become the retail face of legalized cannabis appear to be going up in smoke.
Jamen Shively, chief executive of Diego Pellicer Inc., said last month he was moving forward with efforts to create a national brand of premium pot retailers, describing his upstart firm as at the forefront of "Big Marijuana." Yet rather than celebrating Shively for the leadership he said he's bringing, peers in the tight-knit marijuana industry are repudiating the former Microsoft executive and predicting his company's demise.
Instead of a perch as a pot industry titan, Shively is securing himself a spot in federal prison, some predicted.
"The guy's out of his mind," said Earnie Blackmon, chief executive of RiverRock, which operates a chain of medical marijuana dispensaries in Denver. "People like him who have no clue are coming in right now as part of this 'green rush,' but there's going to be a lot of them who lose everything they put on the table."
Much of the criticism of Shively stems from his May 30 press conference, where he said his company would raise $10 million from investors to establish dozens of Diego Pellicer brand weed shops in Washington state and Colorado, which have legalized recreational pot use. Shively said he foresees a future that includes multi-state marketing and international trade in cannabis. People already experienced in medical marijuana dispensaries said Shively's plan would invite a federal crackdown. Marijuana is illegal under federal law -- even in states that allow the cultivation and sale of the plant.
Criticism of Shively highlights a core problem with the legal marijuana industry. Growing a business in an industry still illegal under federal law requires a specific kind of person: daring enough as to assume outsize risks, but humble enough to keep their heads down and avoid undue attention. Shively's critics said he is tone-deaf to the dynamic.
"There's a big target on him right now," said Kevin Worth, whose SilverSun Products supplies specialty gardening equipment to cannabis farmers in 29 states and Canada, "He's a token guy right now and no one is going to want to deal with him if that's his attitude -- if he's walking in and saying things are going to be a certain way because he said so."
Shively said he has heard some of the criticism, but he and his company are doing nothing more than filling a vacuum in the embryonic legal cannabis market.
"The industry leadership position was basically up for grabs," Shively said, "What we're doing is embodying a new attitude for the industry. It's a dual challenge of positioning the company and positioning the industry."
Shively said he's personally leading the charge in "creating an international dialogue" concerning the legal retail trade in marijuana, for example. At his May press conference, Shively sat next to former Mexican president Vicente Fox, who discussed how the underground trade in narcotics had ravaged his country. Shively is now organizing a three-day symposium he hopes to hold in mid-July with prominent politicians from Mexico, the U.S. and Portugal, he said.
Meanwhile, marijuana industry investors, entrepreneurs and activists complained that Shively has done a poor job at communicating his concept, leading them to distrust his vision. In the nascent legal cannabis trade, that may mean Shively will find himself shut out of opportunities to meet with business partners and investors, they said.
Shively told HuffPost his inbox was overflowing with offers from investors -- "actually far more than I have time to respond to." He declined to discuss how close he was to his $10 million goal. Shively has also declined to go into detail about his plans in Colorado next year, beyond saying he has a "firm commitment" with a dispensary owner he did not name.
Mark Kleiman, a professor at UCLA counseling Washington state on regulating legal retail sales of marijuana next year, said business arrangements may be the least of Shively's concerns.
"The technical term for what he's saying he plans to do is 'conspiracy to distribute a controlled substance' and you go to federal prison for that," Kleiman said.
Others in the legal marijuana trade said they fear the bravado Shively showed at his press conference -- including talk of "international trade" that suggested the importation of marijuana from Mexico -- may be a liability to the industry.
"It isn't helpful, what Jamen did," Steve Fox, chief lobbyist at the National Cannabis Industry Association, said. "We have a short leash right now. The Colorado and Washington experiments are going on, but those need to be done carefully and respectfully."
Shively said he never mentioned importing marijuana from Mexico: "I want to export premium quality cannabis from Washington state to Mexico, just like we export Washington apples there right now," he said.
Troy Dayton, CEO of cannabis industry investor network ArcView Group, said he supports Shively's action in that regard.
"Businesses in this industry have nothing to be ashamed of and Jamen Shively's actions reflect that," Dayton said, "Onwards and into the light."
Tripp Keber, managing partner of Dixie Elixirs, a Denver company that makes cannabis extracts, said he wants to see Shively succeed, but thinks the entrepreneur has to overcome a credibility problem.
"I think in the near future, he's either going to have to speak more articulately about what he's actually doing or he'll be outed," Keber said "I want Jamen to be right, but just pounding your fists on the table and saying 'It happens because I say so' is not going to be enough.
"The press conference is over."
CORRECTION: A previous version of this story misspelled the name of ArcView Group CEO Troy Dayton.
Support HuffPost
The Stakes Have Never Been Higher
Related
Before You Go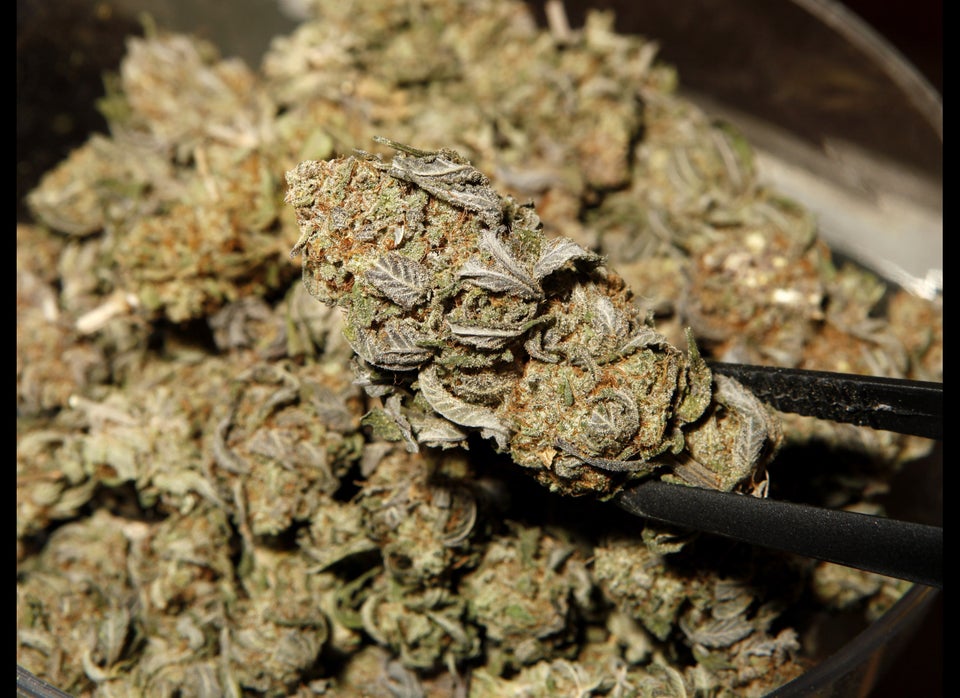 14 Reasons Why Marijuana Is Good For The Economy
Popular in the Community