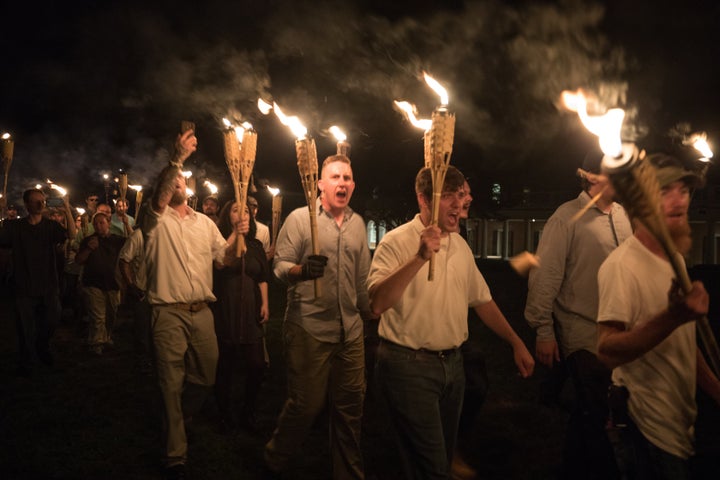 UPDATE: Aug. 1 ― Cecily Wright, the GOP chairwoman of Spokane County, resigned late Wednesday, effective immediately.
"I profoundly apologize for giving Mr. Allsup a platform to speak at the Northwest Grassroots meeting in July. I consider this a serious mistake in my judgment and I deeply regret that decision," Wright said in a statement posted to the party's Facebook page. "The Spokane County GOP remains committed to standing against white supremacy, racism, and bigotry in all forms. We will always support a free society where individuals are judged on the content of their character rather than the color of their skin."
She said it was her "sincere hope that our community can continue to build bridges, support our neighbors, and build a more unified community."
Cecily Wright, the GOP chairwoman for Spokane County, Washington, defended white nationalist elected party official James Allsup this month, weeks after attempting to distance herself and the Republican Party from the self-described "pro-European nationalist."
Speaking at a July 11 event hosted by a local conservative group, Wright warned her audience about a problem she called "label lynching." According to her, conservatives are increasingly at risk of being unfairly assigned designations like "white supremacist" and "neo-Nazi."
To help demonstrate this point, she introduced a surprise guest: Allsup, who marched alongside white supremacist group Identity Evropa at the Unite the Right rally in Charlottesville, Virginia, last year. He was elected the precinct committee officer for the Whitman County Republican Party last year after running unopposed.
"I have a gentleman here this evening who has been label lynched," Wright said, as she introduced him.
The problem with politics today, according to the 22-year-old Allsup, is that liberals don't try hard enough to understand the other side. "Instead of asking, you know, why do you want to build a wall? Why do you care about strict immigration policy? Why do you care about these things? They didn't do that. It was 'racist,' 'sexist,' 'bigot,' 'xenophobe,' you know, 'transphobe,' all the labels under the sun," Allsup said.
"I was at the events in Charlottesville," he continued, "which was totally misrepresented in the media. It was not anything like they said it was." In a weekend of violence surrounding the rally there, dozens of people were injured, and a white supremacist allegedly rammed his car into a group of counterprotesters, killing one of them.
Allsup urged audience members to be unapologetic about their beliefs, even if liberals call them intolerant. "You have transgenders teaching your kids. You have the gay agenda everywhere. You have all of these, this social degradation going on," he said. "There are some things we shouldn't be tolerant of. There are some things that are just frankly so revolting … that we should not be tolerant of them."
He was invited to speak at the event by Northwest Grassroots, a conservative group based in Washington state that hosts networking events and movie nights. According to its website, the group is careful to verify the information shown at movie night and avoids "conspiratorial issues." The night Allsup spoke, Northwest Grassroots played "Hillary's America: The Secret History of the Democratic Party," a movie written and directed by conspiracy theorist Dinesh D'Souza, whom President Donald Trump recently granted a full pardon for his felony conviction for an illegal campaign donation.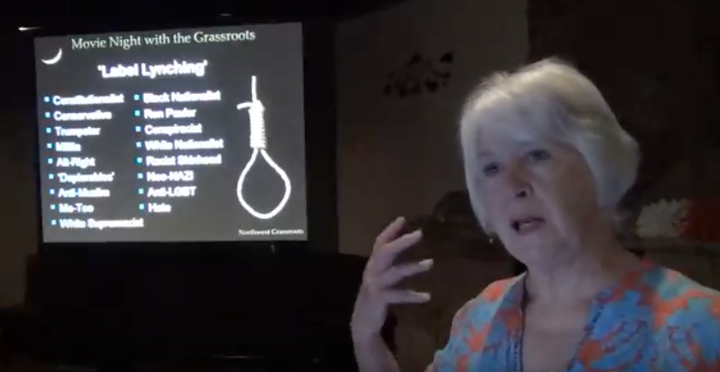 After Allsup was certified as a precinct committee officer, local party officials, including Wright, insisted he didn't represent Republicans. "His past statements, affiliations and actions are deeply out-of-step with the values of the Republican Party, as well as the values of the Spokane County GOP and our members," she said in a statement in June. "The Spokane County GOP remains committed to standing against white supremacy, racism, and bigotry in all forms. We will always support a free society where individuals are judged on the content of their character rather than the color of their skin."
Wright told HuffPost that her husband, Northwest Grassroots head John Charleston, invited Allsup without her knowledge. Allsup "said nothing controversial but did NOT denounce the vile, racist views he is associated with as was expected," Wright wrote.
Pressed about whether she still believes Allsup was "label lynched," she wrote, "We made a terrible mistake. There is no reason to defend him when he won't denounce his previous statements."
Local activists plan to hold a rally against white nationalism on Thursday in front of the Spokane County Courthouse. "We cannot take for granted the integrity of our public officials when they denounce white nationalism in the press, while privately endorsing their leaders and their values," the Rev. Walter Kendricks, a co-founder of Spokane Community Against Racism, said in a statement.
Being a precinct committee officer isn't a particularly powerful role. It mainly involves visiting potential voters and figuring out how they will vote. But holding any role as an elected official — even one who ran unopposed — carries symbolic weight. Last month, Allsup bragged about his position on an Identity Evropa podcast and encouraged others with his beliefs to infiltrate the Republican Party, the Daily Beast reported.
"You have a seat at the table," he said on the podcast. "I'm not going to tell you that knocking doors for a Republican congressman is going to save the West or save European Americans," he said. "That's not at all what I'm saying, but it is a means to an end. This political involvement is a means to our political ends."
Support HuffPost
The Stakes Have Never Been Higher
Popular in the Community