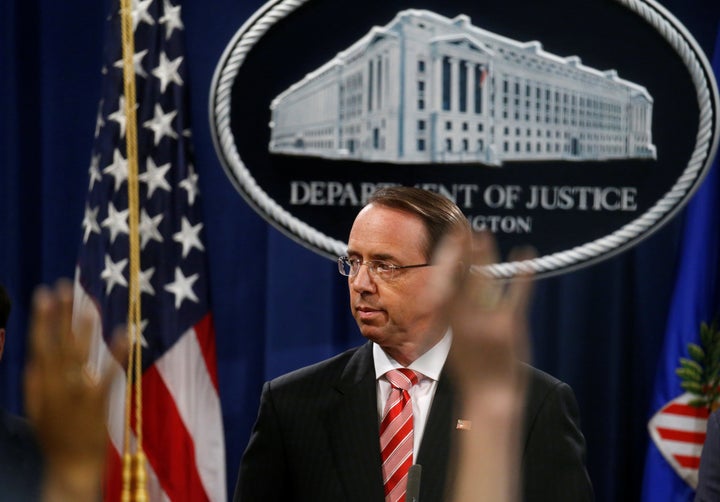 The FBI's former top lawyer reportedly told congressional officials in closed-door testimony that he'd considered Deputy Attorney General Rod Rosenstein's suggestion about secretly recording President Donald Trump to be "no laughing matter" — contradicting the claim, touted by the Justice Department and the Trump administration, that Rosenstein's remark had been made "sarcastically."
As first reported by Fox News, James Baker, the FBI's former general counsel, was questioned last week by congressional investigators from the House Judiciary and Oversight Committees. The attorney's interview was part of Republicans' investigation into whether anti-Trump bias had tainted the bureau's probe into Russian election meddling.
Rep. Mark Meadows (R-N.C.) told Fox News that Baker had shared "explosive" information with the committees, including alleged "confirmation" that "things were done in an abnormal fashion." Meadows did not elaborate, however, on what these "things" were.
Follow-up reports revealed that Baker, who resigned from the FBI in May, was questioned by the committees about Rosenstein's suggestion ― first reported by The New York Times last month ― that Trump should be secretly taped and possibly removed from office using the 25th Amendment.
Baker told Congress that he and other FBI officials had taken Rosenstein's suggestion to wear a wire "seriously" — but had ultimately "dismissed the idea within days," the Times reported on Wednesday.
"FBI leaders played out its potential ramifications before rejecting it," the paper added, noting that Baker said he'd learned of Rosenstein's suggestion either from Andrew McCabe, who had been the acting FBI director at the time, or Lisa Page, a senior FBI lawyer.
Baker reportedly told congressional investigators that he'd also been aware that Rosenstein had discussed invoking the 25th Amendment, which allows for the removal of a president deemed unfit for office.
Rosenstein has vehemently denied making any such suggestion, telling the Times last month that "based on my personal dealings with the president, there is no basis to invoke the 25th Amendment."
Reports about Rosenstein's taping plan and 25th Amendment musings had initially led to intense speculation about the deputy attorney general's potential sacking or resignation.
For now, however, it appears that the Justice Department's second-highest official has avoided the chopping block.
The Judiciary and Oversight Committees had been scheduled to question Rosenstein privately this week ― but the meeting has been "indefinitely postponed," a Judiciary Committee aide told the Times.
Popular in the Community