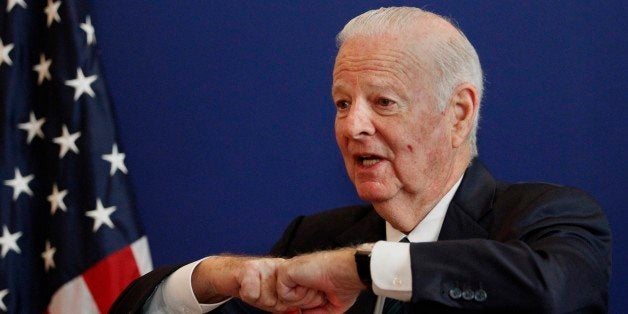 WASHINGTON -- Former Secretary of State James Baker said Monday he remains "cautiously optimistic" for a two-state solution to the Israeli-Palestinian conflict, despite simmering tensions between the United States and Israel.
"I still remain cautiously optimistic, and I stress cautiously, because it seems to me that Israel's future, absent a two-state solution, could be very difficult at best," Baker said, adding that the alternative to a peace deal is "continued conflict."
While Republicans have criticized Obama for unfairly maligning Netanyahu, Baker said the criticism was misplaced.
"No one around the entire world should ever doubt America's commitment to Israel, not now, nor at any point in the future," Baker said.
Baker recounted his own stormy diplomatic relationship with former Israeli Prime Minister Yitzhak Shamir -- it "had its tense moments" -- to argue that Israel's alliance with the U.S. could weather policy disagreements. He told the story of a confrontation with Shamir in 1991, when he and Bush refused to automatically grant $10 billion in housing loan guarantees for the Israelis, who were grappling with a flood of Jews arriving from the collapsing Soviet Union, unless Shamir promised that the funds wouldn't pay for West Bank settlement construction.
"I experienced firsthand the complexity and occasional contentiousness of the U.S.-Israel relationship," Baker said. "I thought at the time President Bush was justified, and I still do."
As Obama's administration re-evaluates how to approach the conflict following Netanyahu's pre-election disavowal of a two-state solution, Baker reminded gala attendees that Netanyahu wasn't the prickliest Israel prime minister the U.S. has ever had to deal with. (Baker said he found it necessary to bar Netanyahu from the State Department after the then-deputy foreign minister said American foreign policy in the Middle East was "based on lies and distortions.")
"Let me remind you that 25 years ago, Yitzhak Shamir referred to Benjamin Netanyahu as 'too soft' when the latter was a younger prime minister," Baker said. "Our interests cannot always be exactly coterminous, and they will occasionally diverge."
Baker pointed out that Netanyahu's actions "have not matched his rhetoric, as settlement construction has continued unabated." But he said Obama and Netanyahu can't allow their disputes to "fester."
On the topic of negotiations over Iran's nuclear program -- Netanyahu gave a controversial address to a joint session of Congress outlining opposition to the trajectory of the talks -- Baker cautioned against holding out for a "perfect" deal.
"If the only agreement is one in which there is no enrichment, then there will be no agreement," Baker said. "Neither the U.S. nor Israel should let the perfect be the enemy of the good."
Baker also said Obama should seek congressional review for any deal with Iran, though he may not be required to do so.
Baker's address to J Street was rebuked by some conservatives, who view the group as too critical of the Israeli government's occupation of the West Bank.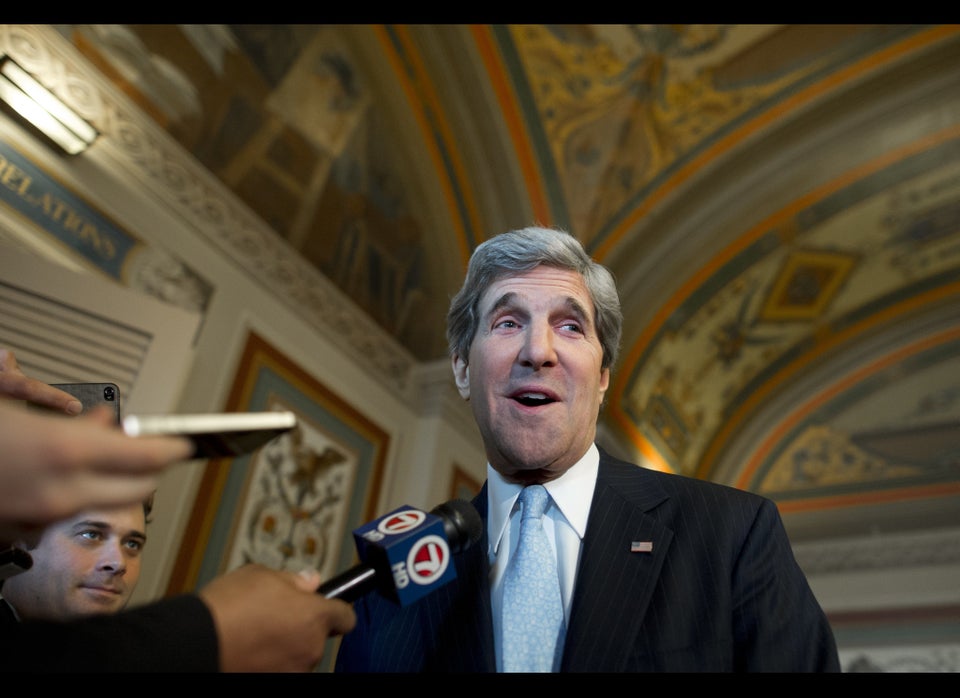 Secretaries Of State
Popular in the Community